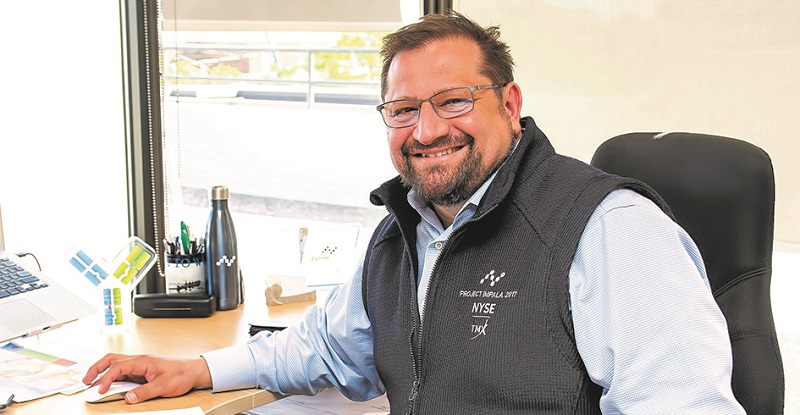 Photo credit: Chung Chow/Business in Vancouver
Combining different passions to make a career is a dream for many; some, however, make it a reality and become innovators in their field. For Zymeworks EVP Business Operations and CFO Neil Klompas, CPA, CA, guidance from a mentor during his undergraduate studies helped him see that a career fusing his passions – science and business – was not only feasible, but full of opportunity.
"I had always been curious about the business aspect of biotechnology, alongside the purely scientific side," says Neil. "One of my earliest mentors, Dr. Jamie Doran at Camosun College, helped me understand that knowing how commercial applications could shape and complement scientific curiosity was not antithetical to a passion for pure science."
Neil went on to pursue endeavours in both science and business, including completing a B.Sc. in microbiology and immunology as well as a CPA (accounting designation). Combining his science and business background, he worked with KPMG with the Assurance and M&A transaction services practices focused on the pharmaceutical, biotechnology, and medical devices sectors in Canada and the U.S.
Today with Zymeworks, he's part of the executive team that leads the clinical-stage company as it develops and commercializes biotherapeutics that can be used to treat cancer, as well as technologies that optimize drug design and effectiveness. Under Neil's stewardship, the company recently set a record for the largest equity raise for a Canadian biotech company.
Neil's accomplishments were recognized in 2019 with a BC CFO Award in the Small Public Company category. Industry Update recently caught up with him.
You led Zymeworks to become a public company, and then through rapid growth. How did you steer the company through these major initiatives?
It's important to recognize that any significant accomplishment in a company as complex as Zymeworks is a team effort, both by necessity and by design. Whether it was the IPO or even our recent equity raise of US$201M, it takes a cohesive team, working in concert with a clear and shared vision.
But from an individual perspective, my background in both science and finance has helped in steering the company through growth by allowing me to better communicate with stakeholders, both internally and externally. In the absence of investors making decisions on traditional factors like earnings per share or revenue growth, the scientific, technical, and financial aspects must tie together to communicate our value proposition. Being comfortable talking about financial metrics as well as scientific factors allows me to talk the same language as the people around me."
On top of all this change, you're also working at a time when every industry is being disrupted by digital innovations. How has Zymeworks been impacted by digital disruption?
"Zymeworks was founded on a belief that drug design could be radically improved by introducing computational design and optimization into traditional research and development. Instead of going in vitro (in a test tube or outside a living organism) to in vivo (used in a living being), the process would start in silico (on a computer or via computer simulation) using our proprietary modeling and simulation software.
Zymeworks was in effect born from an opportunity for digital disruption in the life sciences space, so I'd like to think we're living the example. Our small team in Vancouver demonstrated how made-in-Canada solutions like our Azymetric™ platform could be superior to approaches developed by giants in the pharmaceutical industry like Roche-Genentech and Amgen. Being a disruptor ourselves makes us keenly aware of how innovation can quickly change any aspect of our business, and this carries forward into one of our core corporate value of innovation."
You mentioned that your company's success hinges on having a great team. How does Zymeworks work to retain its team members?
"A large proportion of our headcount holds PhDs, MDs or other advanced degrees, and many are dedicated to staying ahead of the technology curves in their fields. To that end, partnering with our human resources team to create and align training, conference, and education policies and opportunities has been critical.
We also work to foster an environment where people at any level can bring forward ideas, and have them evaluated on their merits. This is a key part of building an environment where innovation can be at the core of all team objectives."
What do you feel is the biggest impact your organization is making?
"This is an easy one. Zymeworks' mission is to enable patients to return home to their families and loved ones, cancer free. Everything we do is dedicated to this objective. Our two lead therapeutic candidates currently in clinical trials continue to provide encouraging clinical data in patients with HER2 expressing breast, gastric, and biliary tract cancers.
Moreover, by partnering our Azymetric™ drug development platform with leading global pharmaceutical companies including Johnson & Johnson, Merck, GSK and others, there are up to 46 new therapeutics that could be developed. And the incredible thing is that we're not done innovating."
Being committed to a complex role in a growing business must require some down-time to balance things out. Can you share a passion outside of work?
"I hold my Wine and Spirits Education Trust Level 2 certification – translated into English that's an intermediate-level sommeliers' certification. It's fair to say that my wife and I tend to book vacations around exciting wine and cultural destinations. And ahead of Zymeworks' IPO I was pretty active in a podcast community, having been a regular host on a couple podcasts. Regrettably though, it turns out there's only 24 hours in the day!"
---
Leah Giesbrecht is a communications specialist with the Chartered Professional Accountants of British Columbia.