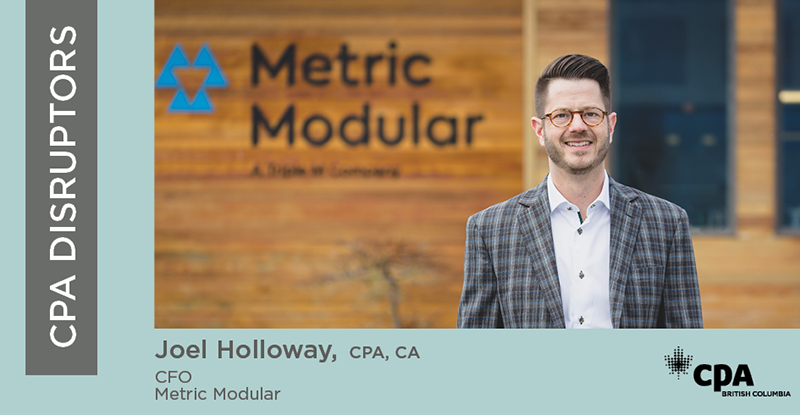 Photo credit: Wink Photography
CFO: Joel Holloway, CPA, CA
Headquarters: Agassiz, BC
Key technologies: Modular design, modular construction, building information modeling (BIM)
Recent milestones: Built Jacobson Hall, Canada's first five-storey volumetric building
Disrupting: Construction industry, housing industry

It's no secret that the housing shortage is a top concern in Metro Vancouver. However, one construction company is playing a decisive role in addressing this issue. Offering shorter build times and increased cost efficiency, Metric Modular, a producer of innovative modular buildings, is addressing housing needs and at the same time, reshaping the construction industry.
"Modular construction methods are challenging traditional approaches to construction in virtually all sectors of the construction industry in North America," says Metric Modular's chief financial officer, Joel Holloway, CPA, CA. "We are able to compress traditional construction timelines. We also improve quality, offer reliable access to skilled trades, and in many cases, offer significant cost savings."
And far from producing uniform, mass-produced homes that modular housing has traditionally been associated with, Metric Modular builds a wide range of structures, from wilderness resorts to student housing to multi-family units, all of which can incorporate unique designs and customized finishing.
A focus on energy efficiency also means these buildings can meet some of the most stringent energy efficiency standards in the world. On top of that, Metric Modular's greener indoor construction process generates less waste, putting less in the landfill.
So how is this construction industry disruptor filling such a tall order?
Shorter build times and reduced costs
Indoor, centralized construction means that roughly 70% to 90% of a project can be built inside Metric Modular's construction facility, with most of the trades-related work such as plumbing, electrical, and mechanical systems completed in-house, says Joel. This level of control and standardization means modular buildings can be completed 30% to 50% faster than a traditional building, and often at a lower cost.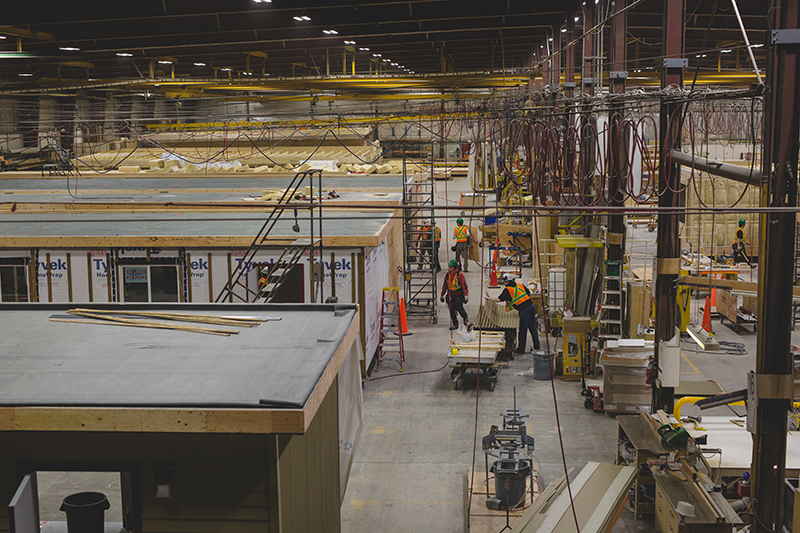 Metric Modular's construction facility. Photo credit: Wink Photography
"Site preparation and foundation work is completed while the building modules are under construction in our factories, reducing traditional construction timelines by about half. This can save our customers carrying and financing costs, and brings revenue-generating projects to market quicker. Our projects also are very design intensive early on, allowing us to thoroughly understand project requirements. This approach ensures that our projects are less prone to change orders and cost overruns," Joel observes.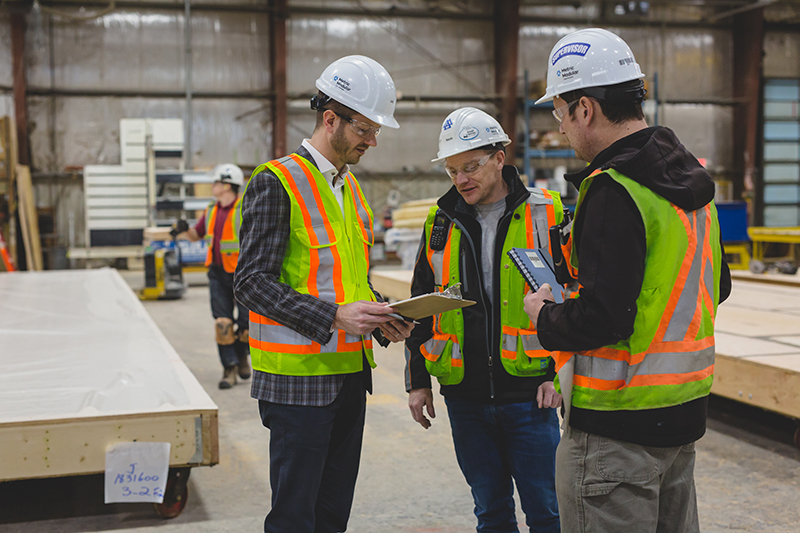 Reviewing project details. Photo credit: Wink Photography
This efficiency and cost-effectiveness makes modular housing well-suited to address housing shortages. "Metric Modular is participating in BC Housing's Rapid Response to Homelessness program, which will deliver up to 2,000 micro-suite apartments," says Joel.
"We can provide expedited solutions to the housing shortage through modular construction's accelerated design and build process, coupled with our experience in producing buildings that meet the stringent requirements of BC Housing."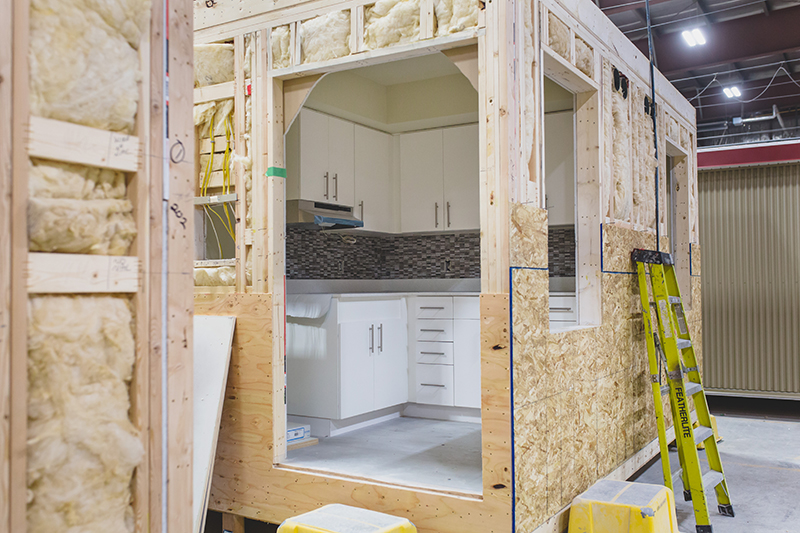 Modular construction offers consumers a variety of customizable designs and finishing. Photo credit: Wink Photography
Joel also notes that while there is demand for modular buildings in the Lower Mainland, it's not limited to this area. "We are currently building affordable housing projects in six different communities across the province, a multifamily project in Seattle and are pursuing multifamily construction projects across BC and into Washington state."
A greener construction process
Modular buildings reduce up to 80% of onsite building activity, resulting in less material waste and reduced pollution.
"In the factory we can reduce waste and produce a more sustainable product," says Joel, "by eliminating the risk of material waste from moisture or other environmental factors, and by optimizing material usage by precutting all lumber inputs and prefabricating other components.
We also require a detailed up-front design that ensures we are not making changes to our projects in progress and incurring the associated waste."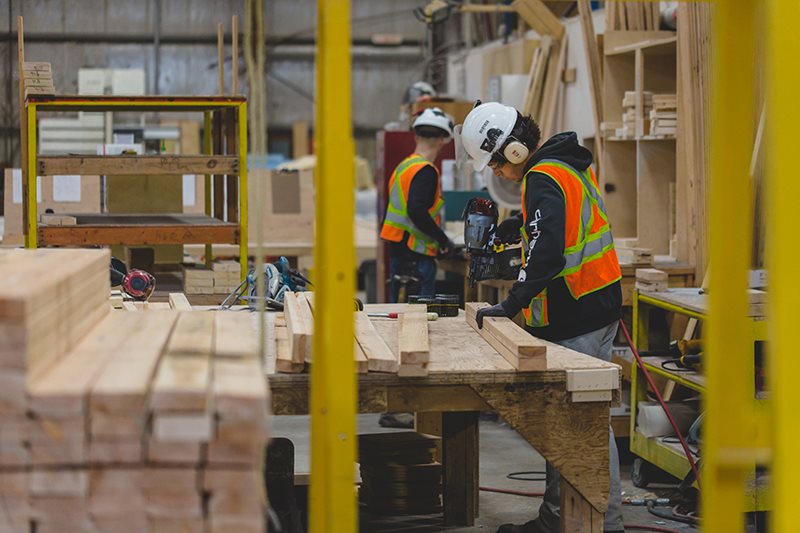 Metric Modular employs tradespeople from many disciplines, including plumbers, gasfitters, and electricians. Photo credit: Wink Photography
Centralized building also allows Metric Modular to more effectively recycle waste. "We use local programs for recycling and re-using the construction material waste. For traditional site-built projects this would be a challenge due to diverse project locations, but with the consistency of our factory production it makes these programs much simpler to implement," Joel says.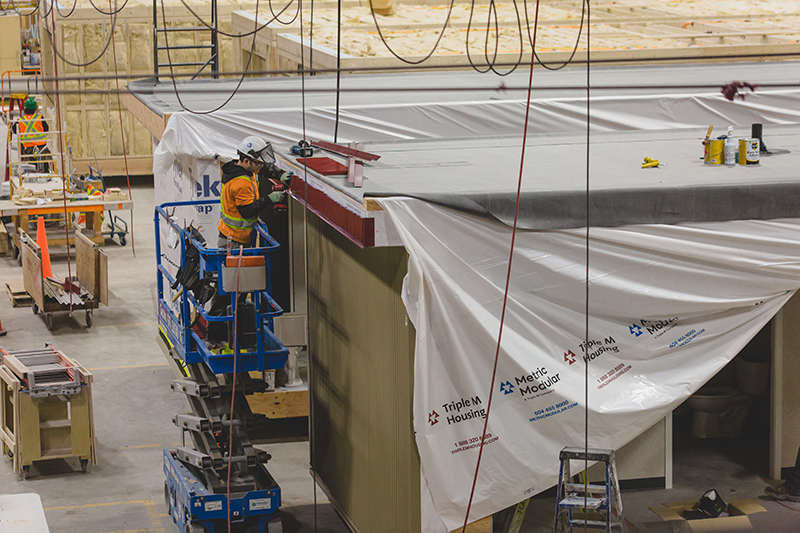 Metric Modular's centralized construction process allows for effective waste recyling. Photo credit: Wink Photography
Meeting the highest standards in the world for energy efficiency
Metric Modular's construction methods also produce buildings that are uniquely energy efficient. Leading the way are its projects that achieve Passive House certification, which, through various building techniques, consume up to 80% less heating and cooling energy than conventional structures. These include Bella Bella Passive House, Canada's first modular, multi-unit passive house.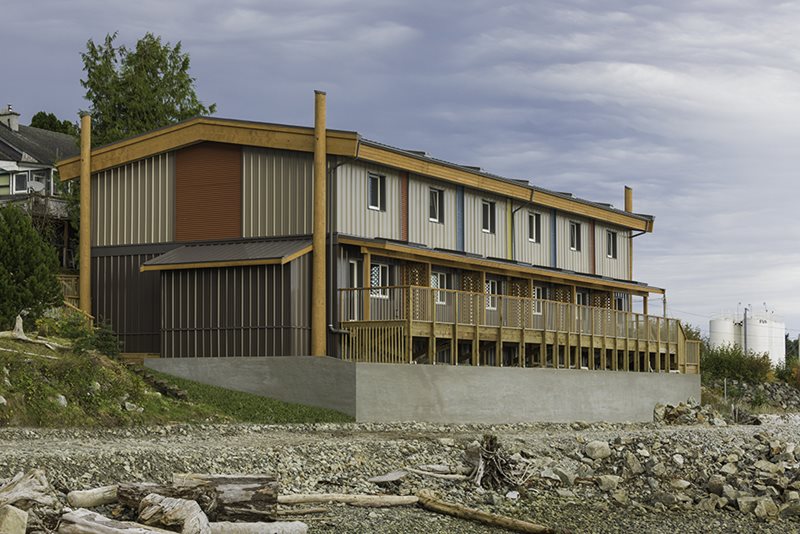 Bella Bella Passive House. Photo credit: Metric Modular
"The most obvious benefit of passive house technology to a home owner is dramatically reduced energy costs," says Joel. "As an example, the Passive House four-plex that we built for the Yale First Nation saw energy bills reduced from $250 to under $20 for the first month of occupancy."
Modular construction and energy efficiency are a natural fit. "Passive House buildings are well-suited to modular construction due to the stringent quality requirements, building shape, and highly insulated building envelope," Joel notes.
"And I think that the escalating demand from consumers and building code requirements for energy efficient buildings will drive further development and growth in modular construction."
Flexible designs, from wilderness resorts to student dorms
So, with all of the advancements taking place in the modular construction industry, do any of the stereotypes about modular buildings still persist? After all, modular buildings have been around since the mid-19th century, and since then have sometimes been thought of as mass-produced, repetitive, or low-quality – think mobile homes or tract housing.
"I would encourage anyone who thinks that modular construction is limited to portable office space or manufactured homes to take a look at the projects we've completed recently," says Joel.
"In the recent months there have been exciting multifamily, affordable housing, and hotel projects completed in our province. Moreover, even in the single family home space, modular construction has a spectrum of offerings for consumers which provide a range of designs and finishing that goes from budget-conscious homes to luxury, custom finishes."
As an example of how a modular building can be customized to produce a unique end product, consider Metric Modular's Elk Mountain Lodge. This executive hunting lodge in the Colorado Rockies incorporates vaulted ceilings, rich wood finishing, and a five-star restaurant.
Alongside such diverse projects, Metric Modular recently completed Jacobson Hall – Trinity Western University's (TWU) 220-bed student housing complex, which is Canada's first five-storey volumetric building.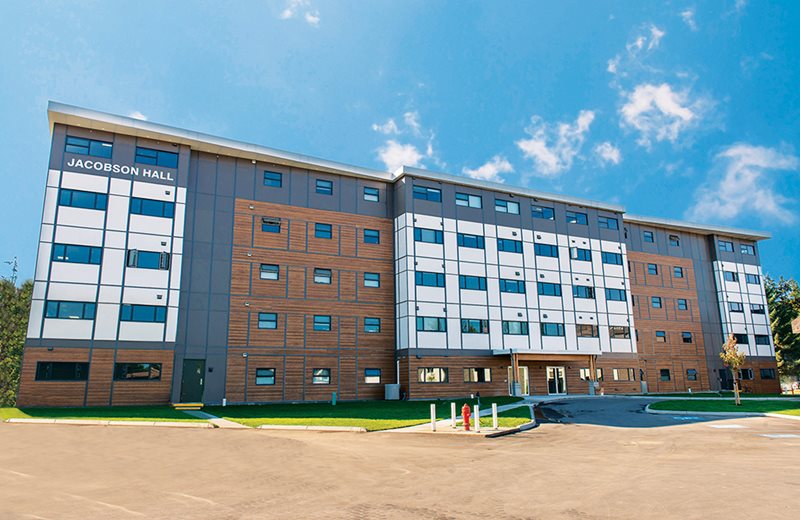 Jacobson Hall, Canada's first five-story volumetric building. Photo credit: Metric Modular
Incorporating a sleek design, dedicated study areas on each floor, and plenty of natural light, the building has helped TWU provide a housing solution for its growing student body. It was completed in just nine months.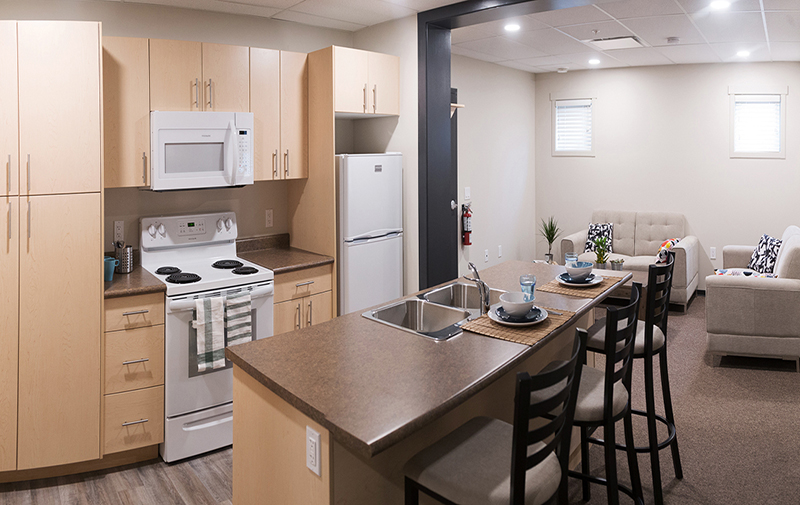 Student living space in Jacobson Hall. Photo credit: Metric Modular
Summing up, Joel notes that "in Canada and the USA, the acceptance of modular construction falls behind many other parts of the world, but we believe that is going to change. Metric Modular sees opportunity to compress traditional construction timelines, improve quality and provide a more collaborative and proactive approach to construction projects.
Currently we are seeing modular construction increasingly accepted for multifamily residential, dormitories, hospitality, and office projects to name a few. Modular construction is in the process of transforming construction in North America."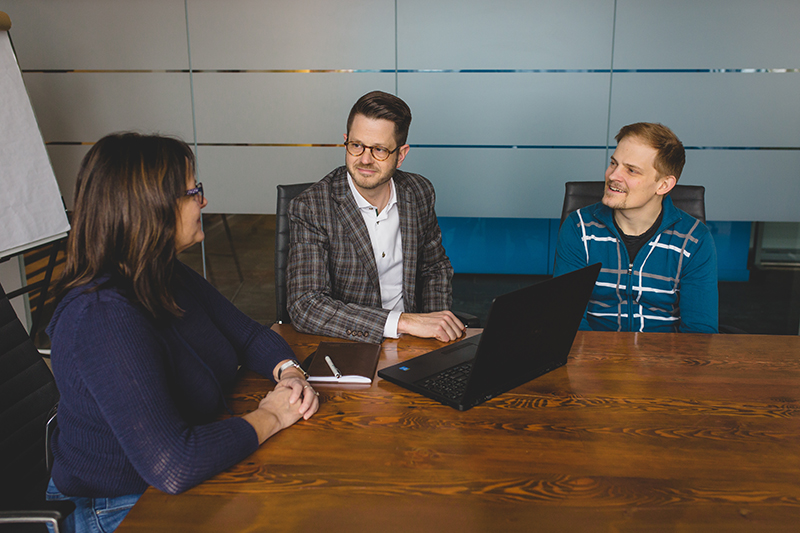 Metric Modular's finance team. Photo credit: Wink Photography
---
Leah Giesbrecht is a communications coordinator with the Chartered Professional Accountants of British Columbia.
CPAs, did you know that CPABC has 17 member forums, including a Construction Sector Forum? Contact CPABC's Advisory Services about how to join a forum.