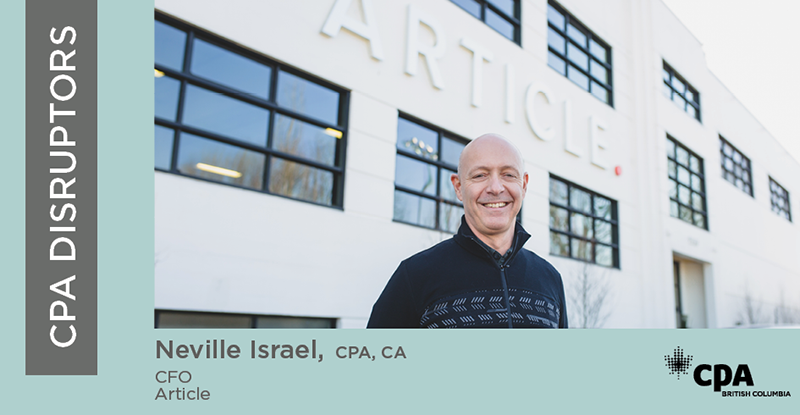 Photo credit: Wink Photography
CFO: Neville Israel, CPA, CA
Headquarters: Vancouver, BC
Key technologies: eCommerce
Recent milestones: Ranked first in Canadian Business' 2018 list of Canada's Fastest-Growing Companies, Ernst and Young's 2017 Entrepreneur of the Year award in the Emerging Technology category
Disrupting: Furniture industry, retail
Digital disruption has re-invented how the retail industry services consumers, shaking down brick and mortar stores from its once prominent position, or else integrating them into multi-channel shopping experiences. One company that was quick to capitalize on these opportunities is Vancouver-based furniture retailer Article.
The company was founded by four engineers who shared a passion for entrepreneurship. The group wanted to leverage their expertise in using logic and data analysis to create a business where the entire shopping process would be streamlined. They soon realized that there was a wide-open opportunity in the furniture market – an industry known for expensive showrooms, high markups, and inefficient processes. The furniture industry was also one subset of the retail world that was slow-moving in adapting to digital disruption.
"The traditional furniture-buying experience has some significant negatives including a major trade-off between quality and value. This process also often involves unreliable, time-intensive customer service including slow and inefficient delivery," says Article's CFO, Neville Israel, CPA, CA.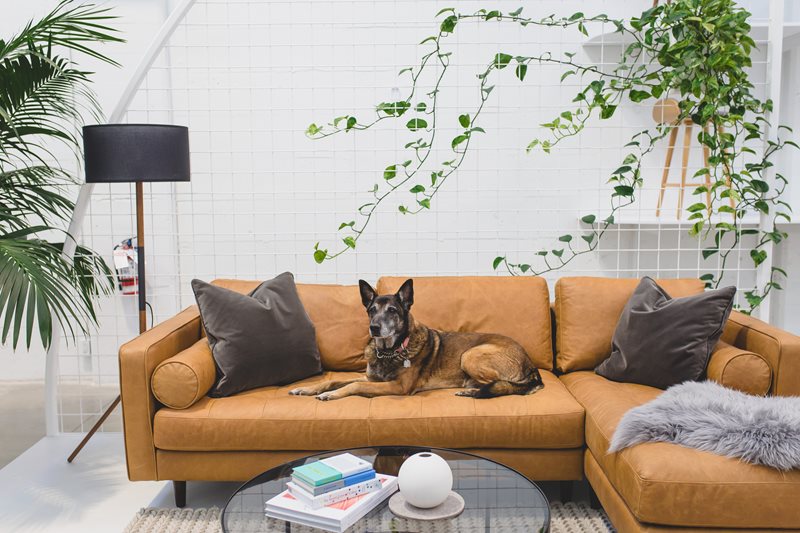 Article's employees are welcome to bring their dogs to work. Neville's dog Chico is a regular face at the office. Photo credit: Wink Photography
With these factors in mind, Article officially launched in 2013, selling its affordable modern furniture directly to consumers throughout Canada and the US. Three years later, the company's annual revenue hovered near the $50 million mark.
Revenue doubled to $100 million in 2017 and company sales have continued on this growth trajectory. Within its first five years, Article achieved an astronomical 56,581% business growth, garnering it the top spot in Canadian Business' Growth 500 list of Canada's Fastest Growing Companies in 2018.
Article is among a recent trend of direct-to-consumer business models who have taken a digital-first approach to growth. For example, Casper and Endy have disrupted the mattress industry; and Indochino has taken the men's apparel world by storm.
So how has Article taken the opportunities available in today's digital world and overthrown the traditional furniture-buying experience?
Quality vs retail pricing
Given the significant retail markups necessary to operate brick and mortar showrooms, high quality products and reasonable consumer pricing are often incompatible. In a previous interview with Forbes magazine, one of Article's co-founders, Andy Prochazka, stated a typical retail markup can be 400% above factory cost, meaning a couch that costs $500 to manufacture may sell for $2,000. By not having brick and mortar showrooms and salespeople, Article is able to sell its products for considerably less than its competitors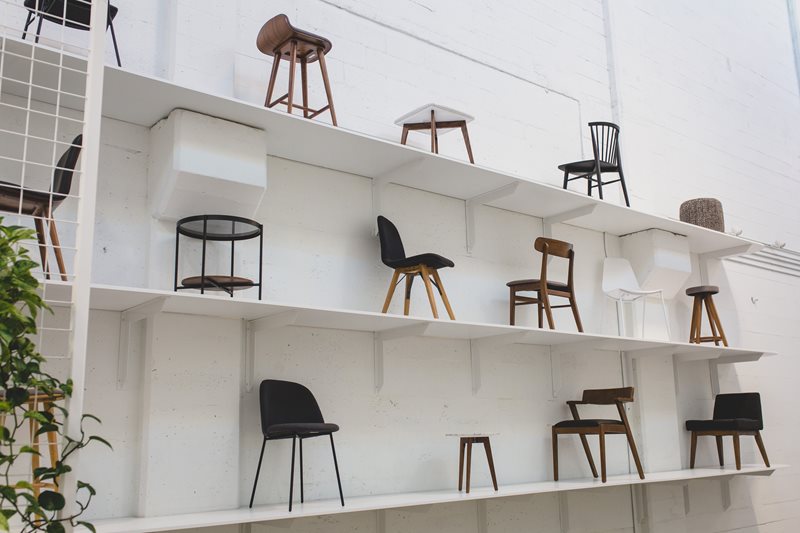 Article's creatively-designed products are manufactured from best-in-class materials and sold directly to consumers without typical retail markups. Photo credit: Wink photography
"Our in-house design team works with the best designers around the world to develop products exclusive to Article and are only available for purchase on Article's website," explains Neville. "Our products are comprised of best-in-class materials and the business model allows for pricing that is 30% lower than brick and mortar competitors for equivalent quality items."
Data-driven, evidence-based approach
One of the things that attracted Neville to Article was the appeal of its tech-driven culture. Originally from Cape Town, South Africa, Neville first came to Canada to work for Sun Rich Fresh Foods, Inc., a Canadian fruit processing business, where he started as CFO and eventually assumed the role of CEO during his 21 years with the organization.
Looking to use his leadership and entrepreneurial expertise to help guide a young company, Neville joined Article in January 2018, inspired by the company's technological innovations. "Article has a strong engineering mindset and uses a data-driven, evidence-based approach to problem solving and decision making. Being digitally native allows us to nurture a technology-first philosophy which drives efficiency and furthers customer value," says Neville.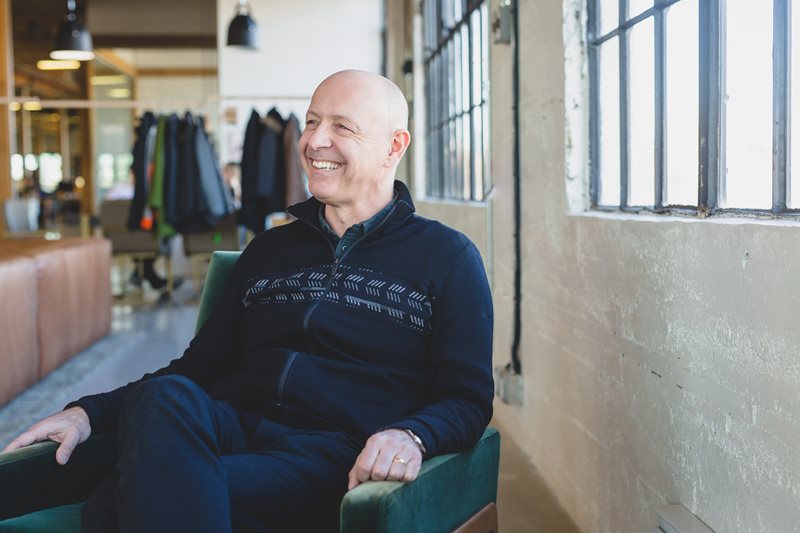 After years of leadership and entrepreneurial success, Neville joined Article, inspired by its tech-driven culture. Photo credit: Wink Photography
In particular, Article uses a proprietary, company-wide enterprise resource planning (ERP) software system that links all of its business activities, allowing the company to track and manage everything from customer communication to sales analytics. By doing so, data such as sales and customer feedback can easily be used to make informed business decisions. The company is able to quickly react and make adjustments when needed.
Social media envy
Article is part of the movement of social media-savvy businesses disrupting traditional marketing with social media. By investing in attractive, high-quality images of the company's sleek and modern products, Article has capitalized on visual platforms such as Instagram and Pinterest to reach audiences.
"One of Article's defining strengths is our very strong brand resonance, particularly with young digitally native consumers, aged 24-44. We now have over 365,000 followers on Instagram and 3.9 million Pinterest viewers monthly and we're continuing to grow quickly," notes Neville.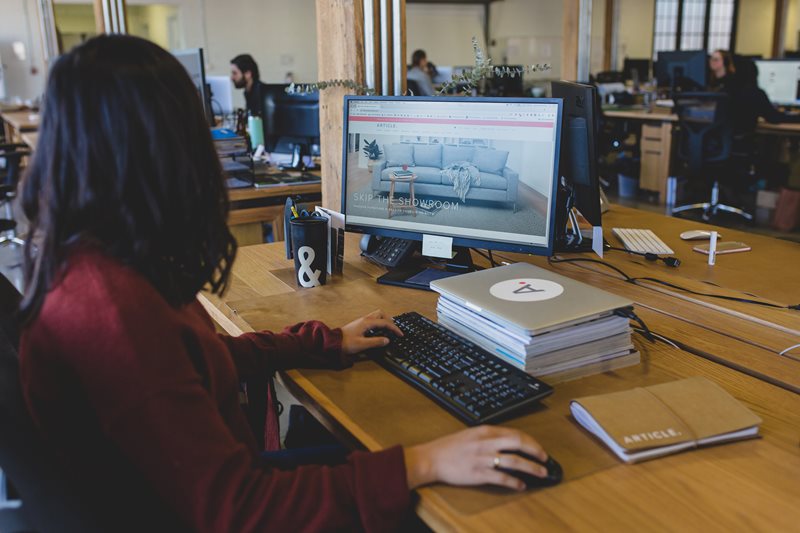 Article's head office, located in Vancouver's Strathcona area, has over 150 employees, known as "Particles". Photo credit: Wink Photography
With its sophisticated, artistic photography, Article has positioned itself as a lifestyle brand. And while Article's products aren't sold at bargain prices, it offers high-quality, stylish designs at an attainable price compared to aspirational lifestyle furniture brands.
The customer experience
Combined with its website and social channels, Article has produced something much more effective than any physical showroom – it's created a virtual showroom spread throughout multiple digital channels, accessible to customers 24/7. Clever product descriptions replace salespeople. User-generated content and participation in the form of audience comments, likes, shares, and customer reviews amplify Article's credibility and provides further information for customers and potential customers.
Neville states, "We provide an elegant online shopping experience including beautiful photography produced by our photography and videography team. Customer service is excellent with our 30-person Vancouver-based customer care and delivery teams. Since product is stocked in North American warehouses, delivery times are significantly quicker than what is typical in the industry."
Article's head office was originally The Canadian Bag Company's factory, built in 1929. The office radiates the company's lifestyle-brand image and collaborative work culture. Photo credit: Wink Photography
Taking things a step further with its delivery service, Article recently launched its in-house delivery program, Article Delivery Team (ADT). By eliminating third-party contractors, Article is able to take control of the delivery experience and optimise it based on customer feedback.
By communicating directly with clients, Article's customer service team can solve issues on the spot, such as rescheduling delivery appointments or shipping alternate product sizes or colours. As part of the pilot program, Article launched ADT in select cities and hopes to roll the service out to as many regions as possible.
Summing up, Neville notes that "the home furnishing market totaled $283 billion in 2018. The online segment is growing significantly faster than brick and mortar businesses and generated sales of $33 billion last year."
"Article is truly a local success story in disruption and the company is well-positioned to leverage its technological insight and competitive advantages as it continues on its path of being a major player in the home furnishings industry."
Related articles
---
Vince Kanasoot is a communications specialist with CPABC.