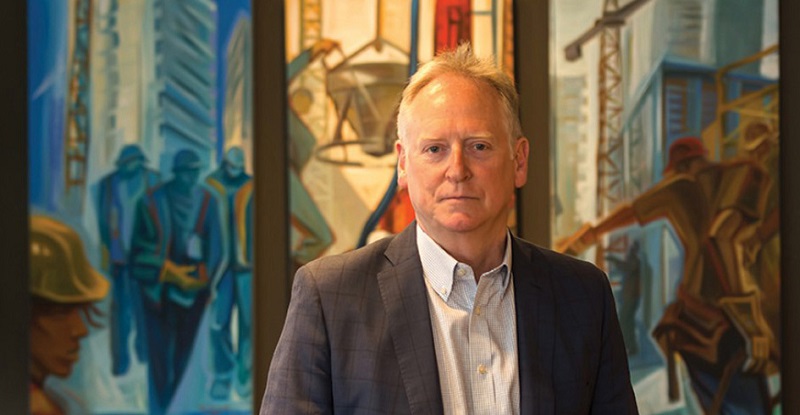 Photo credit: Chung Chow/Business in Vancouver
The impact of John McLaughlin's career can be seen throughout Metro Vancouver. For over thirty years, he has played a major role in facilitating Vancouver's commercial and residential property growth, as well as showcasing Vancouver's vibrancy to the world.
John helped Vancouver welcome the world to the 2010 Olympic and Paralympic Winter Games when he served as executive vice president and chief financial officer (CFO) for the Vancouver Organizing Committee. A Chartered Professional Accountant (CPA), this wasn't the first time John's financial expertise was called upon to help plan a major international event; previously he also helped organize the Expo 86 world fair.
The Olympics and Expo 86 showcased Vancouver as a desirable place to live and visit. Vancouverites continue to benefit from Olympic infrastructure and amenities, such as the Sea-to-Sky highway upgrade, Vancouver Convention Centre, and the Canada Line Skytrain connecting downtown with YVR airport.
John continues to support the growth of Metro Vancouver's communities in his role as CFO of Concert Properties Ltd. The company builds and operates multiple residential projects, including condominiums, residential rental developments and seniors' residences. Concert Properties also owns nearly 90 industrial and office buildings across Metro Vancouver, Victoria, Alberta, and Ontario and continues to build and manage rental properties throughout these regions.
Recently, John was recognized with a BC CFO Award in the Large Private Company category. This recognition stands alongside other notable achievements he's garnered over his career such as his fellowship designation from CPABC and the Olympic Order from the International Olympic Committee (IOC). Industry Update spoke with John as he reflected on his career and future aspirations.
While managing the financial portfolios for the 2010 Winter Olympic and Paralympic Games, you had to deal with the 2008 financial crisis. What key learning did you take away from this experience?
"During the fallout of the 2008 financial crisis, our sources of new revenue such as sponsorship dried up immediately. This was expected. However, the greatest impact on our planning for the Olympics was very unexpected. Some of our key suppliers were unable to deliver the goods and services necessary to put on the Games, as they had their credit lines reduced by their banks.
A key learning I took away is that you always need to be prepared for the unexpected. It's important to be honest and direct in your communications, especially when you're relating how you expect to deal with setbacks. This applies to communications with your internal audiences as well as those outside your organization including partners and other stakeholders."
How would you describe your leadership style?
"I try to be supportive of my team, giving them room to take on responsibility for delivering their work without excess micro-management. This requires me to trust the strength of my team's skills as well as ensure my expectations for deliverables and how the work gets done are clear."
As CFO of Concert Properties, what are your primary responsibilities?
"On a daily basis, I'm actively engaged in supporting sound decision-making and ensuring financial accountability throughout the organization. This involves internal and external financial reporting, banking and credit relationships, treasury management, risk management, IT, taxation and providing strategic and general advice to the CEO and senior management team."
What is an interest or passion you have outside of work?
"I love to travel just about anywhere in the world, I love to eat good food with good wine, and I love to ride my bicycle. Fortunately, it is often possible to combine all of these passions."
John recounts traveling to nearly 60 countries, including an eight-month cycling trip from Asia to Europe, as well as participating in Concert Properties' Ride to Conquer Cancer trip to Hope, BC. Since planning the 2010 Olympic and Paralympic Winter Games, John continues to be involved with the IOC, travelling with successive Evaluation Commissions to potential host cities as an expert advisor on finance.
When asked about the future, John notes the opportunities he sees for Vancouver's commercial and residential real estate industry. "There continues to be opportunities to provide affordable, safe, and desirable housing to Vancouver's growing population. Housing needs to evolve over time and those of us developing real estate must play a leadership role."
"Concert Properties has a number of multi-phase communities underway in BC and Ontario totaling 10,000 homes, which will comprise of rental homes, condominiums, and seniors' housing," says John. "And we don't just provide housing - we help grow communities around these properties. Concert has contributed to public amenities throughout Metro Vancouver through the development of daycares, parks, public art installations, and policing and community facilities."
John notes, "We can make positive differences to our communities by focusing on developing real estate that is sustainable – environmentally, socially and financially."
---
Vince Kanasoot is a communications specialist with the Chartered Professional Accountants of British Columbia.