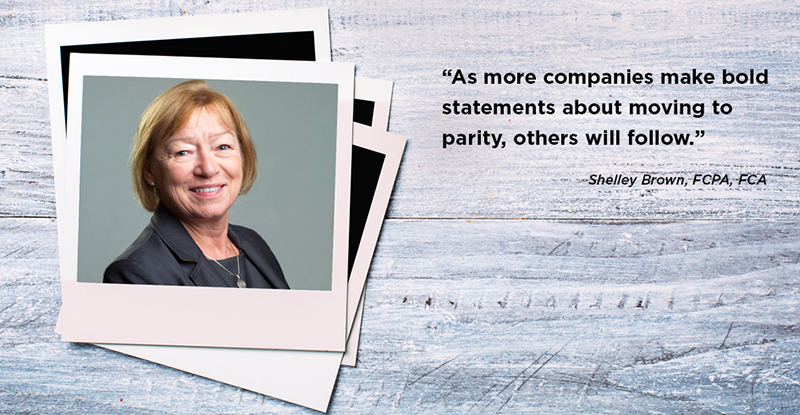 Photo credit: Thinkstock
"Canada has the opportunity to become one of the strongest economies in the world if we take advantage of our diversity," notes Shelley Brown, FCPA, FCA, "and in Canada today I think appropriate diversity means parity."
A partner at Deloitte who has been four times recognized as one of Canada's most powerful women, earning her a position in the WXN Hall of Fame, and a recipient of a 2018 Influential Women in Business Award, Shelley has advocated for gender equality in the workplace and on leadership teams throughout her career. Often, this has meant taking on leadership roles formerly reserved for men. One such milestone for Shelley was when she became the first woman partner in her firm in Canada to be appointed as an office managing partner. Other career accomplishments include chairing CPA Canada's board of directors and serving as a director on Deloitte's national board for three terms.
IndustryUpdate.ca spoke to Shelley about challenges to parity, ways to overcome these roadblocks, and the importance of achieving equality in the workplace.
You are known as a champion of workplace diversity and inclusion. Why do you work to foster these two things?
"Throughout my career I have worked in male dominated leadership teams. This includes client leadership teams and boards, and the partnership structure of the firms where I have worked. Women make up more than half of the workforce and yet continue to be sorely under-represented at the leadership levels of most organizations. I believe strongly in inclusive work environments and embracing all aspects of diversity.
Research has shown that diversity, and in particular gender diversity, is important in good governance and that corporations with diverse boards are more profitable in general. It leads to diversity of thought, bringing different perspectives to the table, and ultimately better decision making. This research is well founded and broadly accepted and yet we are far from parity on corporate boards in Canada."
What are the most common challenges to inclusion and diversity that you have witnessed?
"The most common challenge that we have today in creating an inclusive and diverse work environment is the unconscious bias that we all have. Most people recognize that an inclusive workplace is the desired state but it is often difficult to get past the unconscious bias. We all have certain beliefs about certain stereotypes that we have grown up with that we don't recognize as being a bias. The first step is recognizing it."
What does that unconscious bias look like in the workplace?
"In professional services firms I think there has probably been an unconscious bias that the majority of partners will be men. That is changing, but we still need to be asking ourselves, 'What are the unconscious biases in our organization, and how do we work to overcome them so that everyone has an equal chance of progressing in their careers?'"
So how can organizations overcome this bias?
"Part of this is training and ensuring that people are aware of what biases they might have. It can also mean forming different groups, including mentorship or coaching groups. For example, at Deloitte we have a women's leadership group where senior leaders work with our more junior leaders to ensure that they are getting introduced to the business community and that they have access to community leaders."
What else do you think needs to happen to get us to parity?
"Peer pressure is one. As more companies make bold statements about moving to parity others will follow. And that does seem to be building – more companies are looking to increase diversity on their boards. It used to be that boards would say, 'Well, what is the business imperative for having gender diversity on our board?' Now, there are all sorts of studies that demonstrate that diversity leads to better decision making, more profitable companies, so boards are paying attention to this now. Additionally, as turnover happens, more and more boards are ensuring that they have appropriate diversity."
In closing, Shelley says that it is also important for organizations to draw on different skill sets and backgrounds, as well as gender diversity. She notes, "This is what most boards should be driving for these days. Once you get to that state, you will truly get the benefits of diversity of thought from equal voices bringing forward ideas that can be shared."
---
Leah Giesbrecht is a communications coordinator with the Chartered Professional Accountants of British Columbia.
To learn more about Shelley and the other 2018 Influential Women in Business award recipients, visit the Business in Vancouver website. CPABC is pleased to be a gold sponsor of this event.