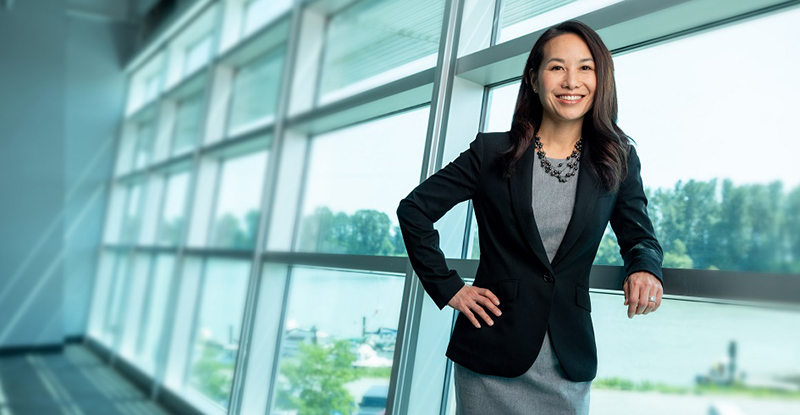 Photo credit: Kent Kallberg Studios
"Status quo is not an option – evolving and creating change in our business is something I'm very passionate about," says Pamela Lee, CPA, CA. As chief financial officer (CFO) of Mr. Lube Canada, a leader in the country's routine automotive maintenance industry, her commitment to collaborative stakeholder relationships drives changes that secure profitable new markets, business areas, and partnerships for the company.
CPABC spoke with Pamela, who was recently recognized with a 2018 BC CFO Award, and whose 20-plus years of industry experience spans the automotive, telecommunications, and forestry sectors. Pamela, whose current responsibilities include overseeing Mr. Lube's finances as well as corporate services such as IT, human resources, and construction projects, shared how staying at the forefront of change helps her business and its stakeholders access new opportunities.
Tell us about a time when you led a business change that produced new profitability for your company.
"A few years ago, we became the first quick lube in Canada to offer national tire services and sales. Up until then, our brand was largely associated with oil change and maintenance services. We spent time with our franchisees and committees developing and testing the service offer to enhance our overall customer experience. Customers come to us for convenience, so it was imperative that this new service continue to support that brand proposition."
Were there any challenges during this process?
"One of the initial challenges was the up-front capital investment required by the franchisees on new equipment. With 175 locations, convincing each location to make the investment wasn't an easy task, and yet, I needed to gain the unanimous support from our franchisees to successfully roll out a national tire program."
How did you successfully navigate this challenge?
"Together with our management team, we met with franchisees multiple times and presented the business plan which detailed the opportunity, the investment required, and the potential investment payback. We incorporated feedback to improve the plan and we communicated regularly so that each stakeholder knew what was happening.
After months of preparation and testing, we rolled out a new tire sale and service offer across the Mr. Lube brand. Today, our tire business is driving significant growth for our business, our franchisees are investing in more equipment because of strong demand, and our customer satisfaction rates are at an all-time high."
Was there a key learning you gained from this process?
"My most important take-away from this experience was to take the time to solicit stakeholder feedback early on because it leads to better decisions and a higher chance for a successful outcome.
When the stakes are high, you need more communication, not less. Especially in an environment with many different stakeholders, each with their own unique perspective, it's so important to get feedback along the way to make sure decisions have the best possible outcomes."
Change is often unpredictable. Is there a top risk management issue that you have navigated?
"I liken my job as CFO to that of a crusader for our franchisees…their success is the strength behind the brand. When I see costs increasing or issues that adversely impact customer visits, I know it has a direct impact to our franchisees' bottom line and I feel compelled to do something about it.
Being able to navigate risks successfully means always being in tune with what matters to our franchisees. At Mr. Lube we meet regularly with our franchisees to discuss marketing, operational, and strategic initiatives, and we challenge ourselves to drive innovation.
For example, earlier this year, we embarked on developing the 'store of the future' which employs evolving technology and reduces our carbon footprint. With technology driving much of the changes in our industry, I see an opportunity to design smart stores that can communicate and be flexible for growth while also reducing environmental impacts. As CFO, driving this type of innovation is a key part of the job to grow market share and to improve our franchisees' overall investment."
Looking ahead, how are you helping your business adapt to change?
"Staying on top of changes in our industry and discussing these regularly with our franchisees allows our business to seize opportunities and adapt to change quickly. We also spend a lot of time developing our company culture around innovation and strategy. The industry is constantly evolving. We're industry leaders, and creating change is one of the most exciting aspects of my job."
Can you share an interest outside of work that you are passionate about?
"Whether it's volunteering at the Zajac Ranch for Kids that is supported by the Mr. Lube Foundation, mentoring other women in business, or simply helping at my children's school functions, I'm a big believer in giving back to communities." In closing Pamela notes, "I relish the people aspect of work and life because I think that's where the greatest lessons are learned."
---
Leah Giesbrecht is a communications coordinator with the Chartered Professional Accountants of British Columbia.
A shorter version of this Q&A was published in the September/October 2018 issue of CPABC in Focus. PDF
To learn more about Pamela and the other 2018 BC CFO Awards winner recipients, visit the Business in Vancouver (BIV) website. CPABC is pleased to be the presenting sponsor of this event. Visit the BIV site to nominate a CFO for next year's awards.