Member Recognition Awards 2023
Award Overviews and Nomination Criteria
Nominators are responsible for ensuring that the file is complete and that the information it contains is accurate and sufficient to allow the committees to fairly evaluate the nomination. The committees also reserve the right to have the main facts in support of a nomination validated by an outside source.
CPAs selected by their peers in the various categories are recognized through community and provincial press releases, social media campaigns, and are profiled in CPABC in Focus magazine. CPABC seeks to ensure the broader community is aware of the contributions our members make to this province.
Browse the awards below to see what they recognize, how the eligibility and selection criteria work, and links to the nomination forms.
Nominations are now open. All nomination files must be received by 4:00 pm, Monday, September 18, 2023.​
Member Recognition Award Recipients - 2022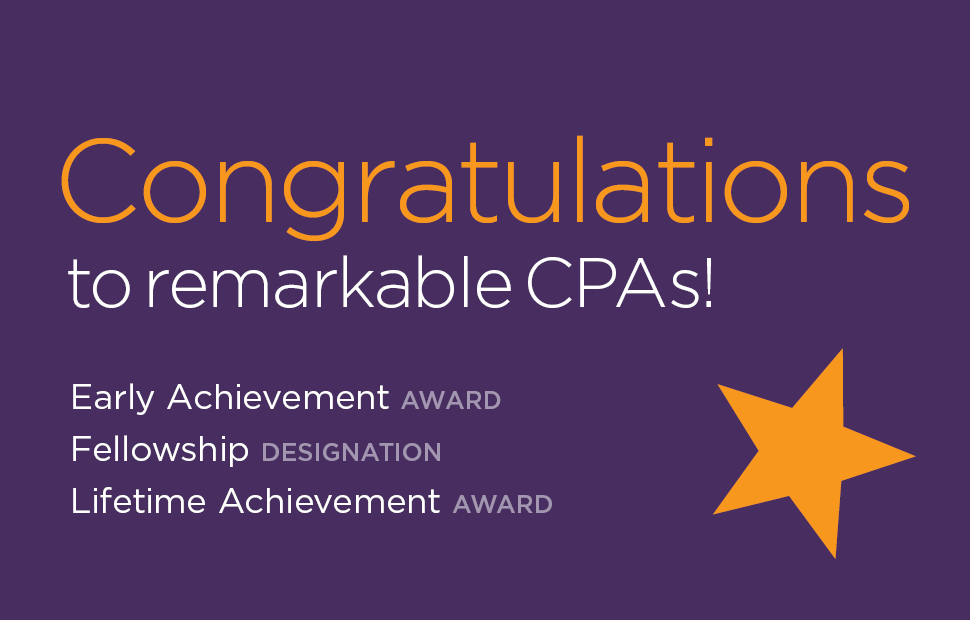 Congratulations to the 2022 Member Recognition Honourees!
Every year, CPABC calls for peer nominations for the following member recognition awards. In doing so, CPABC is seeking to identify those members making a significant impact in their organization, the broader business community, charitable and community organizations, and the CPA profession. Members going above and beyond the norm, who set the standard for excellence. Our 2022 honourees will be celebrated at the Member Recognition Dinner on April 4, 2023. 
CPABC's 2022 Member Recognition honourees are:
Early Achievement Award
Paulina Cameron, CPA, CA
Mallory Denniston, CPA, CA
Jocelyn Li, CPA
Elected to Fellowship
Robert (Bob) Armstrong, FCPA, FCA 
Warren Beach, FCPA, FCA 
Gopi Chande, FCPA, FCA 
Catherine Dahl, FCPA, FCMA 
Kate Furber, FCPA, FCA
Amanda Hobson, FCPA, FCA 
P. Angus Izard, FCPA, FCA, FCGA 
Terry Krepiakevich, FCPA, FCA 
E. Anne Macdonald, FCPA, FCA 
Michael Macdonell, FCPA, FCA 
Lifetime Achievement Award
Eric Watt, FCPA, FCA
From new CPAs making an impact in their organization to CPAs being honoured for a lifetime of achievement, these members personify excellence. Through their commitment, actions, and significant contributions, they represent the best of the profession. 
CPABC's peer-based awards program allows members to identify and recognize CPAs who stand out—those who are truly making a difference.
Member Recognition Awards 2023
Member Recognition Awards 2023