The Member Recognition Program recognizes all members receiving awards for the following categories: Early Achievement, Distinguished Service, Fellowships, and Lifetime Achievement.
CPAs are leaders, volunteers, community workers, and educators, and CPABC celebrates those who have made a notable contribution to the profession, the business community, and to charitable endeavours.
From new CPAs making an impact in their organization, to CPAs being honored for a lifetime of achievement, these members personify excellence. Through their commitment, actions, and significant contributions they represent the best of the profession. 
This peer-based program allows members to identify and recognize CPAs who stand out, those who are truly making a difference.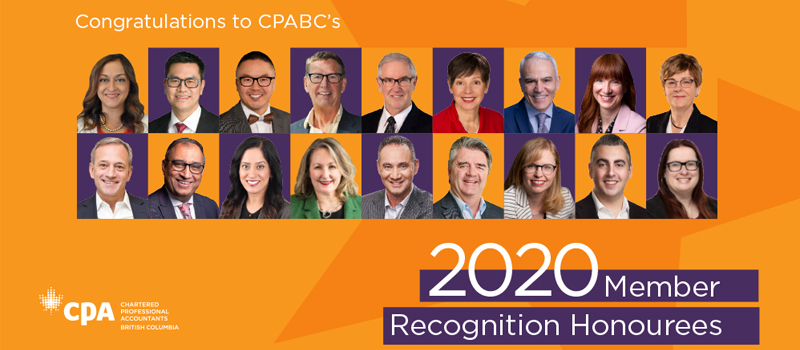 Top row (left to right): Fellows: Salma Bhaloo, Bruce Chan, Nelson Chan, Geoffrey Chutter, Douglas Crowder, Constance Fair, David Garofalo, Lara Greguric, Diana Lokken
Bottom row (left to right): Fellows: Alan Peretz, Dalbir Rai, Neelam Sahota, Jill Tipping, Gavin Toy, Honorary CPA: Graham McIntosh, Distinguished Service Award: Leanne Cheng, Early Achievement Award: Derek Lamb, Sinead Scanlon