CPABC Victoria/SVI Chapter Recognized by Camosun College News
Published Date: Feb 3, 2020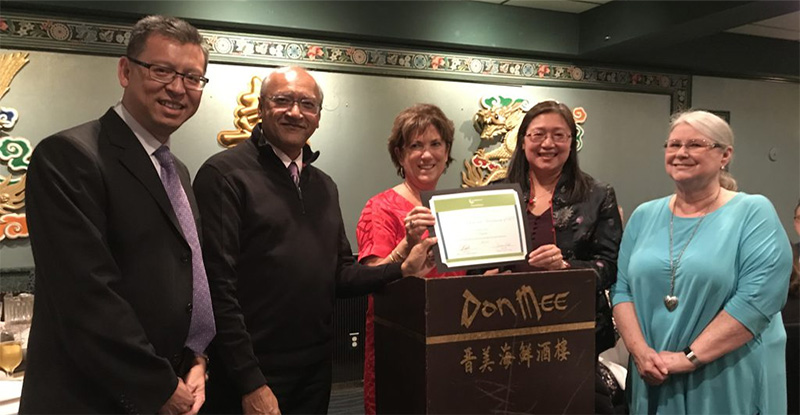 Photo credit: CPABC
On February 13, 2020, the CPABC Victoria/SVI Chapter was recognized for its long and sustained support of Camosun College.
Sherri Bell, Camosun's President and CEO, and Jeety Bhalla CPA CA, chair of Camosun Foundation, presented the chapter with a certificate of appreciation for 26 years of supporting Camosun programs and students. This presentation was made at the chapter's annual Chinese New Year Gala Dinner and Silent Auction which raises funds towards an endowment at Camosun College that support scholarships for accounting students. Bell thanked local members, the chapter and the accounting profession for their generous support which spans almost three decades.
The certificate of appreciation was gratefully accepted by event volunteer Cindy Choi FCPA FCGA and Chapter leaders.
Choi said, "Local CPA members are delighted to be acknowledged by Camosun for our support of students and faculty. We wish all the award winners and students continued success in their future careers."
Each year, the profession provides almost $8,000 in awards to support Camosun accounting students. In addition, there are various programs offered by the CPA Education Foundation, such as the Speaker Series, Academic Passport and biennial accounting educators academic symposium, that assist CPA faculty members advance accounting education in BC.
The chapter is also active with social networking and PD events. Watch for upcoming events which are announced in regular chapter emails.