Recap: CPABC Hockey Night – Canucks trounce Leafs Event Recap
Published Date: Mar 5, 2021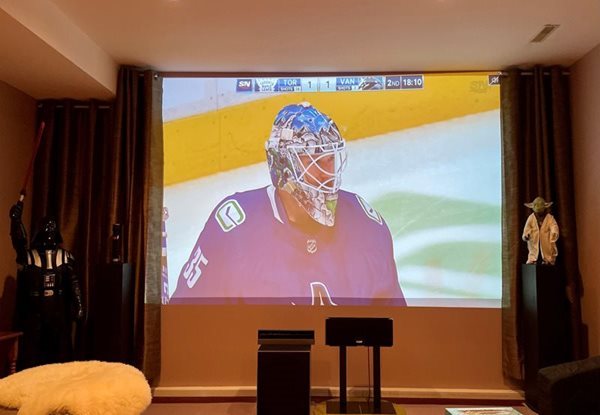 Photo credit: CPABC
The CPABC North Shore / Sunshine Coast Chapter, in collaboration with CPABC, hosted their 5th Annual Hockey Night professional networking event on March 4, 2021. Even though this event was held online this year due to the continued restriction on large in-person gatherings, the enthusiasm of the 26 members, candidates and students registered for the event proved that Canuck fandom is still strong despite the pandemic.

Attendees joined a ZOOM pre-game reception from the comfort of their own home or office. An engagement package was sent to all registrants comprising gourmet popcorn, cans of soda, chips, nuts and other delicious treats, which helped complete the home-arena experience. During the reception, door prizes were awarded for "Best Dressed Fan" (Darcy Daubaras) and "Best Virtual Background" (Allan Wiekenkamp).

Attendees were upstanding for the singing of the national anthem before settling into their fabulous "club seats" to watch the Toronto Maple Leafs take on the home team. Many were nervous about the potential outcome of the game because of the absence of star centre player, Elias Pettersson, who was scratched from the lineup earlier in the day due to an upper body injury. This tension increased by the end of the first period with the score tied 1-1.

Returning to ZOOM, attendees reflected on the home team's first period performance and many provided their own "coach's corner" comments. Then it was time for the raffle tickets to be drawn: Two $25 Gift Cards to Earl's (won by Allan Wiekenkamp and Jennifer Chun) and a NEW Canucks jersey (Darcy Daubaras).

Before ending the ZOOM ROOM, chapter host Faranak Leilaby thanked the attendees for participating and encouraged them to register for future professional networking events. The next event being "Annual March Madness"; on March 24 which will be co-hosted by the CPABC Fraser Valley Chapter and CPABC.

The game continued on with the much desired result. By the end of the third period, the home team led 3-1 with Jake Virtanen scoring one goal in each of the first and second periods, and Bo Horvat scoring the final goal in the third.

CPABC will be co-hosting various professional networking events with local CPABC Chapters. h online connection technology, attendees can participate wherever they reside from anywhere in the province. We look forward to virtually connecting with you at upcoming events. And, we share your sentiment and hope that next year's "6th Annual Hockey Game Night" will be an in-person event.