Jagjot Singh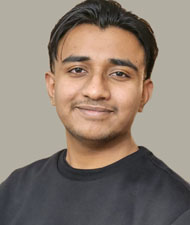 Yorkville
Yorkville_Ambassador@bccpa.ca
Jagjot believes strongly in himself and others, living by the mantra 'to become competent in every human endeavour.' He moved to British Columbia from Ontario to study accounting courses at Yorkville University. This move aligns with his goal to grow professionally, resonating with CPABC's mission to uphold high professional and ethical standards.
He admires the global respect the Canadian CPA designation holds and shares CPABC's goal to enhance its members' and students' knowledge and skills. But his vision goes beyond personal growth. He is keen on bridging the gap between CPABC and the student community at Yorkville to spark interest and understanding in the accounting field.
With practical experience in the accounting field, he is keen to share his experience with his peers. He has assisted his peers with CPA transcript verification and bursary applications and mentored students for their best career choices. He is eager to support and guide his fellow students. He sees a bright path ahead, not just for himself but for his peers, as they delve deeper into the CPA program, embracing its aim to shape learners into leaders ready for the diverse accounting world.
He firmly upholds the principle: 'Together we will grow, together we will rise.'
Jagjot Singh
Jagjot Singh