CPABC Connect Panel: Is Now a Good Time to Become a CPA?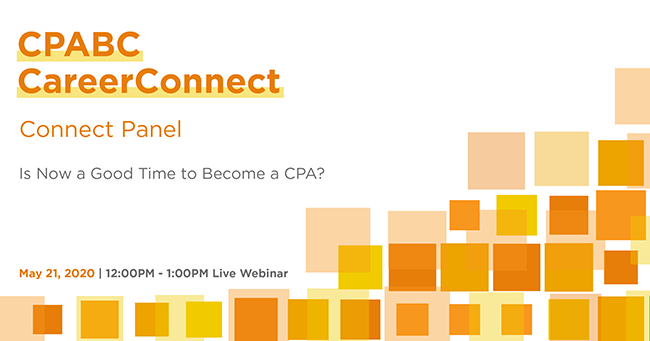 On May 21, 2020, CPABC's Student Recruitment team hosted a panel of CPAs to share their career experiences and thoughts on if CPAs are positioned for adaptability and persistence during times of economic upheaval. 
In these times of uncertainty, is it a good idea to become a CPA? Is it worth the investment, especially during a possible economic downturn? What are CPAs doing during times like this to adapt and provide essential services to the community? These may be some of the questions you are asking yourself while coping with the ever-changing situation and thinking about your future career.
Panelists: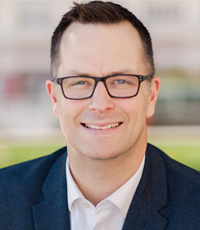 David Neale, CPA, CA
Partner, PwC
David Neale is an Assurance Partner with PwC Canada and is based in their Vancouver office.
David's clients range from large public companies to smaller, owner managed businesses and cover a variety of industries. David is also the Partner that leads Campus Recruiting for PwC in the BC Region.

PwC transitioned quickly to a remote work structure in mid-March. Their significant investment in digital tools has made this transition surprisingly seamless for thousands of partners and employees in Canada and over 200,000 people globally. They are focused on supporting their clients through this unusual time across all aspects of their businesses.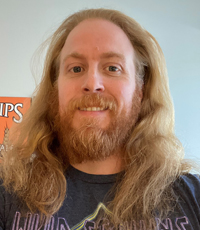 Derek Young, CPA
Director of Finance and Administration, Phillips Brewing & Malting Co.
Derek Young is the Director of Finance & Administration at Phillips Brewing & Malting Company in beautiful Victoria BC.
As a member of Phillips Strategic Leadership team, Derek uses his skills and knowledge as a CPA to help guide the immediate and long-term strategy of the brewery. When he's not hanging around the brewery, Derek loves to spend time outdoors playing softball, hiking and generally staying active.

In response to COVID-19, on March 13th, Phillips Brewing made the decision to have any and all employees that are able, to work from home for the foreseeable future. They have also implemented more stringent safety procedures and spacing within the brewery operations. From a business standpoint, they have pivoted some resources to make & deliver hand sanitizer, utilized their 3D printer to help make face shields and adapted their retail store to include curbside pickup (honk twice!) and home delivery.
Rachel Teh, CPA, CGA
Finance Analyst of Operations, Save-On-Foods
Having spent four years in public practice and the bulk of her accounting profession in various industries such as mining, property management, agriculture and the legal sector, Rachel currently holds a position as a Finance Analyst of Operations at Save-On-Foods, part of the Jim Pattison Group
Over the past couple months, the team at Save-On-Foods have had to adapt to the ever changing times by putting the health and safety of customers and team members first. They have implemented shorter store hours and dedicated shopping hours for seniors and the most vulnerable, social distancing markings on the floor and plexiglass dividers in between the customers and cashiers at check out. Self-serve departments such as the restaurant and bulk food sections have had to be halted but despite these changes, there have been increased sales in the 178 stores across Canada and in their e-commerce division.
If you missed the live event, you can watch the recording. 
CPABC Connect Panel: Is Now a Good Time to Become a CPA?
CPABC Connect Panel: Is Now a Good Time to Become a CPA?