CPABC Connect Panel
The Machines Are Learning – It's Time to Leverage Your Human Skills
Photos by Bobo Zhao Productions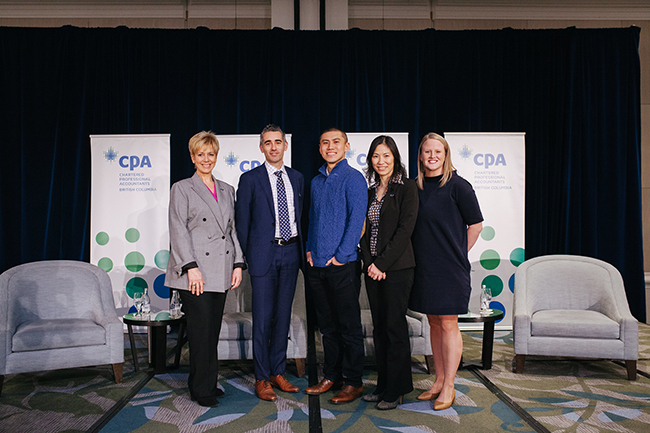 As advanced technology continues to change the world of work, the need for professionals with highly developed "human" (aka soft) skills continues to grow. In the CPA Professional Education Program, these leadership, problem-solving, and communications skills are referred to as the "enabling competencies," and it's expected that CPAs who excel in developing these competencies will be highly sought after now and in the future.
To discuss the skills needed for 2020 and beyond, CPABC's student recruitment and employer relations team hosted its second annual Connect Panel on February 27 at the Fairmont Waterfront Hotel in Vancouver. More than 200 CPA members, candidates, prospective students, and employment partners from various sectors attended the event to gain insights from a panel of senior business leaders.
The event concluded with a networking reception where participants had the chance to dive deeper into the discussion with peers and local business leaders.
To learn about future CPABC Connect Panel discussions, contact our student recruitment and employer relations team at careers@bccpa.ca
Moderator
Diane Kerley, FCPA, FCMA – Partner at The Mason Group (moderator)
Panelists
Andrew James, CPA, CA – Partner, Audit at KPMG
Bob Wang, CPA, CA – Vice President Finance at Traction Guest
Eva Fong, CPA, CGA - CFO at WELL Health Technologies Corp
CPABC is proud to recognize the organizations that participated in the success of the event:
BDO Canada LLP
Canada Revenue Agency
CPABC - Practical Experience
CPABC - Student Recruitment
Deloitte LLP
Entreflow Consulting Group
Ernst & Young
GeoScan Subsurface Surveys
GLENTEL
Hays Recruitment
KPMG
PwC
PCPA
The Mason Group
Traction Guest
WELL Health Technologies Corp
 
Thank you to everyone who participated!
For more information about the CPABC Connect Panel, contact careers@bccpa.ca.
CPABC Connect Panel
CPABC Connect Panel