CPABC Responsibility

Under the Chartered Professional Accountants Act, CPABC has the responsibility to regulate all matters, including competency, fitness and professional conduct, relating to the practice of accounting by members, students, professional accounting corporations and registered firms; CPABC is also required to establish and enforce professional standards.
CPABC protects the public interest by:
setting and enforcing high professional and ethical standards

promoting and increasing competence of members by providing a comprehensive program of ongoing professional development

assessing the continuing competency of members

enforcing practice standards and rules of professional conduct of students and members 

providing a means by which complaints can be dealt with in a fair and efficient way by investigating and adjudicating complaints 
With respect to the last point, two CPABC regulatory committees have been established to address these complaints and may be viewed here: the Investigation Committee and the Disciplinary Committee.
A description of CPABC's Ethics Investigation and Discipline Process may be viewed here.
CPABC Responsibility
CPABC Responsibility
2022/23 Regulatory Report to the Public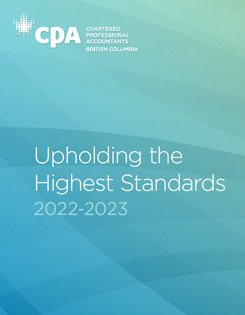 The CPA profession constantly reassesses and adjusts the regulatory system as needed to ensure it continues to meet the needs of the public and government, while meeting or exceeding international standards.
See Report to the Public
2022/23 CPABC Annual Report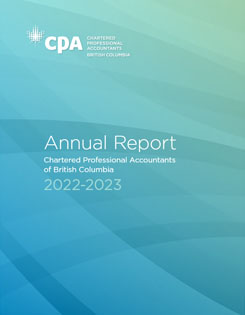 This year, our major initiatives were aligned with CPABC's three-year rolling strategic plan, and continued to enhance the protection of the public, member and student services, and operational effectiveness.
See Annual Report