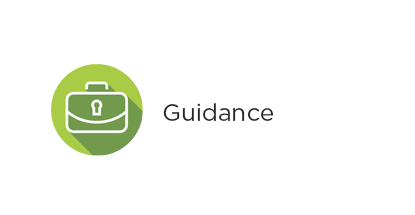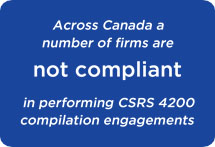 Over the last several months, inspections of compilation engagements across Canada have highlighted some deficiencies in the application of the new Canadian Standard on Related Services (CSRS) 4200, Compilation Engagements.
Our key findings
Financial statements were compiled under the previous standard, Section 9200, Compilation Engagements, rather than the new standard effective for compiled information for periods ending on or after December 14, 2021.
File documentation did not adequately evidence engagement acceptance or continuance procedures.
Neither the intended use of the compiled information nor the assessment of whether conditions were met to perform a compilation engagement were documented.
There was inadequate documentation of the understanding of the entity, its systems and the basis of accounting used.
The disclosure of the basis of accounting was incomplete or misleading. Notably, some entities disclosed that financial information was compiled using Accounting Standards for Private Entities (ASPE), but they did not comply with all ASPE disclosure requirements (e.g., no cash flow statement, significant missing notes).
What can you do?
Read CSRS 4200 in its entirety to understand the new requirements.
Register for relevant training activities.
Download tools and guidance from CPA Canada.
Update firm tools and methodology, including the engagement letter, compilation programs and reporting templates.
Contact your Professional Advisory Services team at professionaladvisory@bccpa.ca.
Restriction of Service
The performance of a compilation engagement is included in the "practice of professional accounting," as set out in subsection 47(1)(c)(i) of the Chartered Professional Accountants Act (CPA Act). Subsection 47(2) of the CPA Act provides that only a CPA member in good standing, a professional accounting corporation, or a registered firm may provide the services referred to in subsection 47(1) of the CPA Act, if authorized by CPABC to do so.
If you are aware, or become aware, of anyone other than a CPABC member in good standing, a professional accounting corporation, or a registered firm performing compilation engagements in British Columbia, please notify CPABC at professionalconduct@bccpa.ca.
Prepare for what's next!
Firms that perform only compilation engagements must implement the new Canadian Standard on Quality Management (CSQM) 1, Quality Management for Firms that Perform Audits or Reviews of Financial Statements, or Other Assurance or Related Services Engagements by December 15, 2023, one year later than assurance engagement firms. Find out more information by reviewing this Practitioner Guide and prepare by downloading the Implementation Tool for Practitioners Canadian Standards on Quality Management.
---
Rate this Entry
---
Current rating: 5 yes votes, 1 no votes
---