CPABC Career Week
Date: April 25-26 & May 5, 2023
Location: Hosted virtually on Hopin and in person at the Vancouver Convention Centre
CPABC Career Week is an all-in-one hybrid recruitment event featuring career workshops, employer information sessions, and numerous networking opportunities with hiring managers, HR professionals, and recruitment experts.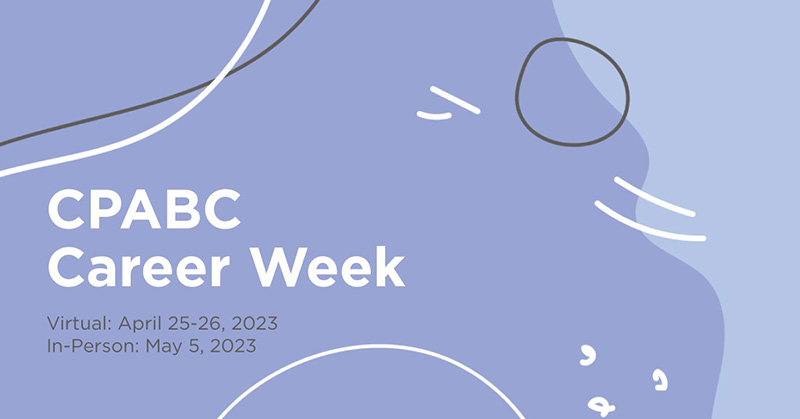 From April 25 – May 5, 2023, over 600 participants and 42 organizations registered to network and engage with their peers on important career topics. Here's a recap of how the week unfolded.
Event Program
Career Workshops
Career workshops cover everything from networking, hybrid work, resume building, and newcomers support so job seekers can put their best self forward. Participants tuned into 9 career workshops ahead of the exciting employer engagements programmed throughout the week, including:
Aston Carter: Interview Best Practices
CPABC: Application and Employment Success
CPABC: Top Notch Resumes
ISS of BC: Global Training Loan Program 2.0
Kashfi Immigration: Immigration Pathways
MOSAIC: Settlement and Employment Services for Newcomers
Robert Half: Career Development in the Hybrid Business Environment
STRIVE Recruitment: How to Successfully Navigate the Job Search Process
S.U.C.C.E.S.S.: Active Career Connect and Engagement Project (ACCEP)
Employer Information Sessions
Hosted virtually on Hopin, 15 organizations showcased their unique workplaces and diverse career opportunities so that job candidates could make informed decisions about where they want to work. Thank you to the following organizations for recording a session with CPABC:
BDO Canada
Canada Revenue Agency
Clearline CPA
Crowe MacKay LLP
D&H Group LLP
DMCL LLP
Grant Thornton LLP
Hub International
KPMG Canada
LLT LLP
MNP LLP
Office of the Auditor General of BC
RHN CPA
Rolfe Benson LLP
ZN Advisory Services Inc.
Speed Networking
A quick and effective way to meet hiring managers and recruitment professionals one-on-one, over 300 virtual speed networking sessions took place on CPABC's virtual event platform.
Career Expo
Hosted in-person at the Vancouver Convention Centre on May 5, over 200 attendees met with 30 organizations to expand their network and explore exciting career opportunities in business, accounting, and finance.
Thank you to everyone who participated at our hybrid event in the Spring!
If you missed the live event, bookmark to stay up to date with us! Questions? Email us at careers@bccpa.ca.
CPABC Career Week
CPABC Career Week