CPAEF Hosts First Symposium Since May 2019
The Chartered Professional Accountants' Education Foundation of British Columbia (CPAEF) held its biennial Accounting Educators' & Academics' Symposium on June 3, 2022, after having postponed the event in 2021 due to the COVID-19 pandemic. More than 80 accounting faculty members from post-secondary institutions (PSIs) across BC attended the event, which was held at the River Rock Casino Resort in Richmond.
Keri Norrie, FCPA, FCA, CGA, chair of the CPAEF Board of Governors, started the day by providing welcoming remarks and a land acknowledgment, after which she introduced the other CPAEF board members who were in attendance.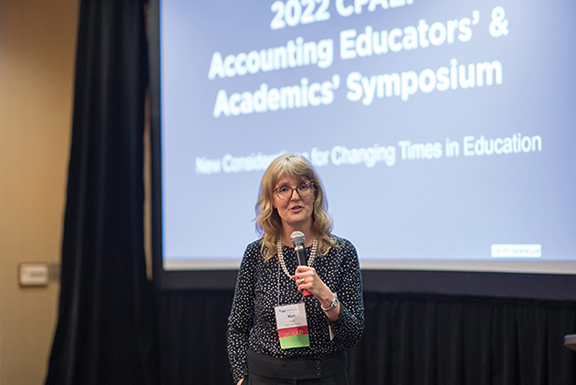 Photo: J Chan Photography
An overview of the new CPA competency map, Competency Map 2.0 (CM 2.0), followed. Presented by Lara Greguric, FCPA, FCA, executive vice-president of learning development and outreach for the CPA Western School of Business (CPAWSB), and Irene Wiecek, FCPA, FCA (Ontario) a member of the Competency Map Task Force, "Top 10 Things You Need to Start Thinking About CM 2.0 and Its Implementation," highlighted the profession's need to simplify the competency map. The presentation also examined how CM 2.0 will, in turn, inform Certification 2.0, the redevelopment of the CPA Professional Education Program. Educators were given the expected timeline for Certification 2.0 and advice on areas of focus when planning for the future impact of CM 2.0 on their learning environments.
Two additional morning sessions followed: "Responding to Microaggressions," presented by Aftab Erfan, PhD, chief equity officer for the City of Vancouver, and "Engaging Students in the Post-Pandemic Classroom," presented by Tammy Towill, FCPA, FCMA, chair of the Capilano University School of Business and a partner with the Cordura Group.
The afternoon portion of the symposium began with two concurrent roundtable discussions led by CPABC staff members Lorena Christensen, CPA, CMA, vice-president of student recruitment and employer relations, and Nicola McLaren, CPA, CA, vice-president of professional development and learning. Participants could choose between two topics: "Meeting Students' Post-Pandemic Expectations for Education Delivery in a Digital Age" and "Preparing Students for a Data-Driven Future."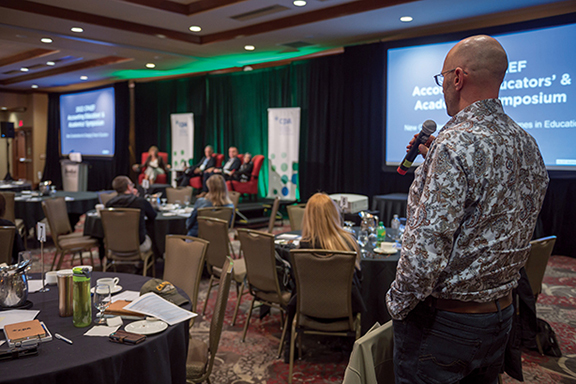 Photo: J Chan Photography
Following these roundtables, Martha Thomas, CPA, CA, treasurer of the CPAEF Board of Governors, hosted "ESG and Future CPAs: A Fireside Chat," a conversation with Roopa Davé, CPA, CA. Davé, a partner with KPMG's sustainability and ESG services practice in Vancouver, explained how the perception of ESG (environmental, social, and governance) methodology is shifting from a social benefit to a valuable business strategy tool.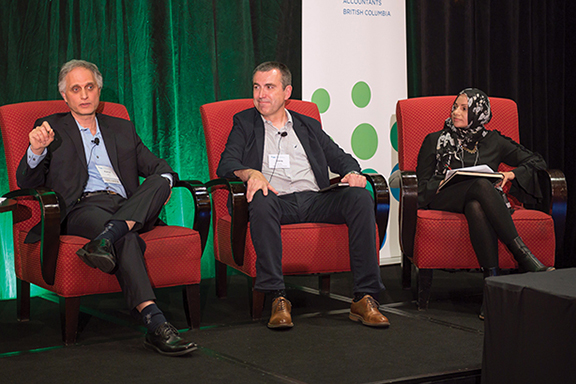 Photo: J Chan Photography
The last session of the day was a panel discussion moderated by Tammy Towill. Entitled "Navigating Academic Integrity in the PSI Classroom," it featured panellists Chris Burnley, FCPA, FCA, a professor at Vancouver Island University; Kamal Masri, PhD, a senior lecturer with Simon Fraser University's Beedie School of Business; and Sukaina Rashid, CPA, CA, acting vice-president of learning partnerships, standards, and communication for CPAWSB.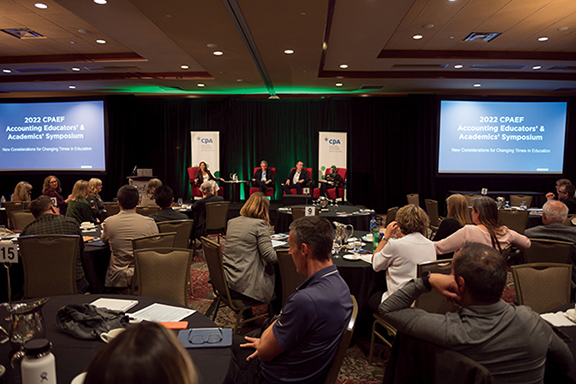 Photo: J Chan Photography
The symposium concluded with a networking reception, which gave all participants a long-awaited opportunity to reconnect with their peers.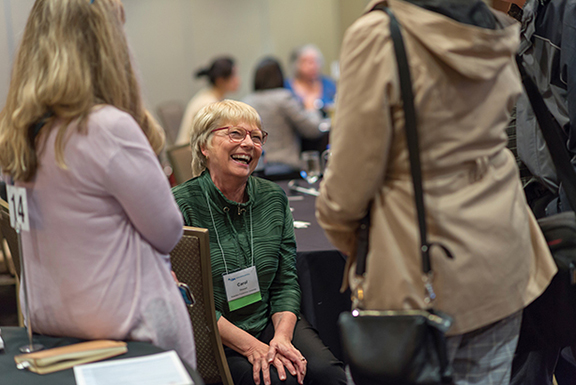 Photo: J Chan Photography
---
CPAEF Hosts First Symposium Since May 2019
CPAEF Hosts First Symposium Since May 2019