Celebrating CPABC's Newest Member Recognition Honourees!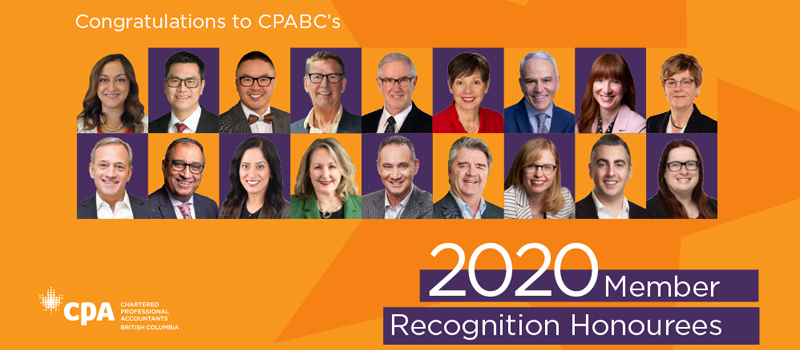 On April 8, CPABC applauded its 2020 Member Recognition honourees by hosting a virtual celebration.  Featuring congratulatory remarks from CPABC's leadership team, personal video messages, and roundtable chats, the event drew approximately 100 attendees, including the 18 honourees who were joined online by family members, friends, and colleagues from across the province.
Opening remarks were provided by Lori Mathison, FCPA, FCGA, LLB, president and CEO of CPABC, and Ben Sander, FCPA, FCA, immediate past chair of the CPABC board and chair of CPABC's two member recognition committees. "Honourees," said Mathison, "I want to applaud you for the many ways you advance business and society as visionaries, strategists, and trusted advisors."
Board Chair Geoff Dodds, CPA, CA, also spoke during the event, commending the award recipients for their exemplary leadership: "Throughout your careers, and particularly through the ongoing challenges caused by COVID-19, you have exhibited remarkable resilience and innovation to guide clients and organizations forward in a sustainable, successful manner. Your accomplishments are a testament to your ability to provide the best type of leadership, even during the most difficult circumstances."
Special video presentations followed in which each of the honourees reflected on their professional and volunteer experiences. The event concluded with an online networking reception.
Each year, CPABC's peer-based Member Recognition Program recognizes individuals who have made notable contributions to the CPA profession, the business community, and/or charitable endeavours. Learn more about the program and how to nominate a deserving CPA.
Celebrating CPABC's Newest Member Recognition Honourees!
Celebrating CPABC's Newest Member Recognition Honourees!