Class of 2020 Recognized with CPABC's First Virtual Convocation Celebration
On May 30, CPABC held a virtual convocation celebration to acknowledge the perseverance, resilience, and accomplishments of the Class of 2020 during this time of physical distancing.
Streamed live on CPABC's social media channels, the broadcast began with a message to graduates from CPABC president and CEO Lori Mathison who noted, "I urge you to use this opportunity to engage with your peers and loved ones and to celebrate everything you have worked so hard to achieve, because you have certainly earned it!"
Next, CPABC board chair Ben Sander spoke, reflecting on the essential roles CPAs fulfill, particularly in the current unprecedented conditions. "Take pride in knowing that our profession is an essential service that supports businesses and individuals and provides them with trusted guidance and certainty," he said.
Class valedictorian Amber Arnold then offered heartfelt congratulations to her fellow classmates and encouraged them to do everything in their power to meet their respective personal and career goals, saying, "I challenge you to come up with your own definition of success and live up to your own measures with passion and commitment."
BC writers who made the CFE National Honour Roll and other members of the graduating class also took part by sharing video messages and photos.
While not a replacement for the traditional, in-person convocation that was originally scheduled for May 9 but postponed due to the COVID-19 pandemic, the virtual celebration provided the chance for graduates and their family, friends, and supporters to connect online and mark this significant milestone.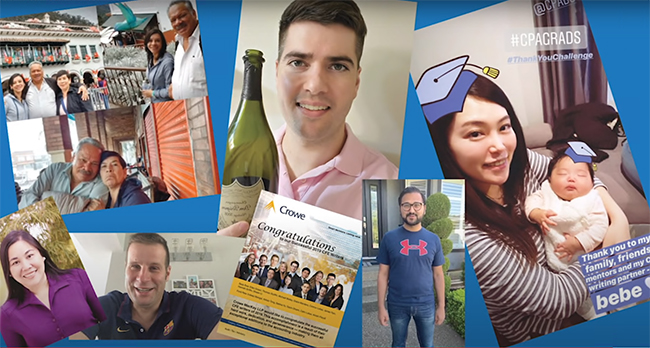 Prior to and during the presentation, graduates shared special memories from their studies by participating in CPABC's #thankyouchallenge – posting photos and videos to social media to thank the people who had supported them the most during their studies, including mentors, family members, and coworkers. An assortment of these messages rounded out the broadcast, giving the event a personalized feel.
Class of 2020 Recognized with CPABC's First Virtual Convocation Celebration
Class of 2020 Recognized with CPABC's First Virtual Convocation Celebration