CPABC CareerConnect Employer Showcase 2019
CPABC held its annual CareerConnect Employer Showcase on May 14 at the Vancouver Convention Centre. This year's sold-out event connected more than 600 participants, including CPAs and future CPAs, with employer representatives from close to 50 organizations – representing every sector in which a CPA can work and apply their expertise (see below for the full list).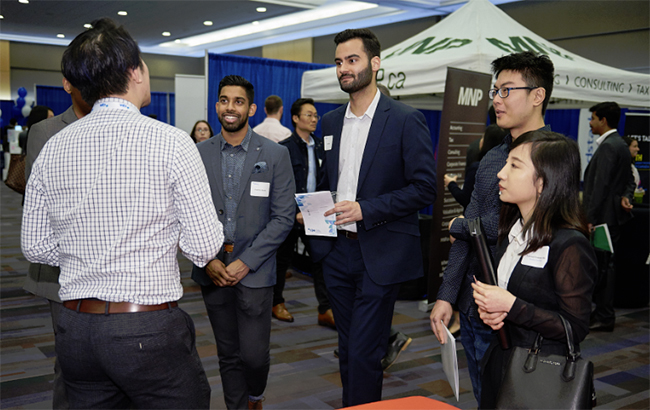 Two weeks prior to the event, registered participants were invited to attend a complimentary workshop (in-person or via live webcast), hosted by CPABC's own Career Advisor, Suzanne Berry. An in-depth review of the 4 pillars of professional poise left participants well-equipped to impress employers at the Showcase.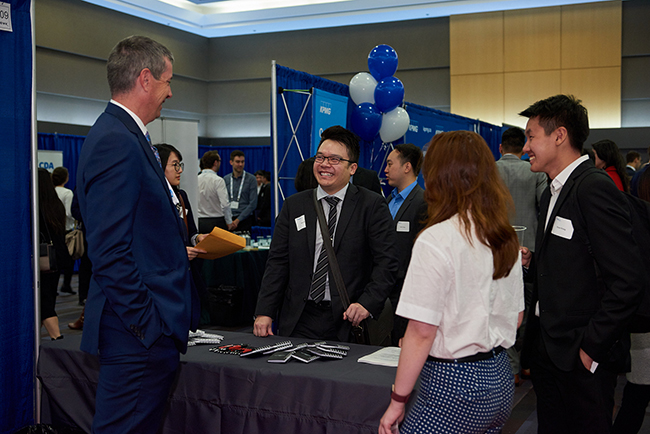 The main event kicked into full swing in the afternoon of the 14th with opportunities for jobseekers to connect directly with employer representatives and local recruitment firms. Participants were invited to get onsite resumes critiquing and career advice from Suzanne Berry and a number of professional recruitment agencies. They also had an opportunity to refresh their online presence by reserving a timeslot with our professional photographer to obtain a complimentary LinkedIn headshot. Other CPABC representatives were on hand to answer questions about the CPA Professional Education Program, the CPA practical experience requirements, and CPABC's member services.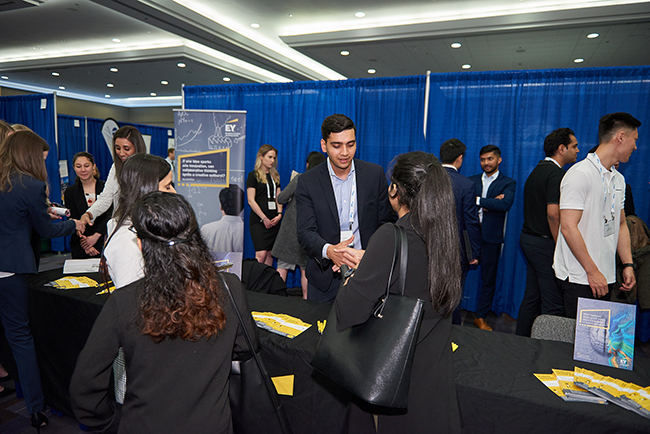 Up to 75 keen jobseekers attended information sessions throughout the afternoon hosted by PwC's Dave Neale, CPA, CA (Assurance Partner) and Kate Furber, CPA, CA (Assurance Partner & Private Company Services Leader), MNP LLP's Shane King, CPA, CA (Partner) and Monica Calnegru (Human Capital Generalist), CPABC's Jessica Chan (Senior Student Recruitment Officer) and Edwards School of Business' Travis Rotenburger (Program and Marketing Coordinator – Graduate Programs).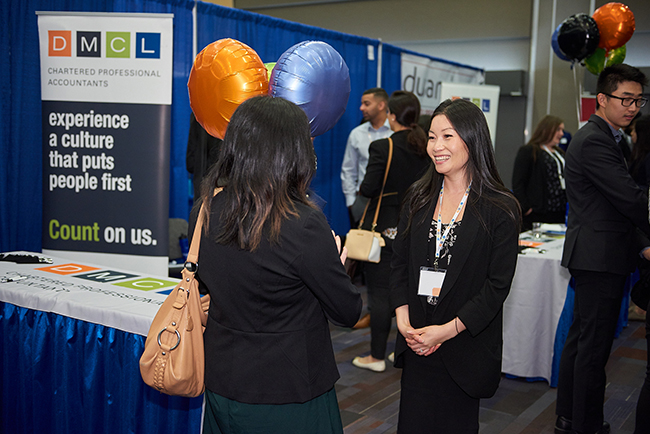 The event concluded with an exclusive reception, attended by over 200 designated CPA members and employer representatives. Guests had the opportunity to continue their career conversations, network with peers and discuss labour market trends.
Hiring CPAs and future CPAs? Visit and join the CPABC CareerConnect Employment Partner Program and be the first to hear when showcase registration opens next year. 
Thank you to all participating employers!
CPABC would like to thank the following organizations for their participation and their ongoing support of CPAs and aspiring CPAs:
Andersen Tax LLP
Baker Tilly WM LLP
BCLC
BDO Canada LLP
Best Buy Canada
Canada Revenue Agency
Clearline CPA
Crowe MacKay LLP
D&H Group LLP
Davidson & Company LLP
Deloitte
Destination Canada
destinationoneTemp Staffing Inc.
DMCL CPA
Dong Russell & Company Inc.
Dusangh & Co. CPA
Edwards School of Business - Master of Professional Accounting
Ernst & Young LLP
Grant Thornton Canada
Hays Recruitment
Horizon Chartered Professional Accountants
HSBC Bank Canada
Impact Recruitment
Interfor
KPMG LLP
Lohn Caulder LLP
Loren Nancke Chartered Professional Accountants
Manning Elliott LLP
Martin & Henry CPAs
MNP LLP
Office of the Auditor General of BC
Purtzki Johansen & Associates
PwC
Randstad
Reid Hurst Nagy CPA
Renaissance Group CPA Ltd
Robert Half Canada
Rolfe, Benson LLP
Sangha Tone CPA Inc.
Save-On-Foods LP
Skeena Resources Ltd.
Smythe LLP
Targeted Talent
The Bowra Group Inc.
Trez Capital
Walsh King LLP
West Fraser
CPABC CareerConnect Employer Showcase 2019
CPABC CareerConnect Employer Showcase 2019