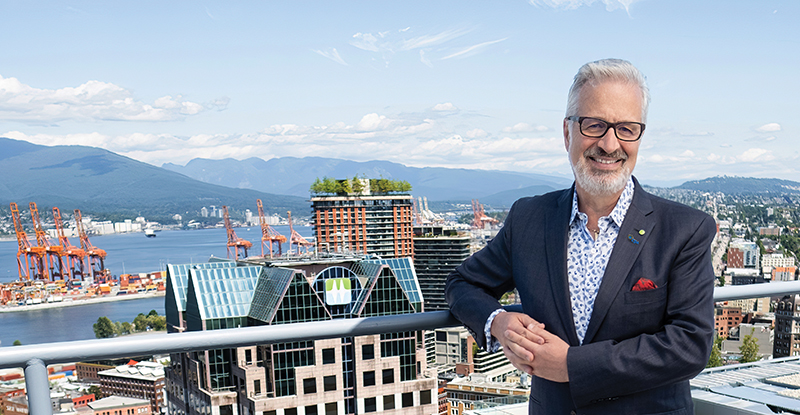 Photo credit: Kent Kallberg Studios
CPABC Board Chair Chris Gimpel, CPA, CA, shares his thoughts on problem-solving, knowledge-sharing, and influence
"I knew I wanted to work for a head office," says Chris Gimpel of his university days, "because the head office is where the strategic decisions are made."
As a leading tax partner for Deloitte within Canada, Chris often consults on the firm's most complex tax matters. But when he graduated from high school in the early 1980s, becoming an accountant wasn't something in his line of sight.
"I didn't know what I wanted to do yet, so I took off for Europe and travelled for three months, hitchhiking from country to country with my best friend and literally living on five dollars a day."
After returning home, Chris began working at the Brock House Restaurant, ultimately serving as banquet manager. While working at Brock House, he met Ron Miller, CPA, CA, then a candidate in the legacy CA program, and it was Ron who tipped him off to the profession.
"I was looking for a more sustainable career, and Ron encouraged me to look into the program," says Chris. "After that, I enrolled in a university transfer program at Langara. My goal was to get into UBC Faculty of Commerce, earn my designation, and start a career in business."
Chris continued working at Brock House during the early years of his post-secondary education, and it was there that he and his wife Anya were married in 1990 (the couple are parents to Caleb, Terran, Nikolai, and Tiras).
"I invited so many Brock House staff members to our wedding that there was nobody available to actually work the event," he says with a laugh.
Chris left the restaurant industry in 1991 to begin his articles with Coopers & Lybrand (a predecessor to PwC). He graduated from UBC with a bachelor of commerce degree (with honours) in 1992, and spent the next three years working in the firm's audit and attest practice. Three months before earning his designation in 1995, he switched to tax.
While working as a tax manager, Chris was sent on secondment to Intrawest, a real estate development company that specialized in ski and resort operations. There he met his future mentor John Currie, FCPA, FCA, Intrawest's senior vice-president of finance and taxation at the time.
"The tax partners at Coopers made John promise not to offer me a position," Chris laughs. "But three months in, I realized that Intrawest needed somebody there full-time and I was really enjoying the work. So I approached John and asked him if I could stay."
Not long after earning his designation, Chris accepted a director of tax position at Intrawest. Responsible for overseeing the company's global tax operations, he was right where he thought he wanted to be for the long haul.
"When I started articling, I never wanted to be a partner in public practice," he explains. "Long term, I really wanted to be in business, and at the time, Intrawest was probably one of the premier public companies in Vancouver. It was a tremendous learning environment."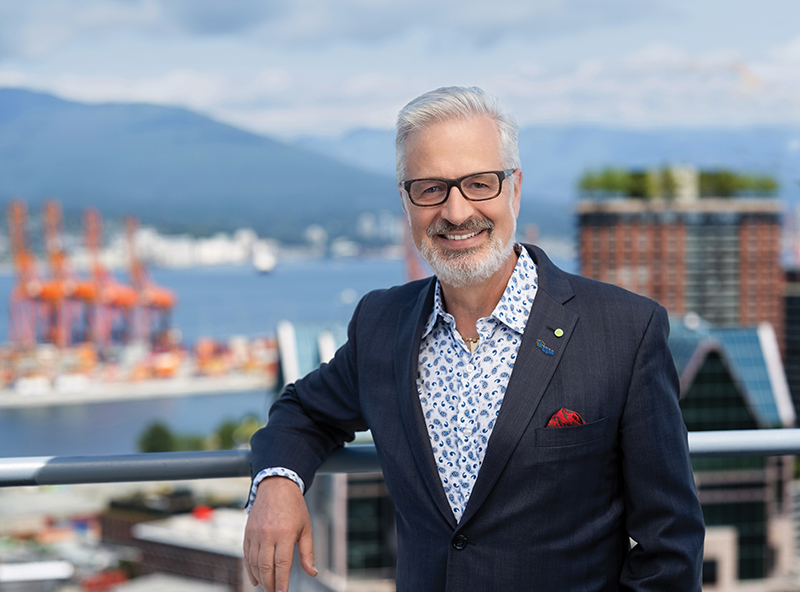 As Chris describes it, Intrawest was also a hub for up-and-coming business professionals: "All of the people I worked with there ended up holding senior leadership positions with major companies across the city."
Growth opportunities were also abundant—both for Chris and for the company. "I really got a deep understanding of international tax as well as mergers and acquisitions at Intrawest," he recounts. "It was a $400-million business when I joined, and five years later, it was worth just under $2 billion. That growth was achieved entirely through acquisitions, and I got to be involved in every one of them."
Chris says that his experience working in industry helped him approach problem-solving with a more holistic view.
"Sometimes, carrying out a business recommendation isn't as simple as professionals make it out to be," he says. "Behind each decision there's a whole series of things that have to happen in the background, and working in industry helped me develop the ability to break down for someone the complexity of what they're actually proposing."
It's a skill that continued to serve him after he made the move from industry back to public practice in late 2000—a career change prompted in part by changes that were looming at Intrawest at the time.
"The company was on the verge of being sold to private equity, and I knew we were going to be converted from a head office to a branch office," says Chris. "I saw the writing on the wall for me, but wasn't sure if I was ready for a change."
Then he received a fateful call from a headhunter that piqued his interest.
"It was an opportunity with Deloitte, and I said the three words you should never say to a headhunter: 'Tell me more,'" he laughs. "After that, he knew I was on the hook."
Chris left Intrawest later that year and started working for Deloitte as a senior manager in the firm's Vancouver office in 2001. At the time, he figured his return to public practice would be short-lived.
"I came to Deloitte thinking I wouldn't be here more than five years," he recalls. "I thought, I'd work there for a while, maybe make partner, and then go back into industry. I became a firm director and joined the partnership in 2004. That was 19 years ago."
He attributes his change of heart to the satisfaction he gets from his work.
"I like solving problems," he says, "and I like talking to people."
For Chris, solving problems is not about solving puzzles—in fact, he doesn't even enjoy puzzles. Instead, he's drawn to the process itself: gathering the relevant parties, getting to the heart of the matter, and finding a solution.
"Public practice is a 'people business,'" he explains. "You have to be personable, and you have to be able to listen. You have to surface your client's underlying issue before you can solve it. Quite often, people don't know what the issue is they're trying to solve. They know what the outcome should be, but they don't know how to get to the desired end state. They need someone who can understand their business issue and communicate it effectively."
And tax is always a big part of the equation, which is why he's so passionate about it.
"Every business decision has a tax implication," he says.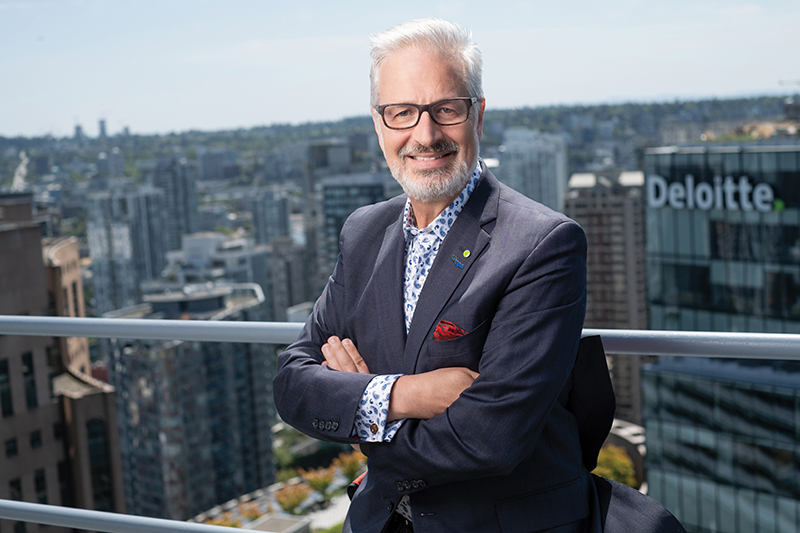 Through his work at Deloitte, Chris also discovered a passion for teaching. He has been a regular presenter with the Canadian Tax Foundation (CTF) since 2001, and a presenter for CPA Canada's The One Conference in 2016. From 2002 to 2015, he taught multiple courses within CPA Canada's In-Depth Tax Program, receiving the Jeff K. Jutzi Tutor Award, which recognizes outstanding In-Depth Tax Course tutorial leaders.
"I keep the award on my desk at home," says Chris. "It's very meaningful to me."
Even though he has stopped teaching with the In-Depth Tax Program, he continues to support the development of current and future CPAs by mentoring junior associates and running in-house training at his firm.
"When I'm solving a problem at work, I'm not focused on the actual problem," he explains. "I'm focused on breaking down the process for my team members and showing them how to get from A to Z."
In addition to teaching, Chris has shared his expertise as a contributor to the CTF's BC Tax Conference reports and as a member of the organizing committee for the foundation's BC conference. He was also tapped to share his knowledge of international tax matters with foreign representatives, including at the 2006 Olympic Winter Games. With the next Games set to take place in Vancouver, the BC government commissioned the BC-Canada House in Turin to showcase the province as a place to do business. Chris attended the Games as a board member with the International Financial Centre British Columbia (now AdvantageBC).
"They were sending a delegate, so I immediately volunteered," he recounts. "We didn't get to see any of the events, but it was exciting just to be there."
Chris is still a board member with AdvantageBC, which is currently focused on building a framework for sustainable finance and clean technology in the province.
"We're working on a new green financing initiative for business in British Columbia called the Property Assessed Clean Energy financing program," he says. "The idea is to provide long-term, low-interest financing for environmental refits of commercial buildings."
Volunteer board service is another area that's allowed Chris to flex his problem-solving skills over the years. His first volunteer role was with Ducks Unlimited in 1994, but in his early years at Deloitte he was given an opportunity to enrich his board governance experience. One of his mentors at the firm, Claude Rinfret, FCPA, FCA, encouraged him to join the board of the Arts Club Theatre Company, the third largest not-for-profit theatre company in Canada, to hone his leadership and influencing skills.
"I remember meeting with the artistic director at the time, Bill Millerd, and telling him that I didn't know anything about the arts," Chris says."Bill laughed and said 'I don't need you to know about the arts—I need you to know about money!' That was when I knew I could make a real difference."
When Chris joined the Arts Club board in 2002, the organization was technically insolvent. By the time he'd climbed the ranks of the executive ladder and completed a term as the board's chair in 2010, he'd helped turn things around, creating a lasting formula for economic success. He'd also helped set up The Arts Club of Vancouver Theatre Foundation, which he chaired from 2010 to 2017.
Though he no longer serves as a board director for the company or the foundation—having reached the term limits for both—Chris maintains his connection to the Arts Club through an advisory role on its Council of Patrons.
"I wish I could've stayed beyond my term limits because I really believe in the organization's mission," says Chris. "It's a privilege to be able to continue supporting the Arts Club and the artists as a patron."
As his term at the foundation was wrapping up in 2017, Chris was eager to dive into a new board opportunity. Another of his mentors at Deloitte, Shelley Brown, FCPA, FCA, then the chair of CPA Canada, suggested he seek election to the CPABC board.
"At the time, CPABC was holding its first board election since proclamation," Chris says. "I didn't know any of the current board members, but I thought it sounded like a great opportunity."
Chris' early years on the CPABC board gave him valuable insights on the profession in a post-merger environment.
"I learned a lot from the board members who stayed on from the legacy organizations," he says. "I have a real appreciation for the unique perspectives of each legacy organization."
In 2020, he was re-elected for a second term and asked to consider climbing the executive ladder. Now he's reached the top rung. But for Chris, becoming chair isn't about being in charge.
"One of my mentors from the Arts Club board, Stan Hamilton, told me that in a volunteer organization, influence is greater than power," he says. "Because strategic planning isn't about one person telling everyone else what to do—it's about each person at the table sharing divergent views and getting to influence the final outcome."
Collaboration—that's what he's most looking forward to now.
---
Megan Hooge is a communications coordinator at CPABC. This article was originally published in the September/October 2023 issue of CPABC in Focus.