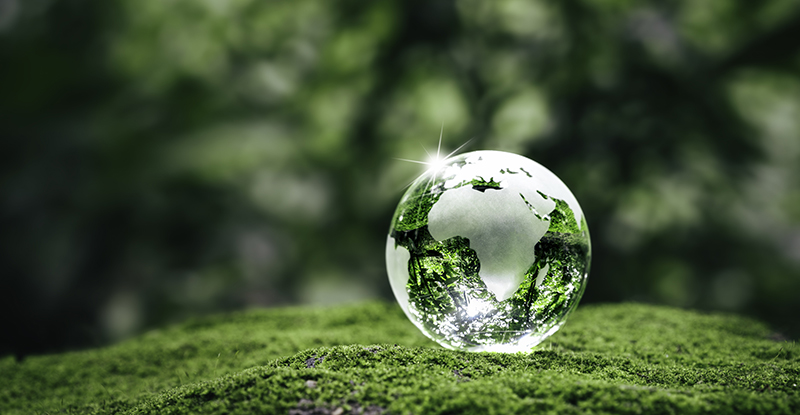 Photo credit: Khanchit Khirisutchalual/iStock/Getty Images
Dive deeper into ESG by registering for these upcoming ESG learning opportunities led by Caren. Register early, as space is limited for the following:

Introduction to ESG Reporting, a four-part live webinar series beginning December 5. This introduction will aim to demystify ESG reporting and provide an update on recent regulatory developments related to ESG reporting.
CPABC Nexus Days: Business and Innovation Insights – Join us on December 13 for this in-person conference at the Vancouver Convention Centre, where Caren will present her session, "ESG Reporting Developments in 2023".
Please note that in this article, ESG and sustainability are referred to interchangeably. In Caren's teachings, she explains the differences, as they have specific meanings to different stakeholders.
The focus on ESG has accelerated across industries in recent years, including in accounting. As guided by the IFRS Foundation's Partnership Framework for Capacity Building, creating a truly global baseline for sustainability-related financial disclosures involves incorporating sustainability as part of core education for all post-secondary business students; as well as providing existing members of professional bodies with resources to continue to build capacities.
For CPAs, one of the benefits of being part of our profession is our access to professional development, which helps us stay on top of important topics such as ESG. As a faculty member at the University of British Columbia's (UBC) Sauder School of Business, and an active participant in CPABC's professional development program, I'd like to offer some first-hand insight into how the focus on ESG has evolved through my lens.
Why should CPAs learn about ESG?
The accounting profession is a natural fit for ESG reporting and analysis. Skills that are second nature to CPAs – reporting, measuring, performance management, assurance, and value creation – are all key attributes in the ESG space. However, we need to invest further in developing our technical knowledge. CPA Canada has recognized this by making foundational skills in sustainability and technical skills in non-financial reporting part of the new CPA competency map 2.0. This is also expected to form part of the new CPA professional education program once the new CPA Certification Program has been finalized.
As a lecturer at the Sauder School of Business, I also realize the importance of starting earlier to educate students on these topics. Increasingly, business students are now looking to build ESG skills in reporting and analysis, beyond the marketing and corporate social responsibility courses that have traditionally been available as a component of their undergraduate education.
As mentioned, the need for ESG education extends beyond students and those currently training to become CPAs, to the large body of existing CPAs (approximately 39,000 in BC and 220,000 in Canada) for whom technical ESG knowledge is new.
There is the 'alphabet soup' of ESG jargon: acronyms like TCFD, SASB and ISSB; carbon accounting's Scope 1, 2, and 3 emissions; other acronyms for entities or methodologies like PCAF, SBTi, GFANZ and of course the aggregate confusion of ESG ratings, to name a few. Many new acronyms and technical definitions need to become part of our typical CPA vocabulary of debits, credits, ratios, IFRS reporting standards and the 'financial capital' that we typically quantify, measure and disclose.
These new topics cut across areas of specialization and now include not only climate and environment (or 'natural capital'), but also harder to quantify 'social capital' and 'human capital,' or even integration of 'financial capital' and reporting on these other capitals (see integrated reporting). CPAs worldwide will need to acquire a new skillset to complement their traditional financial analysis and reporting expertise. Hence, investing in ESG capacity building is an imperative, not a choice and an opportunity for CPAs to shape our careers and our profession in a new direction.
What does ESG look like in academia?
Capacity-building investments in ESG have become a common topic in academia, with institutions now offering undergraduate, graduate and executive programs with sustainability-related content such as climate-focused ESG reporting and ESG strategies for sustainable business, as well as opportunities such as symposiums and groups emerging to offer places for deeper conversations.
As part of climate-change initiatives, some post-secondary institutions such as UBC, have also created their own hubs to serve as centres for research, innovation, and collaboration, designed to catalyze transformative shifts in climate-conscious business practices.
As a CPA, diving into UBC's own climate reporting and initiatives has helped me to learn first-hand about the complexities of ESG reporting in decentralized organizations with many levels of regulatory and other ESG reporting. For organizations, large and small, the end goal will be to have seamless sustainability reporting and financial reporting that are of the same quality, with data and processes supporting each. For example, where UBC has made a lot of progress on building energy emissions (Scope 1 and 2), it is now time to also focus on the tougher value chain (Scope 3) emissions, like commuting, business travel, and food waste.
At Sauder School of Business, one of our new initiatives, beyond measuring Sauder's carbon footprint and offsetting emissions, now includes a project to measure, track, and reduce business air travel, a Scope 3 emission, in order to help achieve UBC's goal of reducing these emissions by 50% by 2030, from 2019 levels. This is a daunting task that will require us to re-think the importance of attending academic conferences in person, to name one example. Where measuring, tracking, and reporting will be key, the cultural or behavioral changes that we need to make are equally important.
Supporting small and medium-sized enterprises
One demographic that can greatly benefit from ESG capacity-building support are small and medium-sized enterprises (SMEs) which have limited resources and knowledge on ESG reporting. SMEs often don't have the same resources as larger organizations when it comes to getting started with ESG reporting, including understanding how their emissions reporting (and reduction) can make a difference up-or-downstream through their value chains.
In Canada, SMEs make up a significant part of the workforce and in BC this is even more pronounced. Our SMEs are the lifeblood of our economy and supporting them will yield benefits throughout the value chain. As a practical example – SMEs who supply to public companies, government organizations, or are clients of financial institutions, will increasingly be required to report on carbon emissions and other ESG metrics. A recent BDC study also provides more insight into the risk that SMEs face if they are not able to report on emissions and some other ESG metrics.
As academic institutions continue to develop ESG-focused education for students, finding opportunities to support local SMEs through student course work and the efforts from sustainability and climate- focused hubs or clinics on campus, is also important.
Becoming bilingual
Whether you are working for a large company, a government organization, or an SME, I would like to encourage our current body of CPAs to embrace and learn this new language of sustainability reporting. Emmanuel Faber, ISSB's Chair, emphasized that while we are fluent in financial reporting as the language of business, we now need to become bilingual and learn the new language of sustainability reporting. With professional bodies identified as key stakeholders by ISSB, I would like to highlight a few opportunities for CPAs:
Each of these three dimensions of capacity building – educating students, educating existing CPAs, and resourcing our SMEs with ESG skills – will play an important role in making progress toward our collective CleanBC goals and beyond.
---
Caren Lombard is a CPA, CA, CFA and a Fundamentals of Sustainability Accounting (FSA) credential holder. She is a full-time lecturer at Sauder School of Business. Caren is part of the 2023 cohort of the Accounting4Sustainability Academy. Caren hopes to inspire the next generation and her peers to become sustainability accounting trailblazers.
Caren will be teaching the Introduction to ESG Reporting series for CPABC – a four-part, eight-hour series from December 5-15, 2023.