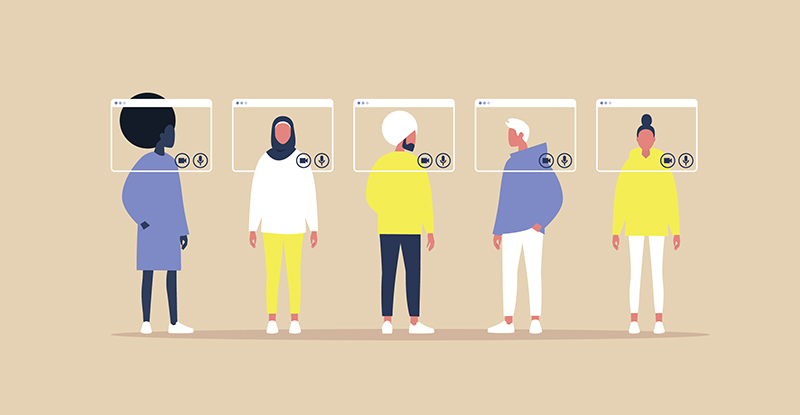 Photo credit: nadia_bormotova/iStock/Getty Images
Note to readers: This article was originally published as an infographic in the May/June 2023 issue of CPABC in Focus.
There's no one-size-fits-all solution to managing hybrid teams, and as a leader, you may be wondering how best to connect with remote and on-site employees—particularly when your team consists of both.
In recognition of National Mental Health Week (May 1-7, 2023), we've compiled some tips from the Mental Health Commission of Canada and Workplace Strategies for Mental Health to help you promote a mentally healthy work environment.
The challenges for employees
Virtual challenges

Shared challenges

In-person challenges

Isolation
Technical difficulties

Screen fatigue from hybrid/virtual meetings
Disconnected corporate culture
Work/life balance

Less flexibility
Stressful/long commute
Supporting and measuring performance
It can be especially difficult to gauge employee performance when you aren't in the same physical space as your team members. Here are some tips to help you support and measure performance in a hybrid environment:
Set clear expectations. Develop work plans tailored to each individual's circumstances and job demands.
Establish a feedback loop. Ask each individual how they prefer to give and receive feedback.
Get creative with professional development. Help each team member find the training that works best for them—in-person, virtual, hybrid, peer cross-training, etc.
Acknowledge a job well done. Recognize each employee's contributions, including during team meetings.
Staying connected
Working remotely can be isolating, especially without regular face-to-face interaction, which is why it's so important to check in with your team members regularly. Here are some tips to help you build relationships and stay connected:
Schedule one-on-one check-ins with each team member. This will ensure that you connect with each individual on your team—not just those who are more outspoken or those with whom you work closely. It will also give you a fuller picture of team dynamics and help you identify any challenges.
Pay attention to subtle cues. Challenges may involve workplace conflict, which can manifest differently in a hybrid environment. Remind your team about the importance of professional behaviour at all times and encourage them to reach out to you with any concerns.
Create opportunities for hybrid interaction. Examples include hosting a "cameras off" Zoom call that enables individuals to work independently while staying connected—much like a traditional work environment.
Send quarterly "care packages" with supplies. Examples include blue light glasses (used to reduce eye strain), stress balls, and other tools that can be used at home or in the office.
Onboarding new employees
Welcoming a new employee to a hybrid work environment can bring unique challenges. Here are two strategies to help new hires connect to the corporate culture and feel like a part of the team:
Create an onboarding plan for each new employee. Essentially a customized welcome package, this onboarding plan should include a training schedule and provide opportunities for remote and in-person meetings with other team members.
Set up a buddy system. Pair a new employee with an experienced member of the team to help them get acclimatized and build social connections.
Preventing burnout
Achieving and maintaining work/life balance is challenging for almost everyone, regardless of their work setup (on-site, remote, hybrid). Here's how you can help your team:
Open the conversation. Let your team know that they can talk to you about stress, including if they find themselves struggling with their workload or schedule.
Make sure they're aware of available resources. Inform your team about the internal and external supports that are available to them as employees.
Model self-care. This can be as simple as scheduling breaks into your calendar to step away from your desk and stretch—and encouraging employees to do the same.
Be flexible during video calls. Give employees the option of turning off their cameras if they're experiencing screen fatigue.
Build in buffer times between meetings. Whenever possible, end meetings 10 minutes early to give everyone time for a break, particularly on days when back-to-back meetings are scheduled.
Want more information?
For more resources, including training options, visit the Mental Health Commission of Canada and Workplace Strategies for Mental Health websites.