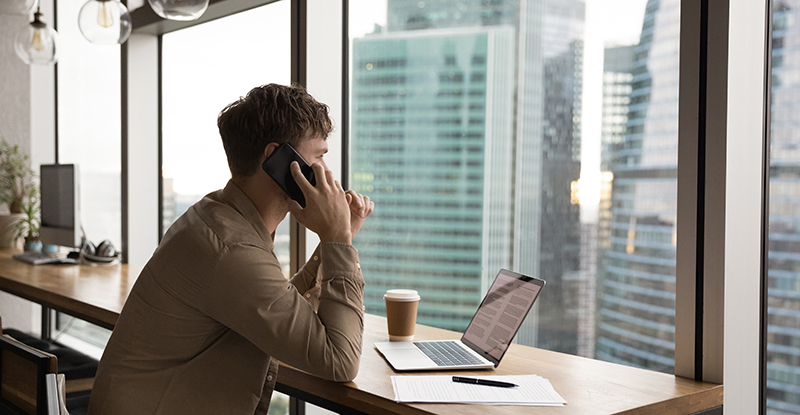 Photo credit: fizkes/iStock/Getty Images
Young Canadians are now at the most risk of falling victim to fraud, according to the CPA Canada 2023 Annual Fraud Survey. This study suggests that the increasing sophistication of online scams could account for the rise in young people experiencing fraud. As March is International Fraud Prevention Month, this is a good time for people of all ages to refresh their understanding of fraud and how to protect themselves.
While the senior demographic had long been considered a primary target by fraudsters, 68% of 18-34 year olds surveyed reported being a victim of at least one type of financial fraud in their lifetime. In comparison, the statistic is 39% for those ages 35-54 and 31% for individuals over the age of 55.
According to the study, credit card fraud is the leading type of financial fraud, affecting 21% of credit card users surveyed. This by far surpasses email or phishing fraud, along with debit card fraud, all of which were reported to have been experienced by 8% of users surveyed.
As 78% of survey respondents with debit cards indicated they conduct their banking online, and 72% of credit card users manage their accounts online, it's no surprise that fraudsters have been targeting the online personal finance space. However, the study also found that only 42% of respondents with at least one debit and/or credit card receive email or text alerts for every transaction on their card, which is a simple way to stay updated on any suspicious account activity.
The study also found that Canadians ages 18-54 are twice as likely to have made large online shopping purchases, including household appliances, vacations, and vehicles, compared to those over the age of 55. The disclosing of credit card information in making such large financial transactions heightens the importance of carefully reading fine print and ensuring the legitimacy of online retailers.
Here are some tips to help you protect yourself, as well as information on what to do if you suspect you've experienced fraud.
Know what to do if you are a victim

Contact your financial institutions.
Change passwords
Report incident to local police & the Canadian Anti-Fraud Centre at 1-888-495-8501

Provide financial information only to secure websites

Secure websites start with "http" not "https"
Only use public Wi-Fi to check financial info if you're using a VPN on your device

Know how you're protected from unauthorized transactions

Financial institutions have protection in place for fraud, but you're still responsible for taking reasonable steps to protect your info and PINs
For example, you must take reasonable care to keep your account information and PIN safe, in order to be reimbursed in full by your financial institution

Know your responsibilities when using a credit or debit card

Immediately notify your card issuer of unauthorized transaction or a lost/stolen cards
Keep all your PINs confidential, and make them difficult to guess

Stay up to date with the latest information

Access CPABC's FinLit resources such as free FinLit sessions, articles, and podcasts to stay up to date.
---
Vince Kanasoot is a communications specialist with CPABC