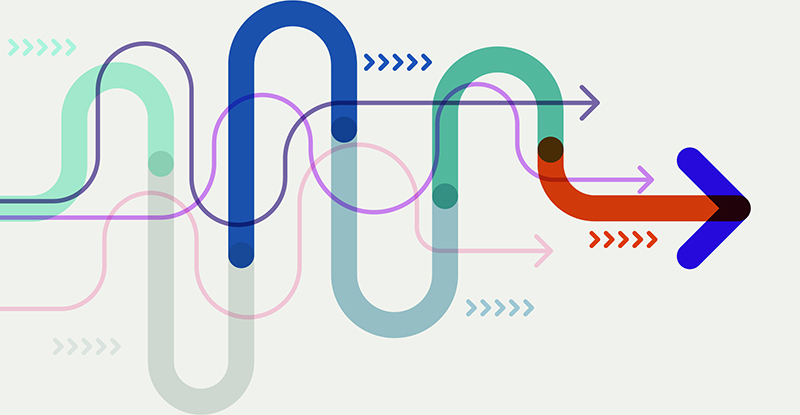 Photo credit: natrot/iStock/Getty Images
Since we first shared information about CPABC's Indigenous strategy in the January/February 2021 issue of CPABC in Focus,1 we've made considerable progress on two of our medium-term goals: 1) to raise awareness among Indigenous students of the value of careers in business and finance, and of the value of the CPA designation; and 2) work with Indigenous communities to demonstrate the value a CPA provides with regard to financial management capacity and overall nation building.
We set out a multi-phased approach in recognition that the journey toward our long-term goal—increasing the number of Indigenous students obtaining the CPA designation—would be complex. It's still early in this process, but we are pleased to have moved into a trusted partnership role.
When CPABC began this work there was only anecdotal information about the number of Indigenous CPAs in the profession. We now have more data. As of December 31, 2022, 286 members and 53 BC candidates in the CPA PEP program had self-identified as Indigenous. Respectively, these numbers represent just over 0.6% of the total membership and less than 1% of BC's total candidate population.
While more work must be done to attract Indigenous learners to the profession and the program, there are specific areas in which we've made progress over the past three years. What follows is an overview of these areas.
Research and consultation
To better understand the current environment and the needs of Indigenous members, candidates/students, and prospects, research was done at both the provincial and national levels.
Provincially, we conducted focus groups and one-on-one interviews with Indigenous members and found strong support for CPABC's Indigenous strategy. Indigenous members told us that CPABC should seek to increase awareness of the CPA designation and CPA careers, profile Indigenous role models, build talent pathways and mentorship opportunities, address barriers, and create Indigenous CPA communities.
Research conducted by CPA Canada focused on understanding the journey of Indigenous students when earning business and accounting credentials. CPA Canada also explored supports and mentorship models that could facilitate success for Indigenous students.
Collectively, the profession also held a workshop called "Barriers to Indigenous People Entering the Accounting Profession," which brought CPA Canada together with education leaders from provincial and regional CPA bodies (including CPABC and the CPA Western School of Business), Athabasca University, and various provincial chapters of the Aboriginal Financial Officers Association (AFOA). The output of this workshop formed the basis of recommendations that will guide the development of more inclusive Indigenous programming, after further vetting by Indigenous leaders from other organizations.
Moving forward, CPABC is working directly with Indigenous organizations such as AFOA BC, Métis Nation British Columbia (MNBC), and the First Nations Financial Management Board on many different initiatives to demonstrate the value of financial management capacity and to support Indigenous students. We're also shining a spotlight on Indigenous members through profiles.
Lastly, CPABC has met with government staff and the Minister of Indigenous Relations and Reconciliation to advise them of our strategy and we have received positive feedback on our progress to date.
Activities, events, and initiatives
CPABC has also undertaken a variety of activities to connect directly with Indigenous youth and students and communicate the value of pursuing careers in business and finance.
As noted in the November/December 2021 issue of the magazine, CPABC took on a significant leadership role in designing and hosting a pilot event in October 2021 called the "Indigenous Gathering on Pathways in Business."2 This event gave participants a chance to explore career pathways in an inclusive, informative, and multigenerational environment. All of the participating organizations agreed this was a positive and worthwhile event, and participants rated the event highly in a post-event survey. To build on this momentum, we held the event for a second time in November 2022, and it too received high praise from attendees and partnering organizations.
Also in 2022, CPABC was invited to be an exhibitor at the Cowichan First Nation Open House. Cowichan is the largest First Nation in BC, and it has undertaken a wide range of economic initiatives. This was an excellent opportunity to highlight our Indigenous strategy and our partnership with AFOA and the Certified Aboriginal Financial Manager program, and to promote the Indigenous Gathering on Pathways in Business event. We also exhibited at the stalew pow-wow, a three-day event held at the Langley events centre, and served as one of the event's sponsors.
In January 2023, CPABC hosted a dinner at the University of British Columbia's Longhouse to facilitate knowledge sharing on careers in business, finance, and accounting for Indigenous students. The event took place in the Sty-Wet-Tan Great Hall.
CPABC staff members have been directly involved in these endeavours, and we've made a point of investing in staff education so that all CPABC staff can advance this awareness in the work they do with members and in their connections with Indigenous students. For example, we have CPABC staff members who provide career readiness workshops for Indigenous youth through Indigenous organizations.
Staff have also been involved in the delivery of financial literacy education. CPABC used existing modules in the CPA Financial Literacy Program to design two days of programming for MNBC career preparation programs. Presented by CPABC staff and volunteers, these sessions are now being offered to Friendship Centres and First Nations as well.
As many of our members also work with Indigenous communities, we are working to educate and inform them of our strategy and of the work CPABC is doing in support of this initiative. We've provided member education through our website and through sessions offered at professional development conferences, and we are planning to expand our offerings. Additionally, CPA Canada has offered the course, "Introduction to Indigenous Peoples' Cultures," which provides insights, from an Indigenous perspective, on the history of First Nations, Métis, and Inuit Peoples and on the devastating effect of colonialism on Indigenous communities and economies. The course also explains how understanding the link between the two is critical to reconciliation.
Pre-certification education
Through research and interviews conducted by CPABC and CPA Canada, we've learned of the barriers faced by some Indigenous learners within the existing CPA program. CPABC representatives serve on the Certification 2.0 Steering Committee,3 and one of the committee's goals is to make the new CPA program more accessible to Indigenous learners, among others, and to ensure that the new program incorporates Indigenous perspectives.
In addition, the CPA Western School of Business is currently partnering with AFOA Alberta to hold tailored offerings to meet the unique preferences and expectations of Indigenous learners and incorporate Indigenous culture and context in the program.
How we're measuring progress
When CPABC began working on the Indigenous strategy, before being able to reach Indigenous students and communities we had to build trust and create relationships. This trust has been earned in part by the fact that our medium-term goals are not simply self-serving to the CPA profession. They are broader, incorporating business and finance, and are designed to contribute to financial management capacity and the nation building of Indigenous communities.
In evaluating CPABC's progress toward achieving its medium-term goals, we considered the framework set out in the United Nations Declaration on the Rights of Indigenous Peoples (UNDRIP) and the recommendations made by the Truth and Reconciliation Commission of Canada (TRC) in its Calls to Action (while the CPA profession is not specifically named in the Calls to Action, it certainly falls within the purview of Recommendation 924).
We considered how the principles outlined in UNDRIP and the TRC's Calls to Action have shaped how CPABC interacts with Indigenous Peoples. We believe the initiatives we've undertaken over the past three years have enabled us to honour these principles while moving us significantly closer to the fulfilment of our medium-term goals.
We are very proud of the work that has been done so far, and of the reputation we've been able to establish for CPABC in this area. We will continue to contribute in a leadership capacity within the CPA profession as we implement our Indigenous strategy over the coming years.
Want to get involved?
Contact us by email if you'd like to get involved with CPABC's Indigenous outreach initiatives or know of upcoming career events or opportunities for Indigenous students.
---
Lori Mathison, FCPA, FCGA, LLB, is president and CEO of CPABC. This article was originally published in the March/April issue of CPABC in Focus.
Footnotes