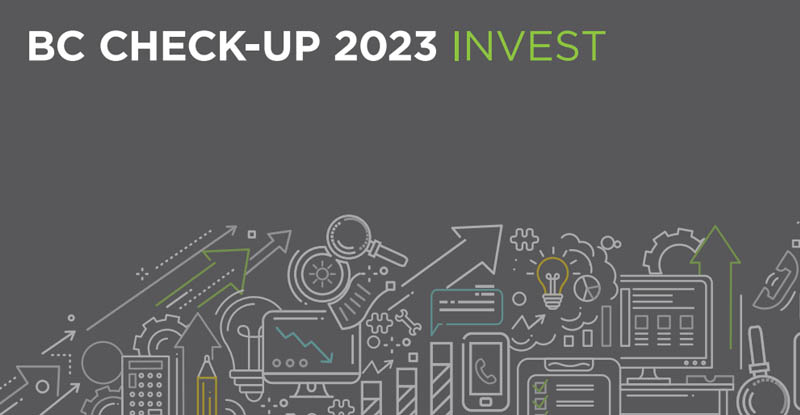 Media Release
VANCOUVER, March 20, 2023 – According to BC Check-Up: Invest, an annual report by the Chartered Professional Accountants of British Columbia (CPABC) on investment trends across the province, there were 43,106 housing units started in 2022, down slightly from the 43,360 started in 2021.
"Despite growing headwinds throughout the year, the level of building investment remained robust in 2022," said Lori Mathison, FCPA, FCGA, LLB, president and CEO of CPABC. "Residential housing starts remained near the record set in 2021, and non-residential building investment continued to be strong."
Of the 43,106 housing units started, nearly 34,000 (78.9 per cent) were attached units, such as condos, apartments and townhomes. Private non-residential investment, which includes construction, upgrades and maintenance, was $6.28 billion in 2022, up 3.2 per cent from 2021.
B.C.'s inventory of major projects was valued at $389.2 billion in Q3 2022, down 1.1 per cent compared to Q3 2021. The largest projects started from Q4 2021 to Q3 2022 were the Sekankw Housing project ($3.0 billion) and North Harbour Waterfront Condos ($400 million), while the LNG Canada Facility ($36.0 billion) continued to be the largest project underway.
"These investments will increase housing supply, provide greater access to natural resources, improve health and education infrastructure, and better connect our communities," noted Lori Mathison. "However, high inflation led to the fastest interest rate increase in a generation, weakening the outlook for investment in BC."
BC's annual inflation rate peaked at 8.1 per cent in May 2022, the highest rate in nearly 40 years. In response, the Bank of Canada raised its policy rate from 0.25 per cent in February 2022 to 4.5 per cent as of today. This, coupled with improving supply chains, has slowed inflation, though it remained 6.2 per cent as of January 2023.
Between March 2022 and January 2023, overall building permit value declined by 28.7 per cent in response to rising interest rates. The largest decline was in residential permit values, which fell 36.9 per cent, while non-residential permit values decreased by 11.3 per cent.
"High interest rates are expected to persist in 2023, and the decline in building permits is one leading indicator that private investment is weakening," noted Mathison. "Our economic outlook has also become more pessimistic, and while government capital projects, including new funds for housing development, will help spur economic activity, it will also increase provincial debt significantly."
With population growth expected to exceed muted GDP growth in 2023, B.C.'s real GDP per person was forecasted to decline from $54,655 in 2022 to $54,048 in 2023 and $54,092 in 2024.
B.C.'s Budget 2023 forecasted that reduced revenue and increased expenses will transition the province from a surplus to a significant deficit in each of the next three fiscal years. Provincial net debt-to-GDP is forecasted to reach 23.0 per cent in 2025-26 compared to 16.4 per cent in 2022-23.
"With weakening private investment and falling GDP per person expected in B.C., it is important to prioritize policies that encourage and attract business investment," concluded Mathison. "We must also return to budget surpluses to help navigate the challenging economic landscape, including uncertainty about inflation, economic growth, and interest rates."
To learn more, see www.bccheckup.com.
For more information:
Aaron Aerts, Economist
604.442.9161
news@bccpa.ca
---
About CPA British Columbia
The Chartered Professional Accountants of British Columbia (CPABC) is the training, governing, and regulatory body for over 39,000 CPA members and 6,000 CPA students. CPABC carries out its primary mission to protect the public by enforcing the highest professional and ethical standards and contributing to the advancement of public policy. CPAs are recognized internationally for bringing superior financial expertise, strategic thinking, business insight, and leadership to organizations.