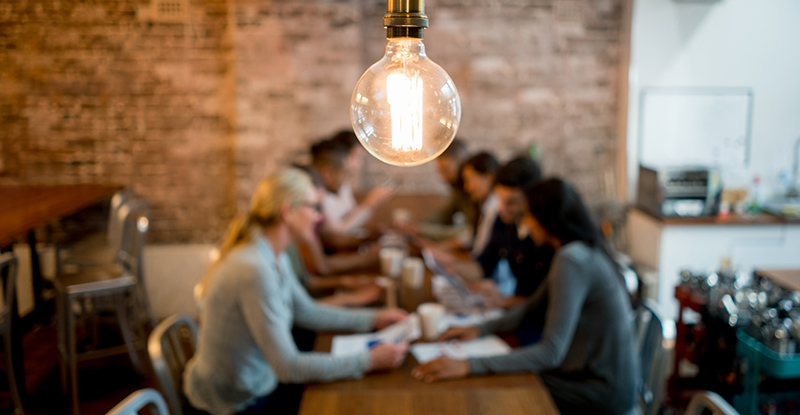 Photo credit: andresr/E+/Getty Images
The human element is critical for collaboration and project success. In "Achieving Results Through Collaborative Projects" a live, multi-segment webinar form July 13-14, learn how to optimize team work to overcome challenges and harness opportunities for creativity and innovation. Register to save your spot.
Over the last two years, we have proven we can be quite productive remotely, thank you very much. We get to wear our comfy clothes, it's easier to balance our personal life, and you can't beat the commute.
With all the benefits of virtual work, many are asking: exactly why do we need to come into the office?
Painful commutes. Sitting on back-to-back video calls while in the office. Complicated childcare. Having to put on pants with zippers. It's a list that leaves leaders struggling to entice people to come back into the office for any more than the absolute minimum.
To be clear, I am an advocate for virtual work and all the benefits associated with having flexibility where we work. At the same time, I'm an advocate for balancing our virtual work with coming together in person, whether in the office or in another location.
There is magic that comes with spending time together, in person. We don't need to do this every day, but there are 5 solid reasons why being on-site helps us do our best work.
Trust & Connections

I'll start with the top reason, which is to build trust and strengthen connections with our team. We know a connected team is more productive and engaged. And these connections are more likely to happen when we're together in the boardroom and during our serendipitous encounters as we pass each other in the hall and over casual chats in the lunchroom. And yes, the last couple of years have demonstrated we can achieve this in a virtual environment – but trust builds faster, and our connections are stronger when we spend some time together in person.

We often bemoan the interruptions we face in the office, saying we can't get anything done. But we need to remind ourselves that connecting with our teammates is part of our work in this team sport we're playing. Yes, we can access the whole world from our phone, yet the number of deep and meaningful connections we have are dwindling. Being in person fosters high-quality connections (HQCs), reducing our stress and boosting our engagement.

Think of the office as the place to connect and use your virtual days for focus work. Consider adding this to your daily planning template: Catch-up chat with 3 people. You'll be crossing things off your list and contributing to a stronger culture.

Client Meetings

Meetings with clients or key partners in person are one of the most effective ways to build connections and facilitate strong working relationships. Not every meeting needs to be in person but when you can get together to collaborate and brainstorm, in-person meetings are the most powerful way to do so. We intuitively know that key meetings with clients and partners are more effective in person. We don't always need to meet in the same location, but when we do, we build stronger partnerships.

Feedback and Development

Another important reason to meet in person, or as the kids say, IRL (my teenagers will either be proud or embarrassed that I know this means "in real life"), is to prompt more feedback and development. From mentoring to shadowing, a lot of our learning comes from observing others in action. And it's easier to share a few quick tips in casual conversation as you're walking down the hall together after a meeting. This type of development is crucial and much more likely to happen when we meet up and have those serendipitous opportunities for quick chats.

Innovation

Spending time together prompts innovation. We're better able to work through and resolve complex matters and generate ideas when we are working side-by-side and can pick up on subtle body language and facial expressions. Ideas seem to flow more easily when we are sitting face-to-face. Sharing a space fosters rich discussion and enables synergy, where we build on each other's ideas.

Health & Longevity

Finally, it's worth acknowledging that spending time with others promotes our health and wellbeing. We are social beings. Connecting with others in positive ways, where psychological safety is high, prompts the release of oxytocin and vasopressin, which in turn counteract the effects of stress. Coming out of the pandemic, we know burnout is at an all-time high. Spending time together is a great way to boost wellbeing across the team and improve our longevity.

Of course, we only experience these kinds of wellbeing benefits if we have high psychological safety and we feel comfortable showing up for work as our authentic selves, without the pressure to assimilate.

Yes, all of the above can be accomplished virtually. We can be effective with a blend of virtual and in-person work. Savvy organizations are well served by adopting hybrid work policies and actively encouraging a healthy amount of both virtual and in-person connection.

I've given you five solid reasons to spend at least some of your time working side-by-side with your colleagues in the same location. Would you add other benefits to this list? What is your view of the optimal hybrid work arrangement?
---
Ann Gomez is a USA Today bestselling author, an engaging speaker, and the founding president of Clear Concept Inc. She has trained some of the world's busiest people, helping them reclaim their time and empowering them to perform at their best. Ann is the author of Workday Warrior and The Email Warrior, and she is an active blogger and media spokesperson.

Original published by Clear Concept.