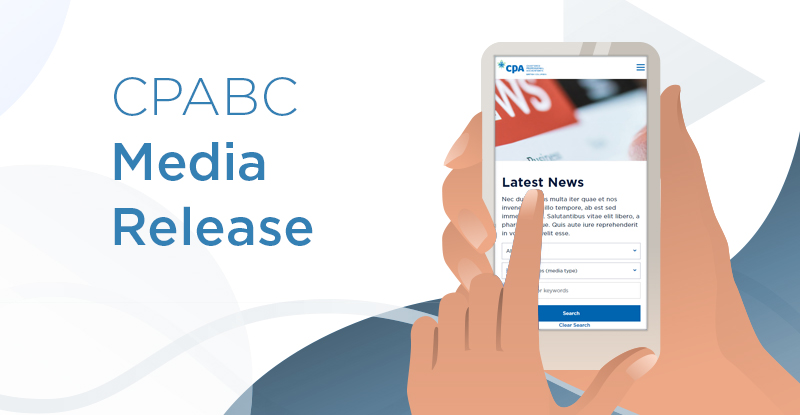 VANCOUVER, July 24, 2023 — The Chartered Professional Accountants of British Columbia (CPABC) and the First Nations Financial Management Board (FMB) are pleased to announce that the FMB is the first B.C. Indigenous organization to deliver the pre-approved program to support the training of future CPAs.
"This announcement marks an important milestone for the CPA profession. As part of our Indigenous engagement efforts, we have been undertaking various activities to connect with Indigenous youth and students and communicate the value of pursuing careers in business, accounting, and finance," said Lori Mathison, FCPA, FCGA, LLB, president and CEO of CPABC. "Through our partnership with the FMB, we hope to see more Indigenous students pursue the CPA designation."
By becoming a pre-approved program office in B.C., the FMB will support future CPAs by providing them supervision, guidance, on-the-job training and instruction on ethical issues, and progress reviews. In return, the FMB will see gains in efficiency, certainty, and oversight that will help the organization continue to support the economic and community development of First Nations.
"It's vital that our profession starts developing the talent pipeline for future Indigenous CPAs," says FMB Executive Chair, Harold Calla, FCPA, FCGA, CAFM. "Canada currently has very low numbers of Indigenous CPAs; based on population, we are 10 times underrepresented. Hosting this kind of training opportunity at Indigenous institutions can be helpful, and we are proud to be the first to do so. At the FMB, we're fortunate to have excellent CPAs as part of our staff, including senior leadership team members Scott Munro, CPA, CA, Deputy CEO and Natalia Valeev, CPA, CA, Director, Certification."
Future CPAs can gain experience through either the pre-approved program route (PPR) or experience verification route (EVR), or a combination of both. The PPR is not restricted to accounting firms and is available to employers of any size, in any industry. In B.C., requirements for an organization to qualify as a PPR office include, but are not limited to: having a CPA in the organization who is committed to providing senior-level ownership of the training program; and offering structured training positions to allow future CPAs to achieve the required practical experience in the technical and enabling competencies within 30 months of employment.
---
About CPA British Columbia
The Chartered Professional Accountants of British Columbia (CPABC) is the training, governing, and regulatory body for over 39,000 CPA members and 6,000 CPA candidates and students. CPABC carries out its primary mission to protect the public by enforcing the highest professional and ethical standards and contributing to the advancement of public policy.
About FMB
The First Nations Financial Management Board (FMB) is a First Nations-led non-profit organization that supports First Nations in developing sound finance and administrative governance practices. The FMB was created under the First Nations Fiscal Management Act (FMA) in 2006. Services offered are at no cost to First Nations. For more information on all products and services, visit www.fnfmb.com
– 30 –
CPABC Media Contact:
Vince Kanasoot, Communications Specialist
236.668.2175
news@bccpa.ca
FMB Media Contact:
Helen Murphy, Sr. Manager Communications
343-595-2606
helen_murphy@fnfmb.conm