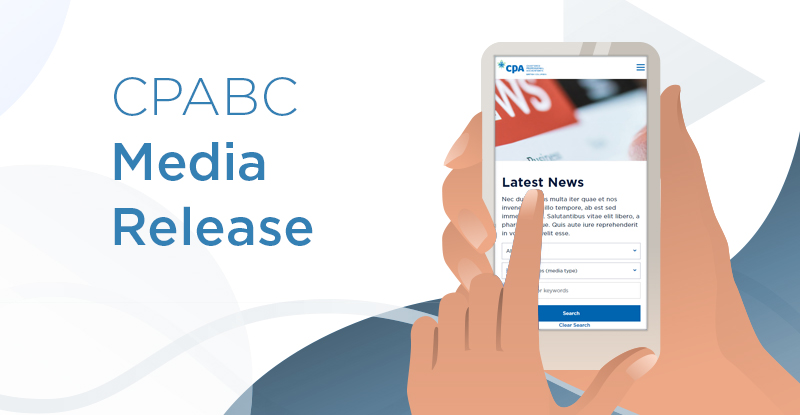 VANCOUVER, July 25, 2023 – According to BC Check-Up: Live, an annual report by the Chartered Professional Accountants of British Columbia (CPABC) on demographic and affordability trends across the province, in 2022, B.C.'s population growth rate reached levels not seen in 25 years.
"The migration disruption from the COVID-19 pandemic eased in the latter half of 2021, and B.C. welcomed nearly 117,000 new residents in 2022," said Lori Mathison, FCPA, FCGA, LLB, president and CEO of CPABC. "This population growth was primarily due to a large number of international immigrants, and the vast majority were under 40 years old."
From July 1, 2021 to July 1, 2022, B.C. added 116,946 residents, well above the annual average of about 68,600 from 2017 to 2021. There were a total of 103,674 new residents from net international migration, accounting for 88.7 per cent of the province's population growth. Of those new residents, 88.1 per cent were under 40 years old and more than half (53.9 per cent) were under the age of 25.
The province also added a net of 15,869 new residents from other provinces. Natural growth (births minus mortalities) was negative for the first time in the province's history, reducing B.C.'s population by 2,597.
The most recent data indicates that population growth has continued to accelerate since July 1st 2022. In the 9 months ending April 1st 2023, the province added an additional 118,398 residents, already surpassing the previous year's increase.
"Given our province's labour shortages and aging demographics, it is positive that the province welcomed so many young residents last year," continued Mathison. "With almost one in every five British Columbians 65 or older and declining birth rates, immigration is critical for our province's long-term social and economic health."
The average age for the province was 42.8 in 2022, compared to 40.8 in 2012. Over the past decade, the proportion of British Columbians aged 65+ expanded the most of any group, up to 19.9 per cent of the population in 2022 compared to 15.7 per cent in 2012.
"A major deterrent for both current and future residents is the housing affordability crisis in the province. While high interest rates pushed housing prices down over the past year, they remain well above pre-pandemic levels and have pushed up interest payment obligations," continued Mathison. "There is also not enough new housing supply coming online to support demand."
In June 2023, the benchmark price for the average B.C. home was $977,700, down 4.7 per cent compared to June 2022, but remained 45.3% higher than in June 2019. The average rent for a 3+ bedroom unit in BC was $2,067 a month and a 1 bedroom was $1,432, up 7.5 per cent and 8.3 per cent respectively from 2021.
In 2022, there were 34,892 housing units completed, down from 39,163 in 2021. In 2022, that meant that there were just 0.3 new housing units completed per new resident.
"The ratio of new housing units to population growth was the second lowest ratio on record. This gap between demand and supply growth will put further pressure on housing affordability in the province," concluded Mathison. "To improve affordability, we need to create policies that significantly boost housing supply, and focus on ways to boost our province's productivity and residents' income."
Learn more about the BC Check-Up: Live report.
---
About CPA British Columbia
The Chartered Professional Accountants of British Columbia (CPABC) is the training, governing, and regulatory body for over 39,000 CPA members and 6,000 CPA candidates and students. CPABC carries out its primary mission to protect the public by enforcing the highest professional and ethical standards and contributing to the advancement of public policy.
– 30 –
CPABC Media Contact:
Jack Blackwell, Economist
604.259.1143
news@bccpa.ca