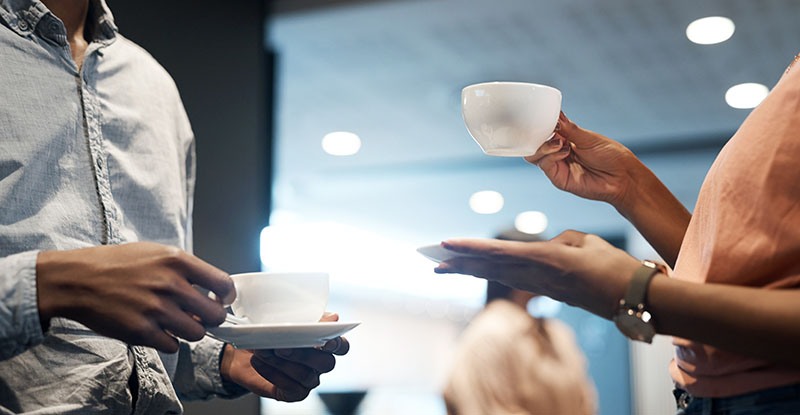 Photo credit: PeopleImages/iStock/Getty Images

Spotlighting internal and external resources for current and prospective CPAs that provide mentorship, opportunity and community
CPA Taneca Smith, manager KPMG enterprise audit, and co-director of external affairs for KPMG's Black Professional Network (BPN), understands first-hand the importance of networking within the Black community.
In fact, her first job at KPMG's tax incentive practice group was a direct result of a connection she made in university. "I kept in contact with someone at KPMG. When a position came up, he reached out to me and I applied."
Both internal and external networks are essential in overcoming the barriers that Black professionals face in business, says Smith. "[They] help to create a sense of community, where Black professionals don't feel alone in the workplace and can relate to others that share the same level of understanding. They can even bring potential business your way and help you learn about different industries."
With 298 members and counting, the KPMG BPN's employee activities include social events such as cookouts and mingles, as well as monthly speaking opportunities. "Having connections with Black colleagues can have a far-reaching impact," says Smith. Plus, she adds, "it's nice go into a room where you see people that look like you.".
Working on BPN's external affairs committee, Smith connects with organizations and partners supporting Black professionals and youth pursuing careers in various industries. This includes ICON Talent Partners, a non-profit talent development organization dedicated to educating, training, mentoring and exposing top diverse talent to high-impact sectors where they are underrepresented. Through its relationship with ICON, KPMG engages in mentorship programs for high school and post-secondary students, as well as internship and scholarship opportunities.
The KPMG BPN also participates in youth summits and speaker series through the Canadian Association of Urban Financial Professionals, a member-based resource organization that links corporations with Black communities through programs that facilitate economic growth and educational opportunities.
In her work, Smith especially enjoys encouraging younger Black professionals. "We make sure our network is not only for advancing ourselves, but also bringing others up around us. We are making those careers more accessible for today's youth."
Other internal networking examples include PwC Canada's Black Professionals Inclusion Network. Part of PwC's Inclusion Networks initiative, it focuses on being a resource that offers support, knowledge and skill development while also fostering connections with senior leadership. Deloitte's Canadian Black Professional Network (CBPN) looks to help its members through education, networking opportunities and collaboration. It also initiates anti-racism discussions within organizations.
For its part, EY's Black Professionals Network (BPN) is one of eight internal networks that support and champion underrepresented groups of professionals, emphasizing diversity, cultural awareness, education and professional excellence, says CPA Muriam De Angelis, diversity, equity and inclusion leader at EY Canada.
The company looks forward to kicking off year two of its new EY Entrepreneurs Access Network in Canada, a business accelerator program that teams with Black and Indigenous founders to transcend barriers and scale their businesses. In addition, the EY Ripples program provides pro bono support by offering the time, experience and skills of its employees to entrepreneurial organizations, including high-growth Black-owned businesses. More than 2,000 EY people contributed upwards of 30,000 volunteer hours to EY Ripples initiatives last year*.
A key relationship is EY's five-year commitment with the BlackNorth Initiative (BNI), where the firm's Canadian chair and CEO Jad Shimaly sits on the board of directors, says De Angelis.
BNI was founded over a year ago by Wes Hall of Dragon's Den fame and founder of Kingsdale Advisors. It brings together a team of high-profile executives who are committed to removing barriers that negatively affect the lives of Black Canadians. Its most recent milestone was the publication of the BlackNorth Initiative Racial Equity Playbook.
Relationships have played an important role for organizations such as the Black Business and Professional Association (BBPA), says Nadine Spencer, CEO of BBPA. Incorporated in 1983, BBPA focuses on addressing equity and opportunity for the Black community in business, employment, education and economic development. Among other noteworthy events, it produces the annual BBPA Harry Jerome Awards, a national event that has been honouring excellence in achievement and supports higher education. It also sponsors a Black History Month Business Event, The National Black Business and Professional Conference.
"We have wonderful relationships with corporations, who are involved in sponsoring mentorships and youth scholarships, as well as supporting our National Youth Convention," she says. "These do three important things for our community. First, they give us access to relationships and partnerships we may not normally have. Second, they show a path to what's possible for youth and professionals as they embark on different careers. Third, as the saying goes, you can't be what you can't see. They open our eyes to the need to see more diverse leaders in this space."
Community support
Looking for opportunities to connect? Here are additional organizations that support the Black professional community and youth:
---
Denise J. Deveau is a Toronto-based freelance writer specializing in business and technology related topics.
Originally published by CPA Canada's news site.