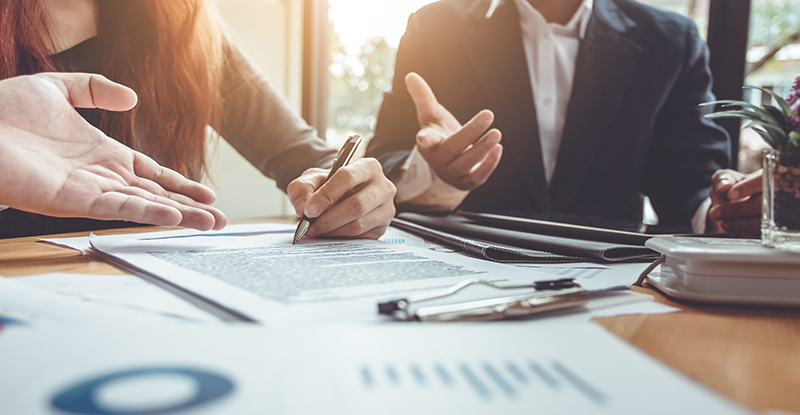 Photo credit: AmnajKhetsamtip/iStock/Getty Images
Integrating professional competencies with the ability to connect with clients is key for today's CPAs
While big data is changing the face of many industries, there is one asset that cannot be replaced by technology: human skills. In fact, human-centric values are becoming increasingly valuable in the accounting profession as the social pillar of environmental, social and governance (ESG) becomes an ever more powerful force in the way business is managed.
"The ability to think critically, approach problem solving holistically and connect personally with clients is becoming essential for CPAs in all fields," says FCPA Tim Jackson, chair of the Competency Map Task Force, and president and CEO of SHAD Canada. "When we're making decisions today, people expect us to be thinking about more than just numbers."
So, what does this mean for CPAs and their clients?
Broader view
When the new competency map, CM 2.0, was being developed, considerable emphasis was placed on the changing role of accountants.
"It became really clear to us that, as accountants, we are trained and have certain skills and competencies that are relevant," says Jackson. "But you then have to put those in the context of the broader world." And the world has changed drastically over the past several years.
While numbers will always be at the core of an accountant's role, communication and concern for issues that extend beyond the bottom line are becoming increasingly important.
"As a profession, we understand sorting, validating, ordering data, but that data is changing," says Jackson. "And it's not simply numbers that are on a balance sheet or an income statement anymore. Decisions that 30 years ago were driven purely by financial concerns now have other factors coming into play."
A company that is conducting a diversity audit, for example, will need practitioners who understand not just numbers and data, but diversity, too.
The new competency map, Jackson says, focuses on ESG with an emphasis on diversity, equity and inclusion, and Canada's history with Indigenous Peoples.
Clients are also becoming increasingly focused on incorporating an array of ESG-related issues into their plans, Jackson says. While one decision may create a great return on investment, it could also have significant environmental ramifications in the short or long term.
"For any given decision, we have to think, 'What are the implications in the short-term? What will they be 10 years from now, 100 years from now and 1,000 years from now?"
Connecting with clients
In addition to the ability to think beyond financial considerations, there is a growing emphasis on the need to integrate human skills with professional competencies in the decision-making process.
"We are in the age of information," says CPA Zahid Fazal, managing partner in assurance at EY Canada. "Increasingly, accountants need to use their analytical skills to understand and interpret complex data, but their role doesn't end there—they also need to think critically and translate any findings or financial information into compelling conversations with stakeholders that generate impactful solutions. This is in keeping with a 2020 World Economic Forum report that says that, by 2025, accountants will not only need advanced technology skills, but also the ability to problem solve, ideate and influence."
Networking, negotiating and creating opportunities with clients to develop business are also important skills for CPAs to cultivate in order to set themselves apart in an increasingly digitized world.
By listening to clients' end goals, including issues of concern, CPAs can more easily devise a cohesive business plan.
"We're no longer just saying to a business manager: 'Go and get the maximum return'," says Jackson. "We're saying we want to understand the type of businesses we're going to invest in. What are the implications of the work they're doing? Are they creating any negative impacts? We don't want to invest in or partner with organizations that don't have good ESG practices. But we also want to understand how these companies are dealing with things like equity within the corporate structure."
Developing human-centric skills
For many organizations, building the right mix of skills starts with recruitment. "When we hire accountants, we look to develop future leaders and trusted advisers," says Fazal. "We actively seek candidates who bring diverse mindsets, embrace change, work collaboratively and lead with curiosity."
After hiring and throughout their careers, CPAs often have access to a wide range of learning opportunities as well.
"We empower employees with the right skills, technologies, enablement and support, while creating opportunities to build a rewarding career at the firm," Fazal says of EY's approach. "We're focused on driving lasting change that enables our people to succeed professionally and personally and are teaching leader character—a framework that supports leaders with their day-to-day decision making." (This includes having an analytical and agile mindset, and finding opportunities where others see challenges.)
Fazal says EY Canada also offers a paid learning day to employees where they can take advantage of various soft skills resources to continue their learning, growth and career progression.
In addition to enrolling in firm-specific programs, Jackson says CPAs can develop an understanding of interests and concerns that might affect their role by joining committees, such as an organization's DEI committee, and engaging with different staff around the office.
"CPAs have always been in high demand for nonprofits and other organizations and boards," says Jackson. "By getting involved, whether it's with your local community foundation or your university or hospital board, these issues are all being discussed. And, if you're around those tables, you're learning."
Professional development sessions and courses are other important tools, Jackson says—especially for CPAs who have been in the profession for some time.
"My hope is that those of us who've been in the profession for ages, whether it be in private or public practice, are actually listening to the next generation that's coming through and learning what's important to them," says Jackson. "It's a combination of what I would call professional development and the world of assimilation."
Resources
---
Michelle Singerman is a Toronto-based writer and digital content creator who began her career in local news reporting more than a decade ago. Michelle has been with CPA Canada since 2013
Originally published by CPA Canada's news site.