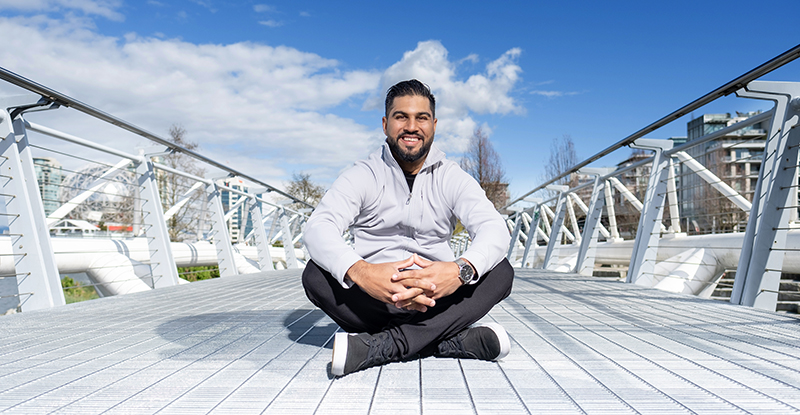 Photo credit: Kent Kallberg Studios
For Adam Karim, CPA, getting his accounting designation was an important stepping stone to his ultimate goal.
"My vision was always to own my own business," he says. "I've never wanted to work just to enable someone else's dream. Everything I did in my early years was in the pursuit of achieving career independence, and the tools and insights I gained through accounting have provided me with the framework necessary to be successful as a business owner."
Adam earned his CPA designation in 2016 while working at BDO Canada and then took a job as an auditor with the BC Liquor Distribution Board. Two years later, he and his close friend Farouk Esmail, a chartered financial analyst, set out to build their business empire in Vancouver.
The pair bought their first company, KP Cleaning, in 2018, while Adam was still working full-time, and acquired Precise Building Maintenance just 15 months later. Adam says that going through the acquisition process showed him the value of his CPA skill set.
"Effective auditing is critical during the acquisition phase," he explains. "Knowing how to meticulously dissect financials and investigate every layer of an organization can help you uncover opportunities that can be easily missed. If you don't know what to look for, you might not see the hidden potential."
But the biggest changes for Adam were still to come.
"Shortly after we bought our second company, I quit my day job to help run the businesses full-time," he shares. "Then, in 2021, we bought our third company—Regent Security Services—and my wife Zamina and I became parents to our daughter Myka. Needless to say, the last four years have been quite the ride!"
Purchasing three companies in just a few years is no small feat, and Adam's journey hasn't been easy. In fact, during his younger years, he wasn't always sure he'd have the confidence to go after his dream.
"I was born without cartilage in my left vocal cord, which makes speaking very difficult. I've always been self-conscious about my voice because of the way people treated me growing up, and I spent a lot of time avoiding talking to people because I was afraid of being judged or misunderstood," he says. "But the opportunity of going into a business partnership with Farouk squashed any insecurities I had. He's been one of my best friends since university, and we're aligned in our mindsets, goals, and visions. There's nobody else I'd rather go into business with."
By taking this leap of faith, Adam has not only reached his goal, he's also developed a deeper level of self-assurance.
"Owning my own business has forced me to confront my disability. I need to speak with people directly to manage day-to-day activities so it's something I've grown to appreciate, and even enjoy. I still get winded sometimes, but I've developed a sense of confidence because I've had the chance to speak with so many people along the way. I've had a lot of great conversations and generally positive experiences."
Creating an environment where people feel comfortable bringing their full selves to work is something Adam feels will serve companies well as they continue to navigate hybrid environments coming out of the pandemic.
"I think it's important to recognize that not all disabilities are visible, and for employers to extend empathy in these situations and give people the opportunity to demonstrate their value through their output," he says.
Looking ahead, Adam is eager to continue growing both as a leader and an entrepreneur. Below, he shares some of his secrets to success and plans for the future.
What's the best part about being your own boss?
Adam: Being in the driver's seat of your own success. When there's no one else to lean on, you have to tap into your own strengths, skillset, and network to work through any challenges that come up in the most efficient way possible. And I have to say, being able to identify inefficiencies and make changes immediately without friction at the top has been a game changer.
All of your companies are in different industries. Did you or Farouk have any knowledge or experience in those areas before you started?
Adam: We knew nothing about these industries, but our acquired skill sets have enabled us to recognize a great business when we see one. Ultimately, I believe that you can learn the mechanics of any business you want to, but having a financial background will allow you to spot a diamond in the rough.
Have you had any mentors or role models along the way?
Adam: My dad is my hero. If I can learn to have half of his patience and intelligence, I'll be a happy man. My wife is also a huge source of inspiration for me. She conducts herself at the highest level—personally and professionally—and watching her do it all while making it look easy is incredible to witness. I am in awe of her and being her husband holds me accountable to being a better person.
How do you manage your time?
Adam: I know it's 2022, but no matter what technology exists on the market, I'll always stick to the basics. I live and die by my XL Moleskine notebook. If it's not in my agenda for the week, it might as well not exist.
What's one part of your morning routine that gets you motivated for the day?
Adam: When I drop my daughter off at her grandparents' house around 7:30 a.m., I put "Dreams and Nightmares" by Meek Mill on full blast. It hypes me up in the morning and gets me excited for the day. I get a lot of weird stares because it's so loud, but it's now part of my routine.
What are some of your interests outside of work?
Adam: After my family, golf is the second love of my life. When I was a baby, a fortune teller told my mom that I'd be obsessed with a little white ball, and they were so right. I was captain of the varsity team at Simon Fraser University, and there was a point where going pro was my ultimate dream. Naturally, golf has dropped on the priority list since the birth of my daughter, but I'm so excited to be able to play with her in a few years.
Apart from that, I'm interested in anything that's going to teach me something. Life is about experiences and the only way to learn is to be open-minded and curious.
Do you listen to any podcasts? If so, what are some of your favourites?
Adam: I listen to four podcasts religiously:
What's next on your bucket list?
Adam: Essentially, to keep expanding on what I'm doing in my business and my personal life. My wife and I want to build a life that lets us live in other countries for months at a time. There's no greater experience than traveling and immersing yourself in other cultures, and we'd love for our daughter to have that opportunity.
---
Author
Megan Hooge is a communications coordinator with CPABC. A shorter version of this profile appeared in the May/June 2022 issue of CPABC in Focus.