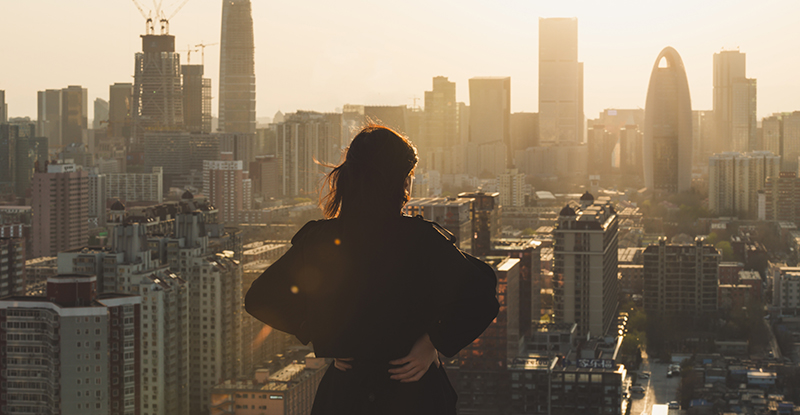 Photo credit: AerialPerspective Works/Getty Images
In honour of Asian Heritage Month, CPA Canada spoke to three CPAs of Asian descent about their career paths and advice for recently designated accountants 
May is Asian Heritage Month. To commemorate it, we spoke with three CPAs of Asian descent to hear how their heritage has influenced them as Canadians and professional accountants. Meet the interviewees:
Amy Lam, FCPA, FCA, EVP Corporate Services & CFO at CPABC, recipient of the BC CFO Award for 2020.
Tom Gee, FCPA, FCA (retired), board member for Alberta Council for Environmental Education, ALS Society of Alberta, member of the audit committee for CPA Education Foundation, CPA Western School of Business, recipient of the CPA Alberta's Lifetime achievement award (2021).
Manjit Sharma, FCPA, FCA, ICD.D, board member of Export Development Canada and Vermilion Energy Inc., CPA Ontario 2021 Fellow recipient, 2019 Canada's Top 100 Most Powerful Women by Women's Executive Network.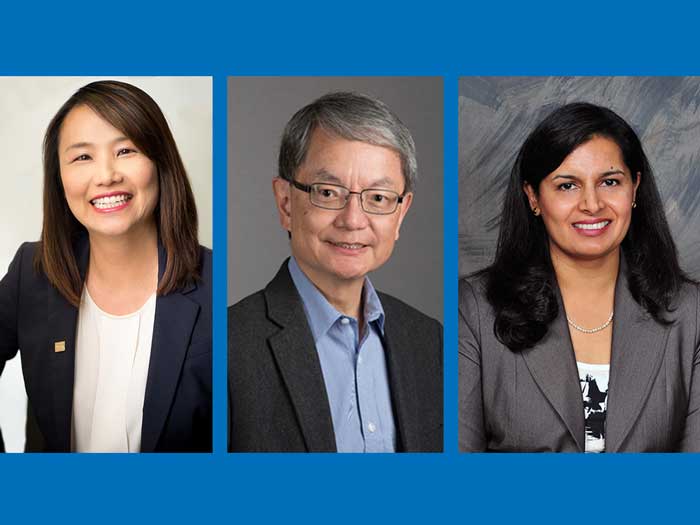 From left to right: FCPAs Amy Lam, Tom Gee and Manjit Sharma (Images provided to CPA Canada)
From sharing their personal experiences to valuable insights for up-and-coming CPAs, here is a snapshot of what they had to say.
How has your asian heritage influenced you as a Canadian and contributed to your career success?
Amy Lam (AL): I have always worked very hard to keep my connection to my Chinese heritage, including improving my fluency in Cantonese. It helped me foster pride and grounding in being a Chinese Canadian.
The ability to be myself allowed me to be more purposeful in choosing my career progression. When I was in public practice at one of the big four firms, I was one of the first team members to be recruited into and lead the Asian practice. Being a Chinese Canadian and understanding Chinese culture gave me a unique perspective about the values of my clients both in Canada and China.
Tom Gee (TG): I was born and raised in Canada, so I'm a very proud Canadian and I'm also proud of my Chinese heritage. I pay tribute to my parents when thinking about how my Asian heritage shaped my career path and success. I grew up in a family of six kids. My parents were really great role models. They worked often seven days a week at two or more jobs, and always taught us the importance of going to school to get a good education and working hard.
Manjit Sharma (MS): I am proud to be Canadian and thankful for all the opportunities this country has given me. I came to Canada as a young child from the U.K. and had the benefit of continuing to live and learn about my own culture, while being exposed to multiple other cultures. A part of my success has been a mixture of my upbringing, my values and the terrific support of my family.
What challenges have you encountered professionally, and how did you overcome them?
AL: When you're young, you feel this tremendous pressure to succeed. My perception was to succeed, I need to fit in, or more accurately, not stand out, or bring attention to the fact that I am Asian, which is difficult because look at me: I am Asian. I can't do anything about that.
I chose to lean into my heritage, rather than deny it. I thought "I'm going to succeed being a Chinese Canadian and that is going to be my superpower." I looked for opportunities to leverage and celebrate my heritage.
TG: When I joined my first firm back in 1978, I was told that I was the first Asian ever hired at that office. It was a great experience. Nobody treated me differently. Nobody said anything negative to me about being Chinese. They treated me like everybody else. I never thought of myself as being a Chinese accountant. I always thought of myself as simply being a professional accountant and tried my best to be a good one. I hoped that others also thought of me this way because of what I did, rather than what my ethnic background was.
What are the most important lessons you have learned as a CPA?
TG: Our profession has changed so much over the years. When I started, most of our procedures were performed manually. I never would have thought that doing a virtual audit or a virtual inventory count could be possible, but we are doing them now. The body of knowledge with income tax and indirect tax legislation, GAAP and GAAS (now CAS) has also grown exponentially over the years. This is why all CPAs must embrace continuous learning because things change so much and so rapidly.
MS: That our diversity and experiences bring a certain uniqueness to discussions. Early on in my career, I learned that my unique experiences, cultural background and values strongly complement the strong foundational skills I have built as a CPA. I've continued to expand my skillsets and keep current through further training, on-the-job experience and additional accreditations.
What advice do you have for new CPAs?
AL: I truly believe that the CPA designation provides fantastic training and many transferable skills, which open so many opportunities for young CPAs and allow them to find careers that meets their purpose and passion.
Broad skills like critical thinking and the integrity of a CPA will always be important, regardless of what business you're in.
Technologically savvy young CPA's coming up the ranks, with their ability to interpret data, will build an organization's capacity to operate, rather than just pivoting to change.
TG: The CPA designation will continue to be valued by business and other stakeholder groups. With changes in technology and expansion of services outside of "traditional" core areas, there are fantastic opportunities for new CPAs. And an already great profession will become better and stronger with increasing diversity and inclusivity.
MS: It is a wonderfully exciting time to be a CPA. There are so many unique companies and startups that are looking for CPA talent.
Be authentic and feel comfortable in your own skin, do not look to fit into a mould, be yourself.
Do not be afraid to speak up and participate, even if you are the youngest most inexperienced person in the room—ask a question to get involved in the conversation.
Being open-minded to different opportunities will open doors for you, look to do stretch assignments and build varied skillsets.
I believe taking risks in your career early on can pay off in a big way, if you are willing.
Thriving in the profession
Honouring employee diversity is key to nurturing workplace culture. Here are some tips on fostering an inclusive workforce and reads that can take DEI initiatives to the next level.
To keep up with the latest developments in the profession, listen to the Foresight podcast and read about ways to expand your knowledge base.
---
Sophie Nicholls Jones is a Toronto-based digital producer for CPA Canada. With more than a decade of journalism experience, Sophie is a seasoned reporter, writer and editor, with a focus on the business and financial sectors.
Originally published by CPA Canada's news site.