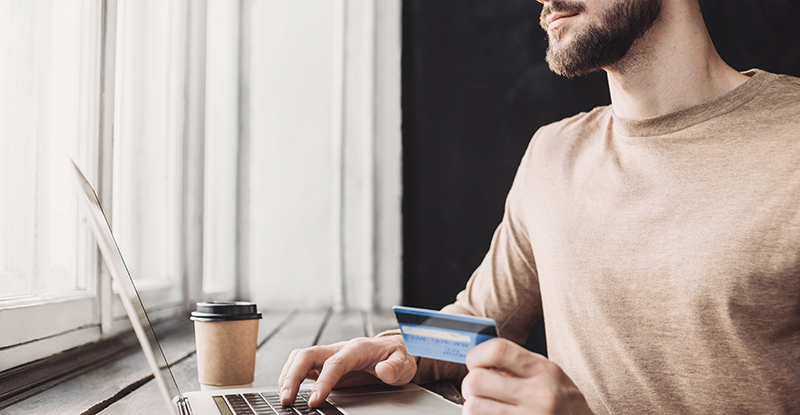 Photo credit: Poike/iStock/Getty Images
Did you know that March is Fraud Prevention Month in Canada? This is a time to educate or refresh ourselves on the types of fraud being practiced and how we can protect ourselves. According to the Canadian Anti-Fraud Centre (CAFC), Canadians reportedly lost $379 million to scams in 2021, with the same source indicating this is an increase of 130% compared to 2020.
Some of this is attributed to the rise of COVID-19-related scams during the pandemic, with $8.15 million reportedly lost by Canadians from March 6 to February 28, 2022 due to these types of scams. Also concerning is the damage from investment fraud, which according to CAFC was the costliest reported scam in Canada in 2021, totaling $163.9 million in losses.
The CPA Canada 2022 Annual Fraud Survey revealed that almost half (46%) of Canadians surveyed had fallen victim to fraud at some point in their life. Credit card-related fraud was indicated as the most frequently experienced type of fraud, followed by email, debit card-related, online, and identity fraud.
To help ensure that your friends, family, and clients know what to look for, here's a look at common types of scams, tips on how to protect yourself, and steps to take if you've fallen victim to fraud.
5 common scams and how to spot them
Crypto/investment/romance scams

As mentioned, investment scams accounted for the greatest financial losses for Canadians due to fraud in 2021. In recent years, crypto scams have taken a front seat in investment scams, which offer high-return, no-risk investments. However, the money and the broker disappear once the transaction is completed.

Last year, Canadians also lost $40 million to romance scams, and recently a new twist has emerged, where crypto and romance scams are being combined into what some are calling CryptoRom, using online dating apps.

Warning signs:

Guaranteed returns.
Pressure to invest right way.
CryptoRom: Online dating profile photos that resemble modelling/stock photos; unwillingness of the other party to meet in person or via video chat.

Identity theft and fraud

Identity theft occurs when someone's personal information is stolen for criminal purposes. Identity fraud happens once that information is used to commit a crime.

Warning signs:

Emails, texts, or phone calls from unknown sources asking for personal or financial information.
Mysterious credit card charges, loan applications, or even unexpected government identification showing up under your name.

Health and medical scams

Health and medical scams often involve fake pharmacies selling medications or treatment without requiring a doctor's prescription.

Warning signs:

Promises of dramatic results with little to no effort.
Offers of "miracle cures", weight-loss solutions, and alternative medicine or treatments.

Phishing scams

Phishing scams use fraudulent emails and text messages to try to gain access to personal or financial information through hyperlinks or direct requests.

Warning signs:

Slight differences in the organization's name, email address, or logo.
Requests for personal or financial information.

Tax scams

Tax scams often come in the form of emails or text messages claiming to be from the Canada Revenue Agency. Messages usually mention an extra refund or an outstanding tax bill.

Warning signs:

Requests to provide banking details or make a payment with a gift card or cryptocurrency.
Unusual methods of communication (e.g. text messages).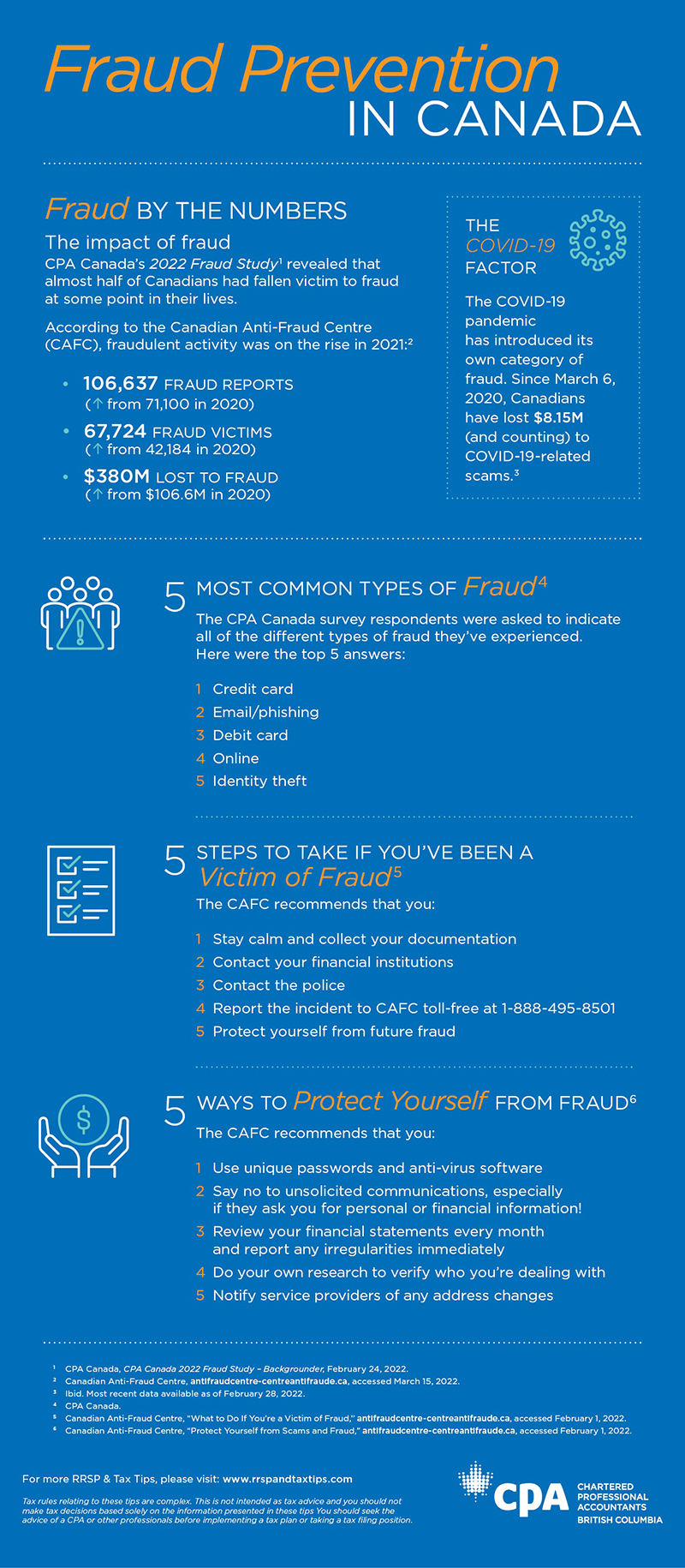 Five ways to help protect yourself from fraud:
Use unique passwords and anti-virus software.
Say no to unsolicited communications, especially if they ask you for personal or financial information.
Review your financial statements every month and report any irregularities immediately.
Do your own research to verify who you're dealing with.
Notify service providers of any address changes.
Five steps to take if you've been a victim of fraud:
Stay calm and collect your documentation
Contact your financial institutions.
Contact the police.
Report the incident to CAFC at 1-888-495-8501 or report it online.
Change your online passwords.
The information discussed in this article can serve as a good way to refresh yourself and others on fraud prevention. However, fraud is always evolving, with new types of scams frequently on the rise. So, it's important to stay vigilant and aware that fraud can always emerge from unexpected situations.
---
Vince Kanasoot is a communications specialist for CPABC.