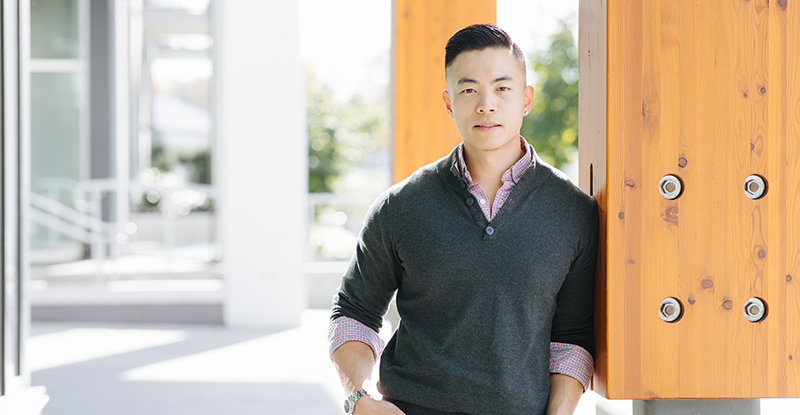 Photo credit: Bobo Zhao Photography
Nelson Soh has always been good with numbers and interested in business. So after graduating from UBC with a Bachelor of Commerce in Accounting, he attained his CPA designation while working for KPMG. Inspired to pursue his passion for helping people improve personally, professionally, and financially, he co-founded FSQ Consulting. With his FSQ team, he is able to achieve his goals and fulfill his passion through contractual CFO work, consulting, and coaching.
"Watching my clients change their perspective with money and improve their relationship with it is the most fulfilling aspect of my job," he says. "When I see my clients shift their money mindset, I know they are set for success and will be financially independent."
One of the main reasons why Nelson is on a mission to help people gain financial literacy (FinLit), is because he believes FinLit knowledge is essential information that many people are not always formally taught. He adds, "There was so much more about financial literacy that I uncovered in my adult life that I wish I knew earlier!"
Nelson has recently delivered a TEDx talk, became a professionally published author, was featured in a Mercedez Benz commercial, and also teaches FinLit through social media, including on his Instagram and TikTok channels. What are his secrets to success? Here are some things he does to help him thrive.

How do you manage your time?
Nelson: Prioritizing what is important and scheduling everything. I also do my best to make quality time for myself. I take my personal health, self-care, and fitness seriously. You can't pour from an empty glass.
Setting intentions is obviously a key to success. Do you have any morning routines/rituals that you stick to?
Nelson: Absolutely. Gratitude and thankfulness is the first thing I practice every morning when I wake up and every evening before bed. In the am, it's a big glass of water to get hydrated and black coffee before things get busy. I review my calendar for meetings and my power list (5-7 things that need my attention that day). Then I go after it.
What's a key lesson you've learned during your career that you think can help other young professionals achieve success?
Nelson: It is okay to fail. We are taught that failure is a bad thing when in reality it isn't. Every failure has a learning point if you look hard enough. Failure = growth.
What is your top power food?
Nelson: Fruit + vegetable + protein smoothie. Usually I make my smoothie with blueberries, banana, spinach/kale and chocolate protein.
What's your evening/bedtime routine?
Nelson: 30 minutes of stretching/mobility work, reading at least 10 pages of a book, and drinking a cup of herbal tea. This helps me wind down and relax before bed.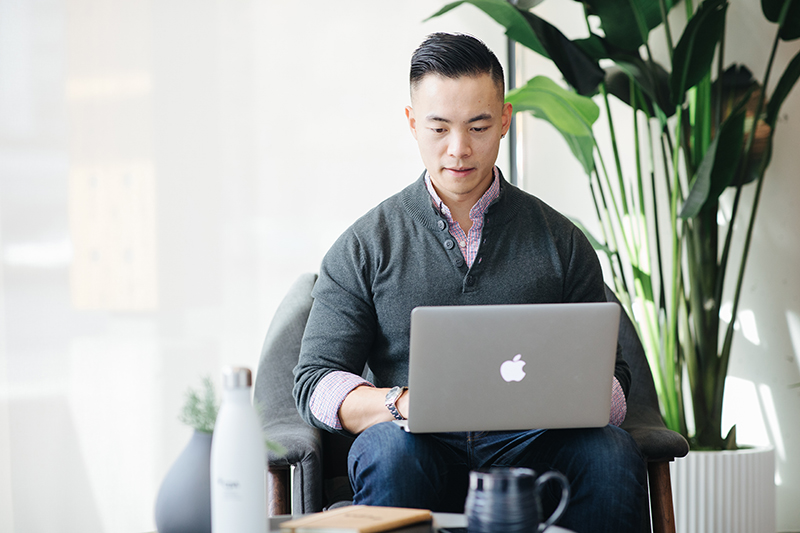 Photo credit: Bobo Zhao Photography

Do you listen to any podcasts and if so, what are some of your favs and why?
Nelson: It frequently changes but right now, On Purpose by Jay Shetty and The School of Greatness by Lewis Howes are two that I really enjoy. They teach you about different perspectives in life and how to improve yourself and your mindset.
What are three go-to songs that you listen to regularly and why?
Nelson: It depends on my mood. If I'm creating content or doing deep work, I listen to The Piano Guys. If I'm at the gym and not listening to a podcast or audiobook, I'm likely listening to Blessings by Big Sean or Thank You by DJ Khaled. These two songs remind me to be grateful and thankful for everything that I have in life. If you aren't grateful, you've already lost.
What are some of your guilty pleasures (food, entertainment, drinks, etc.)?
Nelson: Fried chicken, pizza, and sushi are my go-to cheat meals. But now that I've discovered "healthy fried chicken" (TEDx reference, please check it out!) maybe fried chicken isn't a "cheat meal" anymore…I'm also a big scotch fan and I like to drink it neat (without ice).
How do you define success?
Nelson: Success to me is the commitment to becoming the best version of yourself every day, especially on the days that you want to quit. It also means to help and serve others by showing them that it is possible to reach their true and full potential in life.
Is there something (a work or life task) that you hated doing, and you somehow found a way to streamline it? If so, how?
Nelson: Vacuuming. I bought a Roomba and it is a life changer and time saver. If you can afford one, I would highly recommend getting one.
What are some of your fav apps that you use, that have really helped you manage your life?
Nelson:
Google Calendar – everything goes into my calendar. Even reading 10 pages and my workout time gets slotted in. Failing to plan is planning to fail!
Banking and finance apps – I use bank apps like Tangerine, RBC, TD, and investing apps like WealthSimple and Questrade to manage my personal finances.
For daily productivity – I'm a pen and paper guy. I write down my power list and I go down the list and knock them off.
---
Vince Kanasoot is a communications specialist for CPABC.
Visit CPABC's FinLit site for information on booking sessions, volunteering to deliver sessions, and for personal finance-related articles.