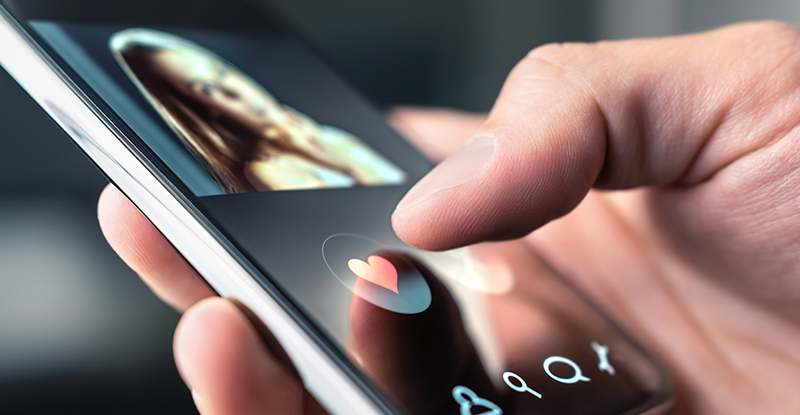 Photo credit: Tero Vesalainen/iStock/Getty Images
Valentine's Day is enjoyed by many as a celebration of love, but it can also trigger feelings of loneliness. The natural vulnerability that arises from such loneliness is what fraudsters thrive on when using legitimate dating apps such as Tinder, Bumble, and Grindr to lure victims. In particular, there's one type of romance fraud that's quickly trending: CryptoRom. And this is one dating profile you definitely want to swipe left for.
What is CryptoRom?
CryptoRom combines two of the top scams Canadians lost money to in 2021: investment fraud and romance scams. Similar to romance scams, CryptoRom involves cybercriminals creating fake profiles on dating apps, using photos stolen from legitimate profiles, social media, or modeling and stock photos, to connect with victims. Fraudsters will then ask to chat on another platform such as WhatsApp.
Fraudsters often claim they live far away, making meeting in real life difficult; they'll often also come up with an excuse as to why they can't video chat. They are quick to profess their love, and prey on their victims' vulnerabilities to gain trust and affection. Soon after, fraudsters will convince their victims to invest in a specific cryptocurrency. Once victims invest, fraudsters will make them think their investment is thriving in order to persuade them to invest more and more.
It's usually not until victims try to withdraw their investment, that they realize something is off. They either won't be able to withdraw their funds, or they'll be told by the site that they need to pay a large sum in taxes in order to withdraw. Either way, once victims stop handing over money, they're ghosted by the fraudsters. Victims are left alone and with emptied bank accounts.
Media reports of these types of scams happening in Canada have been emerging frequently, with recent incidents experienced by a woman in Toronto, and men in Montreal and Oshawa.
Victim guilt and repercussions
Many may be quick to attribute the misfortunes of romance scam victims to their own naivety. But in a recent article Dr. Michael Woodworth, a psychologist and professor at the University of British Columbia, explains that affairs of the heart impact judgment. "We have heightened emotions. As emotions go up, the one thing, tried and true that we know from psychology, is decision-making ability goes down."
And victims are usually preyed upon by a whole team of cybercriminals, instead of just a one-man operation as seen in the Tinder Swindler. The Canadian Anti-Fraud Centre explains that romance scams are often linked to organized crime conducted around the world. Groups of cybercriminals use their combined efforts to seek out their victims' psychological pressure points.
Unfortunately, it's near impossible for CryptoRom victims to recover their lost funds due to the strong encryption cryptocurrencies have. The transfer of coins is virtually untraceable, providing cybercriminals with anonymity. By being able to access the coins anywhere in the world, fraudsters are further able to evade prosecution, as the ambiguity of their location complicates the judicial process.
Additional threats on the rise
Some CryptoRom victims in the US and Europe have also encountered incidents where fraudsters convinced them to download fake crypto-trading apps. These fraudulent apps allow cybercriminals to gain remote access to their victims' phones, wherein they can access bank accounts, credit cards, personal information, and more. There's also the risk of extortion, where fraudsters blackmail their victims to avoid the exposure of compromising images, videos, and information.
There have also been a number of incidents where members of the LGBTQ community have suffered extortion, stemming from fraudsters invading the community's dating apps. Reports from LGBTQ victims show that cybercriminals have been using apps such as Grindr to connect with individuals and then later extort them, threatening to expose conversations, and intimate photos/videos to their families, friends, etc. Fraudsters prey on victims who are not out, and who had been trustful, thinking they were chatting in a safe space.
How can we protect ourselves?
So how can we seek love online without falling victim to CryptoRom or other types of romance scams? Here are some tips:
Check profile photos

Many fake profiles use modelling or stock image photos, and these types of photos should always be a red flag. True, your match might actually be a model and have really great photos. But many fraudulent accounts also use stolen images from every day people. How can you determine if your match is legitimate? Do a reverse image search to ensure your match is really who they say they are.

Your match professes love early on

While the saying "When you know, you know" is cliché for falling in love quickly, everyone should be on their guard, especially in today's digital world. Scammers routinely try to dive deep into extreme emotional connections right away.

They're unable to meet in person or via video chat

Scammers often claim to live in another country; other times they may claim to be more local, but something always come up to prevent them from meeting in person. If they keep finding excuses to avoid meeting in person or video chat, they are likely a scam artist.

They ask for a financial transaction

In CryptoRom scams, fraudsters will try to convince you to invest in some type of cryptocurrency they claim has huge potential. In more traditional romance scams, they'll ask for money to help in an emergency or to travel to see you. You should always say no.

They send you a questionable link

Use careful judgement before clicking on anything, because clicking on fraudulent links can subject your device to malware. Legitimate sites will often have a preview that shows up with the link, with an image and/or description about the destination. If the preview looks questionable or if there is no preview at all and the link looks suspicious, do not click.
The dating world can be challenging to navigate, especially during COVID-19. But in dating, we need to take steps to protect our hearts. And with the continual rise of CryptoRom and other romance scams, we also need to protect our wallets and access to our digital devices.
If you have been or suspect you've been a victim of fraud, contact the Canadian Anti-Fraud Centre at 1-888-495-8501 or report it online.
---
Vince Kanasoot is a communications specialist with CPABC and is also a regular online dater. Happy Valentine's Day everyone!