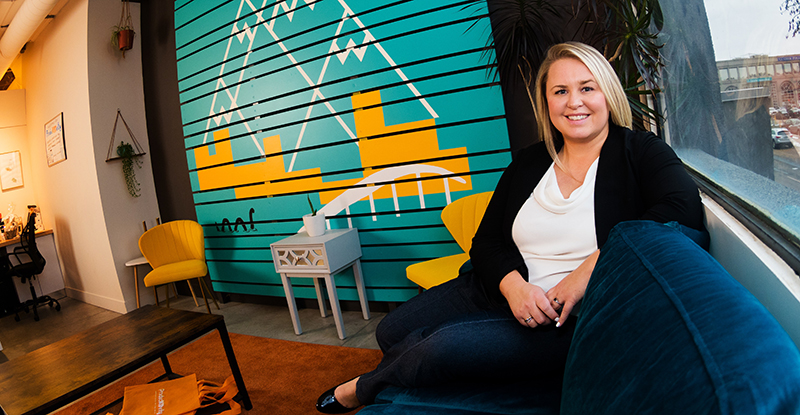 Photo credit: Michael & SuZanne Hintringer Photography
In this podcast episode, Hannah Griffin, CPA, VP of finance and operations at DMC Recruitment Group in Kelowna, BC, chats with Leah Giesbrecht, communications specialist at CPABC, about her financial leadership role and passion for sports, along with her involvement in arts and financial literacy, all while raising her daughter. Part of our Coffee Chats with CPABC podcast series.
---
Whether it's leading her rugby team to victory, achieving a VP role in finance early in her career, or raising her daughter while completing the CPA designation, Hannah Griffin, CPA, knows about staying motivated and achieving goals. Hannah is the vice president of finance and operations at DMC Recruitment Group in Kelowna, which specializes in executive recruitment for architecture, design, and construction. Along with her financial leadership role and passion for sports, she's also involved in the arts and financial literacy.
Named to the Top 40 under 40 by the Kelowna Chamber of Commerce, Hannah graduated from Okanagan College and UBC Okanagan and began her CPA career at Crowe MacKay LLP. From there, she went on to work as a controller, then vice president of finance at the Digital Shop Local Network GetintheLoop before taking on her current role with DMC. We caught up with her to learn more.
You have a BA of Fine Arts – could you tell us about your interest in the arts?
Hannah: I'm the type of person that's always doodling during a meeting, my hands are always moving. In high school, education came fairly naturally to me, so I really chose to pursue what made me happy. And that led to a lot of interesting experiences – for example, my high school had a darkroom photography lab, so you could develop your own film and then make prints. Then, during my four-year bachelor of fine arts, I was able to expand my education and mature my painting and photography skills.
And while you were completing your post-secondary education, you helped to found CANsave, a financial literacy program for school-aged children.
Hannah: Financial literacy is such an important component of life that for so long has not been focused on. Personally, I did my four-year degree and budgeting, saving, how debt works – they never came up. When young adults graduate from high school they're given the opportunity to take out student loans and to apply for credit cards. But no one talks about what impacts that could have down the road.
And it just happened that while I was studying at Okanagan College, the BC government had introduced a new financial literacy curriculum that needed to be put in place. So myself and other students in Enactus, which is a network of young people who use business as a catalyst for social and environmental change, used it as an opportunity to come up with the CANsave program to help implement the curriculum, and in the process, it helped us do something that we were passionate about.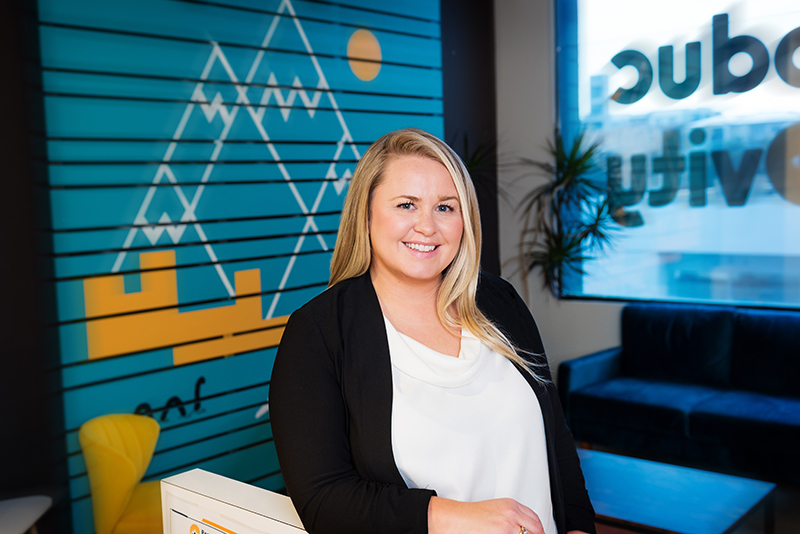 Photo credit: Michael & SuZanne Hintringer Photography
Along with volunteering with CANsave, you also volunteered with the Arts Council of the Okanagan – why is it a priority for you to give back?
Hannah: I really feel that volunteers provide the spice to a community – they put in the hours to make interesting things happen. When I served on the board for the Arts Council, I was with them for five years as the treasurer; we were able to provide exhibition opportunities and put on concerts – all the types of things that people really enjoy doing. I wanted to live in and raise my daughter in a community where cool things were happening. So I wanted to give back to help create the community where I want to live.
And what made you want to get into accounting?
Hannah: When I graduated from the fine arts program, it was very close to the 2008 recession. A couple of years into that, I had an opportunity to work at a local technology startup Vineyard Networks. I started there as a financial administrator and I really enjoyed it and I wanted to learn more. So I started working on my business education. I started the post-baccalaureate diploma in accounting, and I did that through distance learning while working full-time and was able to complete that over the next couple of years. And once I started working in the accounting world, I really loved it and wanted to keep progressing, so decided to pursue my CPA designation.
You completed your designation as a single parent, so could you tell us about what you did to balance all of your priorities?
Hannah: I really think your calendar and your to-do list are your best friends. If I wasn't organized, I couldn't have gotten anything done. So whenever you're entering into a new course or you have a new obligation, make sure due dates go into your calendar, and you're setting reminders for yourself a couple of weeks before things are due. Being very on top of prioritization and time management are key to getting stuff done.
Do you have any advice to share with other parents who are in the process of becoming CPAs?
Hannah: Don't be afraid to ask for help or if you need a little bit of a concession; the people in your life really want you to be successful. When I was working on my designation, I was able to go down to 80% time at work, so I had one day a week to focus on school. My employer really respected the fact that I was a single parent trying to complete my education. So I very much say, "Ask for help if you need it and let people support you because they want to."
And fight the mom guilt. A lot of what you're going to face as a single parent is that self-reflection, "Oh, am I spending enough time with my child? Am I doing everything I could be doing with them?" But looking at the big picture, we're investing time now so that long-term, our life can be better.
Thinking about everything you've accomplished, what motivates you?
Hannah: I've always wanted to feel like I can be self-sufficient. A big part of that was having my daughter and wanting to provide a good example of a strong, professional, working mom who can go to school and volunteer and work and isn't limited by my situation. And I've always been very goal-oriented. So once you set a goal, work towards it and don't be overwhelmed by looking at four years down the road. Instead, ask yourself, "What do I have to do in the next three to six months to make this happen?" And just focus on that one step at a time.
What would you say to young women who aspire to executive roles in accounting and finance?
Hannah: Don't ever let your gender restrict you from doing anything. Something my daughter Lucia and I talk about on a fairly frequent basis is how girls and women can do anything they want to do. And just because you don't see women in the room right now doesn't mean that you don't deserve to be there. You're as capable as anybody in that room. If being in a strong leadership executive role is what's going to make you feel fulfilled, then work hard to get there, set the goal, and check things off one box at a time.
Finally, could you share a little bit about your passion for rugby?
Hannah: Given my life can be a little stressful sometimes, I've always found that sports have been a huge stress reliever for me. I started playing rugby in high school, so it's been a huge part of my life and an amazing physical outlet and source of stress relief, plus there's the positive social aspect.
Over the past five years, I've been playing in the Cascadia Masters Rugby Union League. It's a mainly male-dominated league but it's been a fun adventure and I've watched it grow to include more female players. And this year I'm also playing in the BC Rugby Senior Women's league as the Captain of the Kelowna Crows women's team.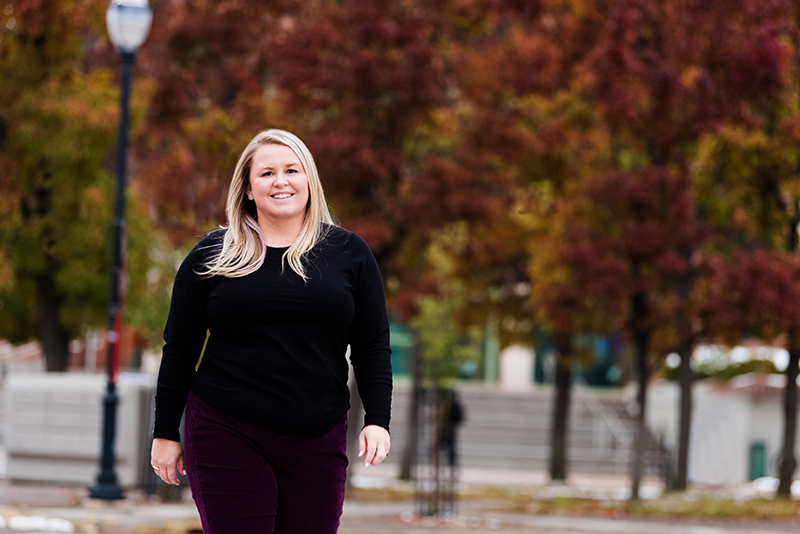 Photo credit: Michael & SuZanne Hintringer Photography
Fun facts
What's your morning routine like?
Honestly, it's generally fairly chaotic just because I'm getting my daughter ready for school and getting us out the door, but we try to stick to our to-do list to make sure we get to school and work with everything we need for the day.
Your favorite power foods?
I don't know if it would be considered power food, but I always tend to have dark chocolate-covered almonds at my desk.
Do you have any guilty pleasures?
Being able to sit and read a book all day is one of my absolute favorite things to do.
Your favorite movies?
I tend to always go back to the Harry Potter series and then the Lord of the Rings trilogy.
Any favorite podcasts that you like to listen to?
I've been listening to some recruitment-specific podcasts just to get a better understanding of the new industry I'm working in. There's one called Recruiter Startup and another called Firefish Recruitment. They walk you through industry tips and tricks. And lately I've been listening to a BBC podcast called Rugby Union Weekly.
Do you have any favorite apps?
Other than my calendar? I honestly don't use too many apps. But I do tend to get lost in TikTok on occasion for far too long.
---
Leah Giesbrecht is a communications specialist for CPABC