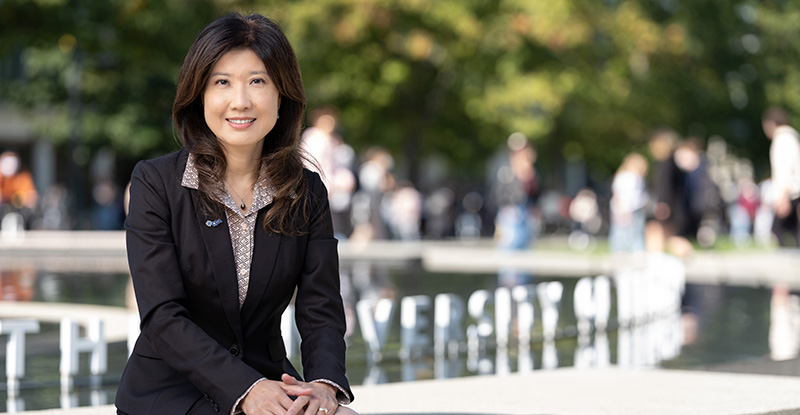 Photo credit: Kent Kallberg Studios
Joanne YH Liu, CPA, CGA, PFP, knows what it's like to be a newcomer.
"My family moved a lot when I was younger. First from a small town in Taiwan to a big city, and then, later, to another country."
She moved with her family to Canada in 1991. Already fluent in Mandarin and Taiwanese, Joanne enrolled in a one-semester ESL program at the University of Victoria (UVIC). After completing her ESL studies, Joanne enrolled in the University Transfer program at Camosun College. That same year, UVIC's program office recruited her as a part-time translator for its student settlement orientations.
"That was my first Canadian job," she recalls. "They only needed me once a year, but it led to more opportunities for translation work during my studies."
After completing her first year at Camosun, Joanne transferred back to UVIC for the second year of her undergraduate studies. In 1995, she moved to Vancouver to finish her bachelor of commerce degree at the University of British Columbia. She graduated in 1997 and began working as the office manager for Canadian Bottling Corporation in Coquitlam that same year.
"Right after I graduated, my goal was to secure a full-time job that would enhance my Canadian experience and build my career path," she says. "Working in manufacturing gave me a good foundation of supply chain, technologies, marketing, and distribution in Canada."
In 2000, Joanne decided to pursue a new opportunity as a management trainee with the private banking and personal finance services department of HSBC Bank Canada.
"As a finance major, the banking industry was at the top of my list of career choices," she explains.
Within her first few years there, she earned her personal financial planner (PFP) designation from the Canadian Securities Institute and climbed the ranks at the bank. In addition to her duties as a private banking account manager, Joanne was chosen to host financial seminars for new immigrants on behalf of the bank, a role that involved preparing and translating materials and even making appearances on local television and radio programs and at financial expos. Along the way, she realized that her true passion was making a meaningful difference and helping others reach their financial goals.
"It was a highly sales-oriented job," she explains. "But I preferred the relationship management side—giving consultations and building a rapport with my clients."
In 2006, Joanne transferred from HSBC's banking division to an investment advisory team with HSBC Securities. But in 2007, Joanne's mother was diagnosed with terminal cancer, and Joanne took on the role as her full-time caregiver. Her mother passed away three months later, and Joanne says the time off work gave her a chance to rethink her priorities.
"I knew I could go back to my career in banking whenever I was ready, but my career wasn't going in the direction that I really wanted. That's when I decided to pursue accounting."
In 2008, she enrolled in UBC's Diploma in Accounting Program. By 2010, she was employed by a public practice firm and working towards her accounting designation.
"I was making a major change," she recounts. "and as a mature student, I remember feeling like I needed to obtain my designation as soon as possible."
Joanne earned her designation in early 2012. In 2013, she got involved with her local chapter, which led to an opportunity to attend an orientation for the profession's new financial literacy program. For Joanne, it was a chance to marry her passion for helping others with the years of financial literacy experience she gained while working at HSBC.
"I was excited about the opportunity to help the general public, especially new immigrants, to understand the importance of finance in all aspects of life."
Since then, Joanne has become a seasoned veteran with the CPA Financial Literacy Program, specializing in sessions for newcomers to Canada. Her experience with the program has earned her a position as a recurring guest speaker with S.U.C.C.E.S.S. Richmond. It's also helped grow her confidence in her professional life—in 2015, she started her own public practice firm, Joanne YH Liu Company Inc. in Richmond.
"I never had aspirations to become my own boss," she explains, "but I've been very fortunate to work with great mentors who have helped me develop my potential."
Joanne has also expanded her volunteerism with the profession. She joined CPABC's Burnaby/New Westminster Chapter Board in 2015 and has served as chair since 2019. She also became a CPA mentor in 2019.
This week, Joanne will be presenting "Managing Your Finances in Retirement," CPABC's first FinLit session in Chinese, on November 10. Here, she shares her thoughts on the importance of making financial literacy more accessible and the rewards that come from making a difference.
November is Financial Literacy Month in Canada. What's one piece of FinLit advice you think everyone should know?
Joanne: Money is often treated as a taboo topic, but I always tell my audiences that people need to talk about money to be able to learn how to make good financial decisions. When everyone knows proper money management skills, society as a whole has better economic health.
What's your favourite part about being a presenter with the CPA Financial Literacy Program?
Joanne: My family immigrated to Canada many years ago, so I can relate to the challenges newcomers face. I've been in their shoes, and it's very rewarding to know that I'm sharing information that can make their lives easier.
What does it mean to you to be able to present CPABC's first FinLit session in Chinese?
Joanne: I think many Chinese people may be reluctant to seek help in this area because they're not confident about their English. By offering FinLit sessions in Chinese, CPABC is increasing accessibility, and I'm humbled, honoured, and very excited to play a role in this process.
What's one thing people would be surprised to learn about you?
Joanne: I'm actually quite a shy person. I'm not comfortable speaking in front of large groups, especially in English, but I find that being well prepared is the key to building up my confidence.
What advice do you have for other CPAs who want to give back to their communities?
Joanne: Giving back to your community doesn't need to start with a big goal or project. The main thing is to take action. In this fast-paced world, everyone is busy and has a long list of things they need and want to do. Managing your time well, prioritizing your core values, and staying determined can help you achieve your goals.
Who's someone that inspires you to give back?
Joanne: My late mother taught me to live in pursuit of happiness for ourselves and others. Everything we say or do can have a positive impact on someone's life. To me, that's very powerful.
---
Megan Hooge is a communications coordinator with CPABC.
A shorter version of this interview was published in the November/December 2021 issue of CPABC in Focus.