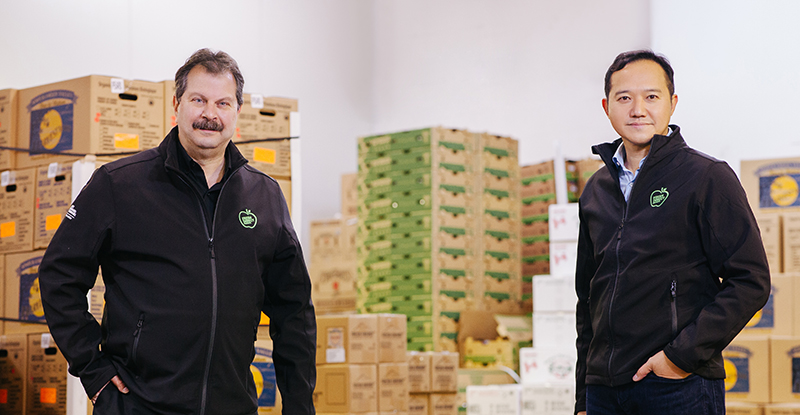 Photo credit: Bobo Zhao Photography. From left to right: Jozef Hubburmin and Davis Yung.
Disruptor company: Fresh Direct Produce
President and Chief Executive Officer: Davis Yung, CPA, CMA
Chief Financial Officer: Jozef Hubburmin, CPA, CMA
Headquarters: Vancouver, BC

More than ever, people need to make healthy choices in their lives, and Davis Yung, CPA, CMA, is proud to be part of that process.

"We are an importer and distributor of over 1,000 fruits and vegetables – we bring in product from over 35 countries and distribute to national, regional and independent retailers across Canada," says President and CEO of Fresh Direct Produce, Davis Yung.

"Having the business as a platform to do well and make a healthy difference – I feel our work is important."

Founded in 2003, Fresh Direct Produce set out to deliver unparalleled service providing a cost-effective selection of the best produce the world has to offer. The company's vision is to make a healthy difference in people's lives by providing food that is the basis for celebration, bonding, and connecting to each other's communities and heritage.

Since its inception, Fresh Direct has grown substantially, acquiring three companies in the past two years.

The group now operates from six locations in Greater Toronto, Vancouver, Calgary and Victoria, and employs over 450 people.

As the President and CEO of Fresh Direct Produce, Yung has grown the business from the ground up. Now, during these turbulent times, his education and experience are an even bigger asset, as the company works to get through the pandemic.

Before opening Fresh Direct Yung worked in several different roles that exposed him to the produce industry's sales and logistical side. He is also a Chartered Professional Accountant (CPA), and worked as a Financial Analyst in a university hospital.

Although he quickly realized that being an Analyst was not what he enjoyed most, or that finance might not be his future, Yung values the CPA skillset. That training helps Yung effectively manage and conduct many aspects of his successful business.

"I feel my training as a professional accountant is a critical part of my career journey," says Yung.

"Thanks to my risk management training and mindset, I feel I am always prepared and ahead of the curve."

Having this solid foundation in financial principles has helped Yung navigate the current economic climate brought about by the pandemic crisis.

"Right when Covid hit, my CFO, along with our Director of Operations, came together to form a Covid committee that not only looked at how other companies were handling the crisis, but also proactively thinking about preventative measures and policy changes we needed to jumpstart," says Yung.

"Furthermore, we established a set of best practices that we learned from other companies and our own, while also rewriting the playbook of our contingency plan for all the possible future scenarios."

That committee happened to have not just one trained CPA, but three.

"With respect to Covid-19, we put all our managers through a contingency planning program for different Covid-19 risks that were external and internal to their departments and level of risk, including detailed response plans," says Jozef Hubburmin, CPA, CMA, CFO of Fresh Direct Produce.

"It was a critical exercise for dealing with a rapidly shifting environment."

With a team filled with skilled, passionate, and like-minded individuals, Fresh Direct was able to pivot during the Covid crunch and not only brace for the multiple impacts of the pandemic, but also find a way to flourish.

"We made an acquisition during Covid, remotely," says Yung. "The company was one we had toured in person, and then, when the pandemic hit, the deal was put into question. Thanks to our quick adaptation and committed staff, however, we were able to close that deal."

While the pandemic is ongoing and won't magically disappear, Yung, Hubburmin, and the team at Fresh Direct is prepared and pushing forward to provide produce to fuel healthy, happy bodies.
---
Business in Vancouver (BIV) hosts a range of events and provides business news and commentary.

Originally published by Business in Vancouver.