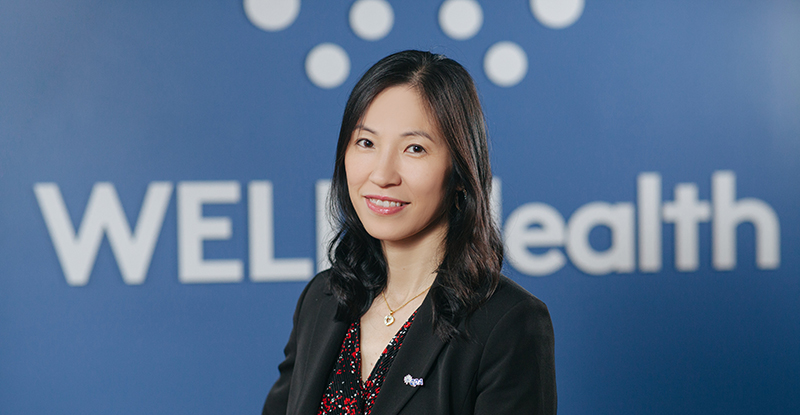 Photo credit: Bobo Zhao Photography
If there is one central theme that can be highlighted from the past 13 months, it is the fragility of health and the need to preserve it at all costs.

"The last company I worked at was a Fintech company that helped millions of people with their financial health," says Eva Fong, CFO at Well Health Technologies Corporation. "However, I have come to realize nothing is more important than helping people with their physical and mental health using technology."

Fong is a Chartered Professional Accountant (CPA) and has been involved with the accounting and financial sectors for the majority of her life and yet, she found herself being drawn into other realms as her career progressed. At Well Health, Eva is first and foremost in charge of 'all things finance.'

"Whether that is financial statements, doing M&A deals, paying a vendor invoice, or really anything that the company does that touches finance—I am in charge of that finance world," says Fong.

On a broader scale, Fong's company is an omni-channel digital health company whose overarching objective is to empower doctors to provide the best and most advanced care possible, while leveraging the latest trends in digital health. As such, Well Health owns and operates 20 primary healthcare clinics and is Canada's third largest digital Electronic Medical Records (EMR) supplier, serving over 2,000 medical clinics and 10,000 doctors. It operates as a leading national telehealth service and is a provider of digital health and cybersecurity-related technology solutions.

With her assistance, the team at Well Health has been able to grow the company from zero revenue to a run rate of $68 million; from a few employees to over 550 including physicians; and from a TSX-V listed company to the TSX via an up-listing in early January 2020—all in a short two and a half years.

"It is such an exciting time to be the CFO of a health tech company because I know my work and my decisions are positively impacting Canadian patients and physicians' healthcare experiences and most importantly, their health outcomes," adds Fong.

The culmination of events that led her to this point is vast. Previously, Fong worked for TIO Networks for almost eight years before PayPal acquired it. In her early days, she worked as a Finance Consultant and a Finance Shared Services Program Manager for SAP.

During her education, Fong attended university in Hawaii and completed her Bachelor of Science, Hospitality Management at the Florida International University. But to this day, Eva can attest to the main driver that not only opened up her career but also taught her the importance of versatility, adaptability and perseverance—her CPA designation.

"All of the learnings and skills I acquired through the CPA program and network have really helped pave the path to what I believe to be my true calling," says Fong.

"My designation basically opened up doors for me, and now there are no limits to the opportunities the CPA makes available to me. I am still learning every day and while many things (including my career) continue to evolve, my CPA designation will always be a constant."

It's been over two decades since she received her designation in 1997. Now, in light of the pandemic, Fong has found she has been reliant on the lessons she learned as a student to guide the company through turbulent times—particularly, her lessons in change management.

"With the pandemic, many of us are facing lots of challenges, stress, and even anxiety at different levels. That's why having change management skills has been so important," says Fong. "As a leader at Well Health, I have to pay extra attention to the mental health and stress levels of staff, manage the changes in our business environment, and so on."

The management and navigation of these changes have steered Fong and Well Health into a vital and impactful new direction—as a leader in the creation and distribution of virtual health technology for contactless and physical distanced medical care and transactions.

"When the pandemic hit in March, our management team worked tirelessly to scale our virtual clinic business," Fong adds.

"We rapidly onboarded and trained hundreds of doctors and medical staff on using our signature platform, which is contributing to the development of a fully digitized healthcare system."

A far cry from her strictly finance beginnings, Fong is now at the helm of critical technological developments that will benefit individuals, healthcare workers and providers for years to come—something that makes her proud to go to work each day.

Armed with resilience, experience, and a diverse skillset, Eva and Well Health have been ensuring the health and safety of society throughout the pandemic and plan to continue long after.
---
Business in Vancouver (BIV) hosts a range of events and provides business news and commentary.

Originally published by Business in Vancouver