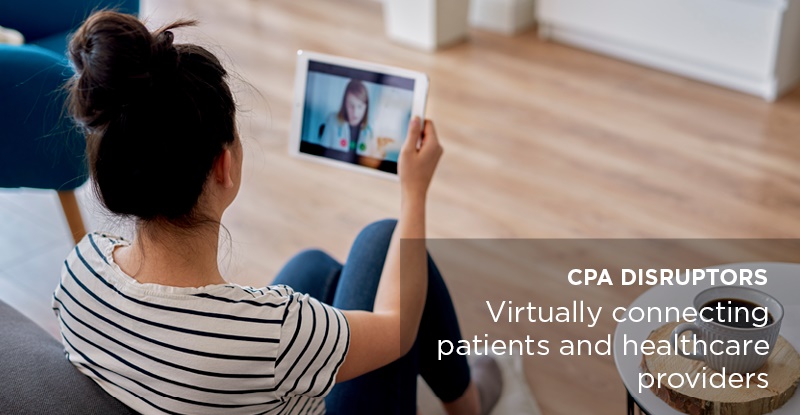 Photo credit: gpointstudio/iStock/Getty Images
Long wait-times in a crowded space is often the scenario for those visiting their doctors. But with COVID-19, this scenario has changed for many patients seeking care from their doctors. With WELL Health Technologies Corp's VirtualClinic+ telehealth service, patients and healthcare practitioners are able to meet via a digital marketplace designed to conveniently connect both parties in a manner that eliminates physical interaction while allowing for quality healthcare.
"We had been working on VirtualClinic+ for several months prior to the pandemic and we launched this service at the beginning of March, just two weeks prior to the government-mandated shutdowns," says Eva Fong, FCCA, CPA, CGA, and chief financial officer (CFO) of WELL Health.
VirtualClinic+ is a service that allows patients to connect with physicians through video, phone, and/or secure messaging. This is commonly done through mobile phones, laptops, tablets, and desktop computers. Launched just in time to help thousands of individuals during the pandemic, the platform continues to see a growing clientele of both patients and physicians.
Eva spoke with CPABC to discuss how WELL Health successfully rolled out VirtualClinic+, how the service differs from other digital medical consultation platforms, and the opportunities that lie ahead.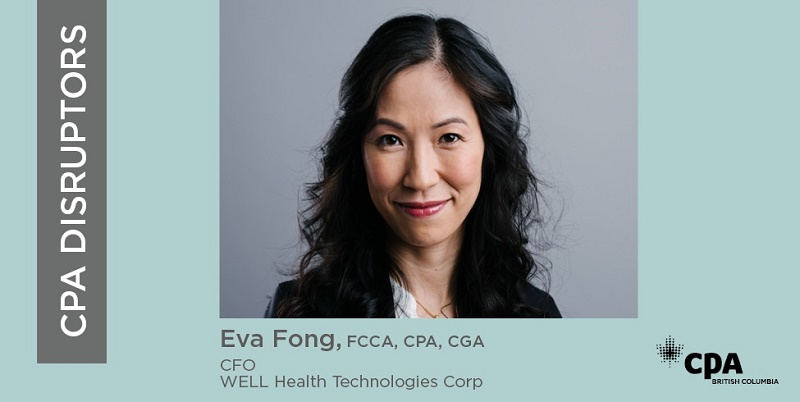 Launching VirtualClinic+
WELL Health is the owner and operator of the largest network of primary care clinics in BC, and also provides an electronic medical records (EMR) software service, named OSCAR Pro to support over 2,000 medical clinics, and 10,000 doctors and their patients, eliminating the need for paper-based records.
The concept of VirtualClinic+ was a natural fit for WELL Health. The platform benefits WELL Health's own patients and physicians, and simultaneously empowers its EMR clients to use telehealth within their own practices via a tight integration between VirtualClinic+ and OSCAR Pro. This expands the company's virtual care reach to the majority of Canadians. It also allows those roughly 20%+ of Canadians who do not have a family doctor to engage in a virtual walk-in appointment with a physician using WELL's direct to patient Virtual Health Marketplace.
"When the COVID-19 pandemic hit in March, our management team worked tirelessly to scale VirtualClinic+. We rapidly onboarded and trained hundreds of doctors and medical staff on using the VirtualClinic+ platform," explains Eva.
Eva collaborated with the rest of the management team in strategizing and managing a large change management program to ensure over 2,000 clinics could access VirtualClinic+. Crucial in this was the work that Eva's finance team did in making sure all financial matters, including paying the physicians, managing the new process flow with VirtualClinic+ and reporting on financial performance were successfully implemented.
The VirtualClinic+ difference
With the emergence of other virtual medical consultation services, Eva says there are several factors that set VirtualClinic+ apart. Notably, it's the service's accessibility – unlike many similar platforms which require an app, VirtualClinic+ can be accessed simply by visiting Virtual Clinic+ from any digital device.
The integration of OSCAR Pro allows physicians to seamlessly access patient records during virtual consultations all from one interface. This dramatically improves the physician and patient experience and helps ensure quality care.
VirtualClinic+ also serves as an extension of WELL Health's current offerings. The service ensures that existing patients at WELL Health's physical clinics are never turned away from physician care, as they can always be seen virtually if not in-person.
Opportunities to provide further services
VirtualClinic+ now has over 1,000 participating healthcare professionals, including physicians, nurses, and other practitioners providing medical consultations on the platform. WELL's telehealth platform exceeds 1,000 virtual patient appointments per day many times a week. All of these numbers are expected to continually increase as demand for virtual appointments continue to grow.
"We are anticipating more demand for virtual support in other forms of healthcare. As a result, we are in the process of adding different types of healthcare providers, such as mental health psychologists, physiotherapists, and nurse practitioners to broaden the continuum of care for patients," says Eva.
Eva also explains that one of WELL Health's next wave of innovation for VirtualClinic+ will involve using digital health applications. For example, incorporating wearable tech that can help monitor patients remotely.
"There are glucose monitoring and heartbeat monitoring wearable devices that can collect data, which we can push into our EMR software and VirtualClinic+ service," notes Eva. "By being able to access this data, physicians will be able to make more informed decisions."
And while 'disruption' has been a common term in recent years when describing the use of technological innovation in uprooting traditional business strategies, Eva feels that WELL Health's work should be looked at as more of a 'transformation' as it positively impacts health outcome by leveraging technology to empower and support patients and doctors.
"Many things we used to do are no longer an option. The pandemic has collapsed these traditional practices. But innovations like VirtualClinic+ are using technology to transform the way we live and make our lives easier and better."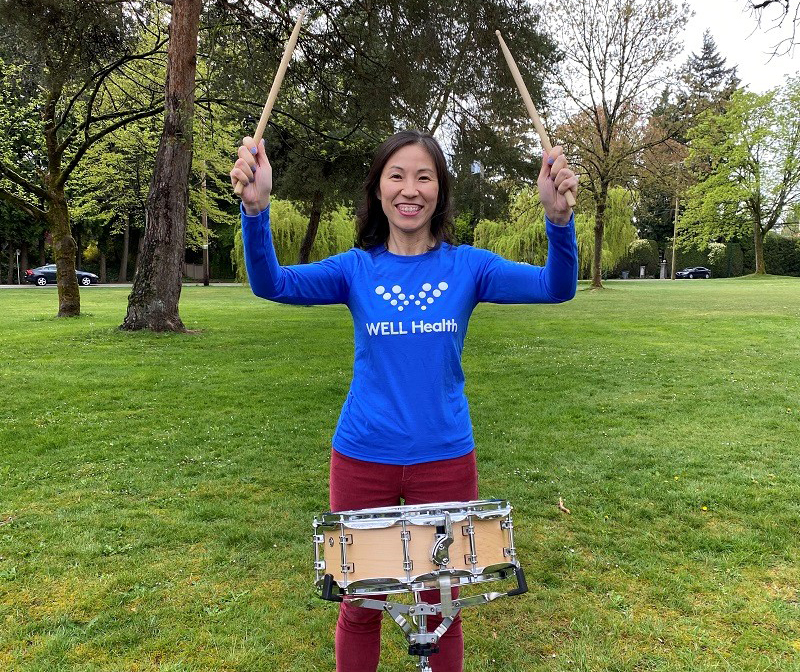 Eva participating in the 7pm Cheer this past spring.
Read more profiles on CPAs who are leading innovative BC-based companies that are disrupting the traditional business landscape, including pivotting its business strategies in the face of COVID-19.
---
Vince Kanasoot is a communications specialist with the Chartered Professional Accountants of BC