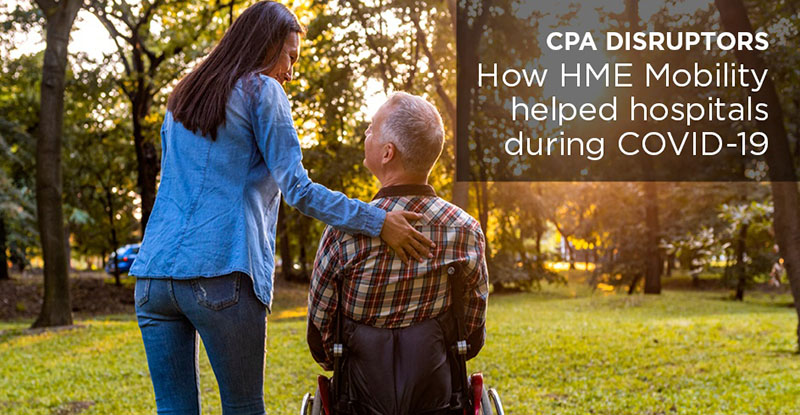 Photo credit: ljubaphoto/iStock/Getty Images
When COVID-19 struck, hospitals worldwide were hit with an unprecedented influx of patients. An underlying problem, among many, was the lack of available hospital beds. HME Mobility, which sells and rents out home medical equipment throughout BC, was quick to step in to help.
HME's president, Robert Boscacci, CPA, CA, CPA (Illinois), and his business partner Cameron Fleming pivoted their business strategy to focus on assisting the BC Regional Health Care Authorities discharge non-COVID-19 & recovered COVID-19 patients back to their homes to create hospital capacity. HME's inventory of medical and rehabilitation equipment, including hospital beds, mattresses, wheelchairs, over bed tables, patient lifts, and slings made it possible for patients to continue their recoveries at home.
In addition, HME also provided its equipment to emerging COVID-19 clinics organized by Regional Health Care Authorities and provincial agencies in BC. Unlike many other medical supply companies, HME had a healthy stock of personal protective equipment, as Robert and Cameron proactively sourced additional inventory in early February. In addition, throughout the pandemic HME was one of the last remaining companies in BC with available hospital beds, having secured a supply chain in early March for all available shipments.
Balancing COVID-19 support with existing business
As essential service providers, HME balanced its work with provincial health authorities with its regular business commitments, which include providing medical equipment across BC for children with disabilities. All processes were performed with increased hygiene and sanitization measures, and HME's facilities were closed to the public. Procedures usually done in-person, such as wheelchair fittings, shifted to being done virtually.
"Our clients and stakeholders were extremely happy we remained operating during this time at full-service levels. In fact, we even expanded our team," says Robert. "A lot of other medical companies closed during this time, so we helped additional clients and facilities as we made the decision to continue to service the community."
Part of HME's expansion included moving its South Surrey facility to a larger location nearby in early May. The new location houses more than 14,000 square feet of warehouse space and 2,500 square feet of showroom space. This additional room has allowed HME to continue to help facilitate patient discharges at hospitals by allowing HME to purchase and store the equipment in large quantifies.
Tactics to support the new strategy
To maintain regular business operations, HME launched an internal safety committee to allow employees from all levels to engage and discuss any concerns. The company also increased hygiene and sanitization measures in their processes, and made several digital transformations within the company. Robert notes that the transformations, including shifting to virtual wheelchair fittings for their clients and going paperless with digital signing, will change the way HME operates moving forward.
"We've been using Zoom for client wheelchair fittings, making our services more accessible than before. As you can imagine, it can be quite burdensome and daunting for our clients to come into the store for an in-person fitting. With virtual sessions, our clients no longer have to go through the hassle of coming into our store, making it easier for them to get the services they need."
Operationally, the HME office has also undergone some changes to adapt to the new normal. Robert says that the leadership team exercised flexibility in providing employees with time off and adjusted schedules to deal with issues such as child care. On-site employees worked in rotation to reduce risk of exposure during the pandemic, and all administrative team members were able to work from home.
"I believe this experience will fundamentally change the way we provide services. We have pivoted to embrace technology. We've been utilizing a cloud CRM service provider that we put in place three years ago to allow our staff to work from home. Moving forward, I believe that some staff will rotate between working from home and the office to assist them in their family situations, etc.," notes Robert.
But even as the province prepares to enter phase three of the BC Restart Plan, Robert emphasizes that HME will remain cautious and continue to enforce current safety procedures, most likely until a vaccine is rolled-out.
"While we are operating at normal levels and have grown during the crisis, we have no plans to reduce our COVID-19 procedures until cleared by the provincial health office."
---
Vince Kanasoot is a communications specialist for the Chartered Professional Accountants of BC