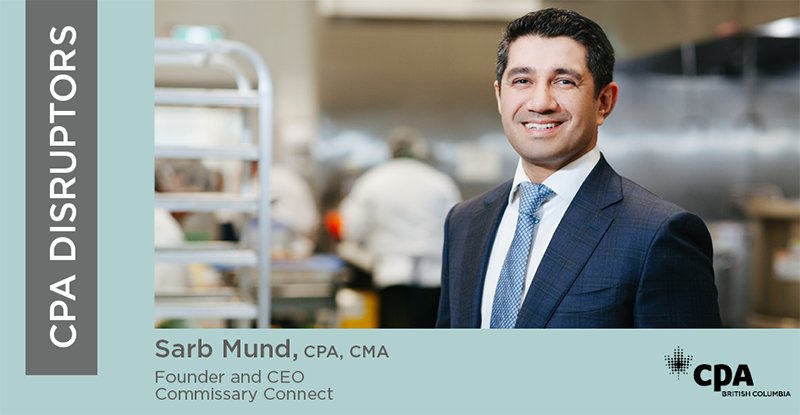 Photo credit: Bobo Zhao Photography
When Sarb Mund, CPA, CMA, first opened Commissary Connect, a network of shared commercial kitchen spaces in Vancouver for local food and beverage entrepreneurs, he was always thinking one step ahead. What processes would align his goals as a landlord with those of his clients? What would allow his clients to save on overhead costs? What technology was needed to support this? Could this technology be taken a step further and be used to trace supplies for enhanced food safety? Sarb wasn't knowingly planning for a global pandemic. He was just doing what he always does – preparing his business and industry for anything that could come along.
The idea for Commissary Connect came to Sarb when he was running Soho Road Naan Kebab, a food truck that served traditional UK tandoori cuisine in downtown Vancouver. He had forayed into the food truck industry shortly after receiving his CPA designation and he credits the designation for helping him develop an eye for gaps and opportunities. One of these gaps was the lack of ability for someone to rent out a kitchen facility and pay only for the specific equipment used.
Sarb had discovered this when the vegan option on his menu – the spicy veggie sabji – required him to switch from the commercial kitchen he was using to a much more expensive one, just for the sake of the one menu item. With this gap in the industry also came the opportunity to invent a shared-use technology and open a network of commercial kitchens where food and beverage business owners – many of whom produced small batches at a time – could have a better chance of thriving by renting space in facilities where costs were adjusted on a case-by-case basis based on resources used.
Rise to success and onset of COVID-19
Since opening its doors, the appetite for Commissary Connect has been obvious, with food and beverage producers across the province eagerly joining the network. Commissary Connect now operates three different locations across the Lower Mainland. But unfortunately, the onset of COVID-19 saw immediate and harsh effects for Commissary Connect's members.
The closing of offices and public spaces left food trucks with little business. Food processors who sold small batches at farmers markets had nowhere to sell. The cancellation of events also cancelled out catering businesses. Sarb acted quickly to mitigate the fallout by freezing rent payments for members who could not continue their operations during the pandemic, helping them adhere to social distancing guidelines and avoid the financial hits that other businesses – such as restaurants and cafes – were suffering from. Sarb also made a number of other adjustments to help his organization and the businesses of his clients survive with an increase in mentorship services support and frequent virtual check-ins
"Our pivot to a more wholistic model was a long time coming. The impact of COVID-19 made the transition happen sooner," says Sarb. "We knew the food system was an essential service and that food and hospitality workers made up a large portion of the economy. So we knew they needed protecting."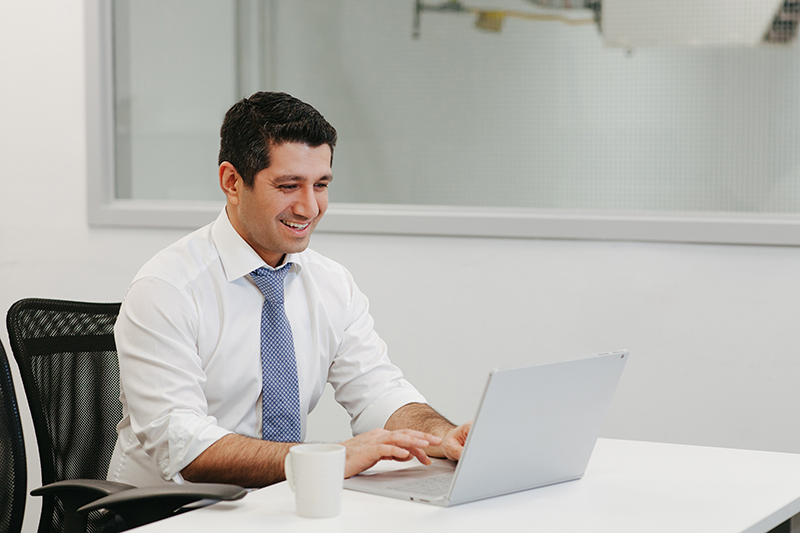 Sarb Mund, CPA, CMA, founder and CEO of Commissary Connect. Photo credit: Bobo Zhao Photography
Supporting business continuity for members
Only members whose products were considered essential items – such as meal delivery and non-luxury packaged goods – continued operations in Commissary Connect's kitchen spaces. The drastic reduction in headcount made physical distancing possible in the kitchens. Stringent health standards had already been in place, with all members requiring to pass a health inspection from the province of BC before beginning operations. And since COVID-19, additional steps have been added at Commissary Connect to increase sanitization measures.
The proprietary technology that Sarb invented to track kitchen time and equipment usage is also being used to help monitor physical access to the sites and track sanitization. Other enhancements being worked on are collated purchasing modules that track orders from suppliers and additional food safety programs , such as tracking who was involved with producing a specific item and who was inside a facility during specific times. These developments were already in the works prior to the COVID-19 pandemic and have since been moved up the priority list.
To help get local products to consumers, Sarb is partnering with some of his members to facilitate a bike delivery service and a curbside pick-up area at one of their locations available to all Commissary Connect members.
Related articles
What lies ahead
With BC in its second phase of its reopening plan, more members have resumed business and Sarb has been careful with continuing to monitor physical distancing and sanitization. He also remains focused on furthering his supply chain monitoring technology as well as any additional innovations that will keep BC's food industry resilient.
"The current pandemic may be a sign of things to come. With the ever-looming threat of global warming, we as a province need to be ready for the future. We will need to be as efficient in growing, harvesting, processing, and delivering food as possible. For this reason, Commissary Connect's focus will remain on connecting local food in the province with all of the resources it needs to achieve the greatest level of success."
Sarb adds, "Our pivot was not in reaction to the present pandemic but in anticipation of something like it. If I can provide any lesson here, it is to plan for any contingency. No matter how unlikely."
Read more profiles on CPAs who are leading innovative BC-based companies who are disrupting the traditional business landscape, including how they've pivotted their business strategies in the face of COVID-19.
---
Vince Kanasoot is a communications specialist for the Chartered Professional Accountants of BC