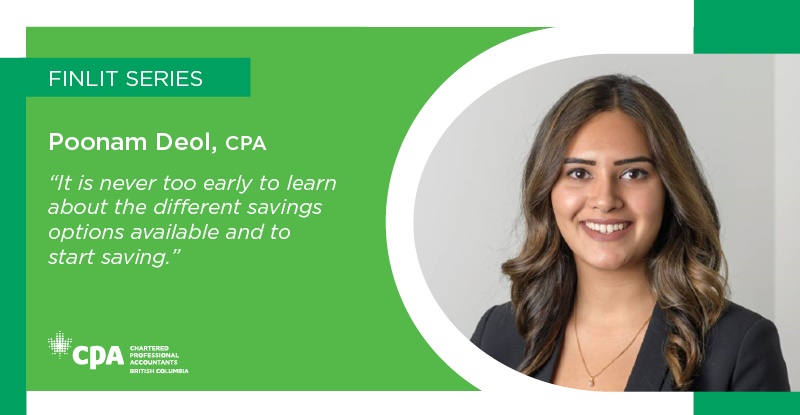 Name: Poonam Deol, CPA
Volunteering since: 2018
Motivation for volunteering: "I want to share my financial knowledge and experiences to help others learn."
If you would like to receive a financial literacy presentation geared to elementary, high school, or post-secondary students, the CPA Financial Literacy Program offers free workshops. Contact our FinLit team to receive more information on how to book a workshop or connect us with your child's teacher.
As much as parents plan financially for their children's future and offer tips on how to manage money, the time will come when young people will need to take ownership of their finances.
High school is an essential time to learn how to manage money to prepare for the road ahead – particularly for those who plan to attend post-secondary school. About half of Canadian students who graduate from a post-secondary institution will do so carrying a significant debt load – $26,700 on average for those who earn a bachelor's degree. Basic financial skills such as budgeting and saving will equip young people to address issues such as debt, as well as plan for the future.
The good news is that young people have the power to learn how to manage money effectively and increase their financial literacy – and people like FinLit volunteer Poonam Deol are available to help them grow their skills one step at a time. Poonam, a Chartered Professional Accountant, is passionate about providing this support – we recently chatted with her to find out some of her FinLit tips for high school students.
What motivated you to volunteer with the CPA Financial Literacy Program?
"While I was completing my degree in accounting at BCIT, I gained quite a bit of knowledge about future career opportunities from volunteers who were BCIT alumni. Once I started my career, I further realized how impactful it is to learn about the experiences of others. I decided I wanted to share my financial knowledge and experiences to help others learn, so I became a volunteer with the CPA Financial Literacy Program."
What is your most memorable story as a financial literacy presenter?
"That would be connecting with a student about six months after I had given a presentation on my financial journey through post-secondary and while starting my career. She had remembered almost every detail I had spoken about and created an action plan to achieve her financial goals in the short-term and long-term from that day. I never expected to have a lasting impact on a student and it was the most rewarding feeling!"
Thinking about money management, what are some things you wish you had known and done when you were younger?
"Looking back, I wish I had a stronger understanding of different saving options (i.e., TFSA, RRSP, and direct investing). It's not common for someone to teach you how to decide what to invest in and why you should pick one option over the other depending on limits and circumstances.
I know this could sound a bit intimidating, but I would highly recommend booking an appointment with a financial advisor at your bank to learn about some of your saving options. Before the appointment, think over your short-term and long-term goals and how much cash flow may be required to achieve them. This will help create much more successful financial planning."
What tips do you have for high school students on preparing themselves financially for the future?
"It is never too early to learn about the different savings options available and to start saving. It can be intimidating to get started as there is so much information out there, but even just establishing a good base of knowledge and then building on it each quarter will benefit you so much. The internet is obviously full of information, but it can be a bit overwhelming. I would suggest exploring resources published by your bank.
I would also encourage students to set short-term and long-term financial goals. When I first starting educating myself to become more financially literate, I was always saving up for my next travel adventure. When I decided I wanted to travel to Southeast Asia, I started with understanding how much I needed to save in total for my trip and then understanding how much I needed to save each month on top of my regular spending habits. I find it a lot easier to start with a goal and work backwards."
Are there any smart phone apps you recommend for personal financial planning?
"One favourite is the TD MySpend app. It is user friendly, has really good content to help plan for the future, and helps you understand the different categories that you are spending your money in each month. It also identifies when you are under or above your typical spending habits. Outside of apps, a basic Excel spreadsheet is really useful. It helps me layout my budget for the year and set goals for the year."
Let your child's teacher and school know that CPABC offers free and unbiased financial literacy workshops in their classroom. To receive a financial literacy presentation geared to elementary, high school, or post-secondary students, or to get involved as a volunteer, please contact our FinLit team.
---
Leah Giesbrecht is a communications specialist with the Chartered Professional Accountants of BC.