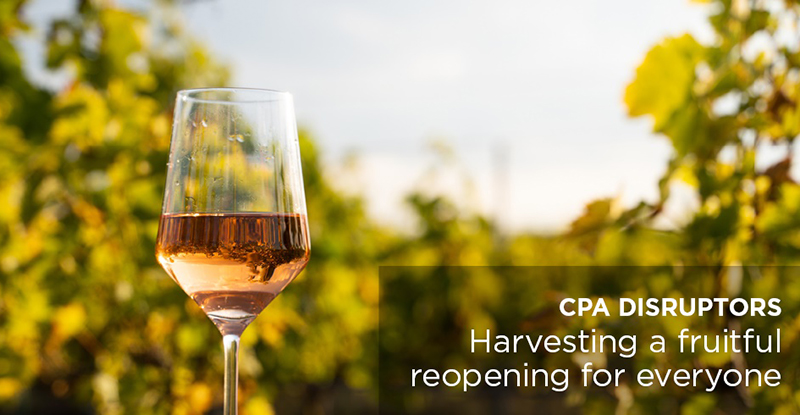 Photo credit: flyparade/iStock/Getty Images
Like many industries, BC's wine industry was hit hard by the COVID-19 pandemic. As an industry that relies heavily on tourism activity, retail sales, and temporary foreign workers, wineries across BC had to find innovative ways to stay operational when the province effectively shut down from March through May of this year.
With the easing of lockdown restrictions and the resumption of some local tourism, Quails' Gate's CFO, J.P. Fowler, CPA, CA, shares how the renowned winery survived the difficult lockdown months and pivoted its business to adapt to the new realities from COVID-19.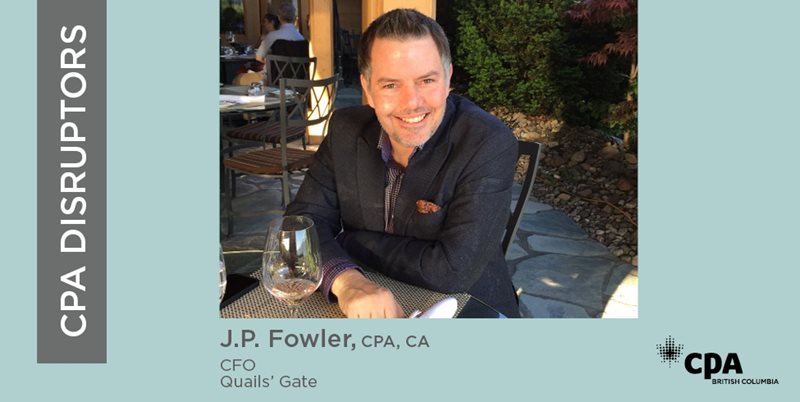 Physical and financial safety of employees prioritized
When the COVID-19 pandemic hit, J.P.'s immediate focus was on how to navigate the unchartered waters while protecting the health and safety of Quails' Gate's employees. His top priority was to find the best solution to ensure his staff's safety as well as implement protocols for what to do if this safety is compromised.
On March 13th, Quails' Gate established a COVID-19 taskforce to assess the risks and plan the "what ifs" that could arise from the lockdown. Immediately, the winery implemented a 14-day quarantine for all staff who had recently been outside Canada. This was especially challenging because at the time, J.P., along with Quails' Gate's CEO, Director of Operations, and other core members of the organization were out of the country.
"While in quarantine, we had to quickly plan for what our business might look like if we were required to pause operations completely. Our biggest challenges were how to communicate and manage our team throughout the closure and safely bring in seasonal workers for the busy summer farming months," notes J.P. "To address these challenges, we ensured regular communication via weekly Zoom calls to update our team on company plans as well as government assistance they may be eligible for. We also worked hard to ensure our seasonal workers arrived safely, followed appropriate quarantine measures, and joined the rest of the farming team while still practising social distancing precautions."
Protecting the safety of these workers and the product was paramount. The vineyard farming team was split into two separate teams – East and West – to minimize potential COVID-19 exposure and ensure that the winery would still have some manpower available should one team be exposed. The production team also instituted strict COVID-19 safety guidelines, including daily temperature checks, social distancing on the bottling line, and increased sanitation – all with the goal of keeping staff and wine safe.
"The safety of our staff isn't just about their physical health, but also their financial health. As CFO, my priority was to navigate the financial health of our business and our staff. We encouraged any staff members with financial difficulty to reach out to us so we could work with them to find a solution and help them through this difficult time," adds J.P.
New opportunities for staff, new experiences for customers
As Quails' Gate prepared to reopen its doors to visitors, one crucial step was identifying opportunities for staff who were without work. Through pivoting and realigning job functions, some employees were redeployed and able to expand their skillsets.
"From working in the kitchen to working in the vineyard, or from working in administration to joining the bottling line, our staff demonstrated flexibility and ingenuity in trying new things. This really helped to sustain our winery's success and maintain positive staff morale across the board," says J.P. "Our ability to work with our staff and redeploy them to different areas allowed us to successfully pivot our operations."
Protecting customers was a key focus of Quails' Gate's reopening. Concierge greeters were hired to assist with traffic flow, socially distancing markers were placed throughout the property, and contact tracing procedures were put in place in the event of an outbreak. These processes were in addition to the new COVID-19 norms of increased cleaning and plexiglass barriers at tasting stations and transaction points.
Innovating the customer experience was also critical to Quails' Gate's successful reopening. Additional outdoor picnic tables were added at the winery's Harvest Gathering Site and a marketplace was also opened in the historic Allison House to create a casual grab-and-go experience at the winery. The Old Vines Restaurant also launched a takeout menu and food delivery service to give customers a new way to enjoy the Quails' Gate experience, including its signature wines, in the comfort of their homes.
"We've received positive feedback from our customers since we reopened our winery to the public. With both the Wine Shop and the Old Vines Restaurant, we've increased health and safety protocols to ensure both our staff and customers are protected throughout the wine tasting and dining experiences," continues J.P.
The Quails' Gate team also worked on creating more touch points for customers to purchase its wines. Like many other businesses, Quails' Gate has implemented a curbside pick-up option for local customers. The winery has also accelerated the implementation of a new mobile payment system to manage transactions more efficiently. And to reach customers outside the Okanagan area, Quails' Gate offered complimentary shipping so that these customers could still enjoy their favourite wines without traveling to the site.
"We are in the same boat as other food and beverage businesses in BC," notes J.P. "So where possible, we have tried our best to support our restaurant partners by ensuring product allocation, and at times, deferring receivables collection. During this challenging time, our industry has really come together in support of one another."
In terms of giving back to its community, Quails' Gate also raised $5,000 through a $5 contribution from every magnum sold of its rosé to the BC Hospitality Foundation (BCHF). Funds raised by this program helped the BCHF continue to provide last-resort assistance for hospitality workers in financial crisis due to serious health conditions.
Read more profiles on CPAs who are leading innovative BC-based companies that are disrupting the traditional business landscape, including pivotting its business strategies in the face of COVID-19.
---
Vivian Tse is the manager, communications at CPABC.