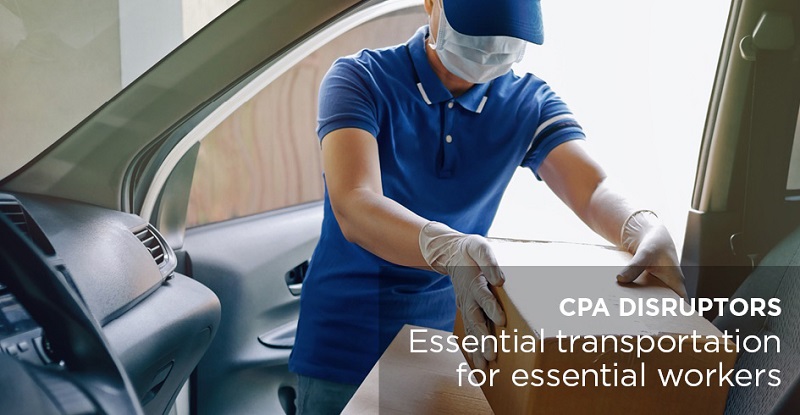 Photo credit: Chansom Pantip/iStock/Getty Images
Carshare co-operative focuses on long-term viability as economy reopens
When containment measures for COVID-19 began in March, most people no longer had to commute except to access essential services. But for essential workers, things were much different. Those who relied on public transit for work now found themselves in uneasy circumstances. Scaled back transit schedules, but more important, the fear of transmission, put essential workers in a difficult position.
That's when Vancouver-based carshare co-operative Modo stepped in. Ian Boorman, CPA, CGA, director of finance at Modo shares how Modo pivoted its business operations to support essential workers and also work toward business resiliency during and coming out of the COVID-19 pandemic.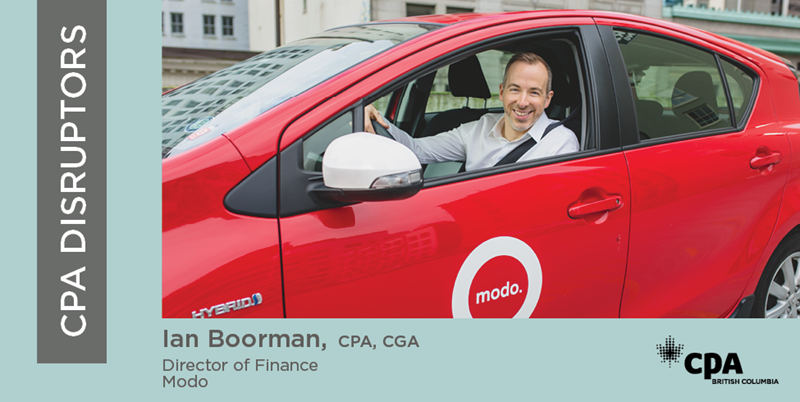 Photo credit: Wink Photography
Shift in operations
Modo is a carshare service that allows members to enjoy affordable and convenient use of vehicles on an as-needed basis. First launched in 1997, Modo paved the way for carsharing in BC, and developed one of the world's first carshare booking software systems, a system that is now licensed to 10 other carshares across North America.
Since Modo's members largely use its services to run errands such as shopping and recreational outings with family and friends, COVID-19 significantly affected Modo's business when these types of activities largely came to a halt. Starting in March, Modo's usage rates dropped by over 50%. Yet, as transportation is deemed an essential service, and Modo is also member-owned, pausing on all operations was not an option for the co-operative. Instead, Modo reduced the number of vehicles it had on the road to cut costs and manage long-term viability.
"We put roughly half our fleet into storage to reduce fixed costs such as insurance and parking, while still making enough vehicles available to the members who need them most – those doing essential work," says Ian.
Essential Transportation Program
To support essential workers getting to their jobs safely, Modo took many of the vehicles that were destined for storage and repurposed them for its Essential Transportation Program (ETP) program.
"ETP was created to provide frontline workers with exclusive access to a vehicle on a monthly basis at cost, which is approximately $500 and covers gas, insurance, and up to 600 kms in usage," says Ian. "We also developed new health and safety protocols to ensure all vehicles being used receive meticulous cleaning, aligning with provincial health regulations."
Approximately 100 businesses or individuals carrying out essential services have participated in ETP, including healthcare and other front line workers such as food delivery, and those distributing personal protective equipment (PPE) in the downtown east side (DTES).
One of these individuals is Constance Barnes, Vancouver DTES Market's executive director, who has been accessing the ETP throughout the pandemic. "Right now, my Modo van is my lifeline to the work I do in the DTES. I deliver masks, gloves, food, water, cleaning supplies and much more to the most vulnerable people in this province," says Constance.
Shift Delivery, a worker owned co-op has also been using ETP, using the program to help pivot its operations. Shift's employees have always used electric tricycles (trikes) to deliver goods, but upon the onset of COVID-19, it became clear that Shift needed to add further resources to keep up with rising demand for its services, including the increased need for grocery and meal delivery to shelters and other vulnerable group residences.
To make this increased demand feasible, Shift has been using a Modo cargo van, stocking it with delivery goods. The van travels along the routes of Shift's trike riders, making it easy for the riders to meet up with the van whenever it's time for the riders to restock. By eliminating the need for the riders to return to Shift's main headquarters throughout the day, Shift is able to deliver groceries and meals to more people, and in less time.
Phase 3 and beyond
Moving forward, Ian explains that the future of Modo's operations is dependent on how the province's reopening phases roll out. As recreational outdoor activities such as hiking and camping have begun to resume as British Columbians settle into Phase 3 of the BC Restart Plan, demand for Modo's services has risen. But it won't be until Phase 4, when major events like conferences, sporting events, and concerts resume that Modo's demand will return to comparable pre-COVID levels.
"We will continue to closely monitor demand as we go through the various phases of reopening and match it with vehicle supply," says Ian. "However, putting the entire fleet back into service and reopening our office to staff and members before 2021 is unlikely."
As Modo's focus has always been on community, Ian adds that its business strategies will continue to be driven with this in mind. "As a co-op, we put people and concern for community before profit, so our approach to reopening will most certainly be slow and safe, while ensuring we do all the right things to foster the viability of our business in the long run."
Read more profiles on CPAs who are leading innovative BC-based companies that are disrupting the traditional business landscape, including pivotting its business strategies in the face of COVID-19.
---
Vince Kanasoot is a communications specialist for the Chartered Professional Accountants of BC.