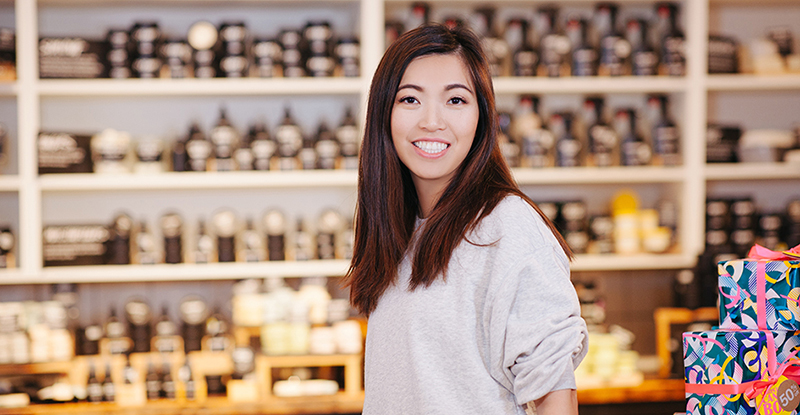 Photo credit: Bobo Zhao Photography
If there are two things most of us hope to achieve in life, it's finding our dream job and travelling the world. Having a career that combines both? Well, it doesn't get much better than that.
Professional degrees often require extra steps for certification in other countries, however, there's one qualification that's well-received and accepted all over the world: a CPA.
Gloria Ching, CPA, CGA, realized this early on and has used the certification to her advantage throughout her career. Today, Ching works here in Vancouver as an accounting manager at
LUSH Handmade Cosmetics
, but her career has taken her across the world and back.
After graduating from SFU, Ching got a job working at PricewaterhouseCoopers (PwC), where she thought she would work for years to come.
Nonetheless, after four years with PwC, she made a pivotal move in her career, leaving Vancouver to live in Hong Kong with her husband. There, Ching landed a job that she never imagined possible — working at Walt Disney in the financial reporting department.
Ching explains that her CPA designation gave her the confidence to apply for this role, as the discipline required to receive the designation, along with the subsequent skill set, were recognized and highly respected internationally.
Ching stresses that accounting follows the same format no matter how big a company is, and, as a result, affords the opportunity to work with bright and talented people around the world.
After living and working in Hong Kong, Ching moved to LA where she took on a large role with Forever21, liaising with industry leaders, leading a team of five, and overseeing over 600 stores internationally.
"I wanted to choose a career in which I could travel to different countries," she says. "The CPA allows me to work in a professional setting in a number of cities globally. When I interviewed in LA and in Hong Kong, they knew I didn't have local experience, but they trusted the standard that a CPA offers."
In order to be able to switch gears in her career, adaptability was required. This, she says, is a key attribute her CPA designation has provided her with, in addition to being a well-rounded business professional. "The CPA doesn't only teach us accounting skills, but the integration of technology in an accounting role, as well as strategic thinking," says Ching.
Travel has opened Ching's mind and changed how she approaches her role as a manager. She bought these new insights and skills back with her to Vancouver, where she landed a job with Aritzia. Ching was on the financial reporting team during Aritzia's initial public offering (IPO); her role was integral to ensuring the company was stable enough to go public.
From Aritzia, Ching moved on to her current role as an accounting manager at LUSH, a position that enabled her to transfer a lot of knowledge from her previous retail experiences.
"When everyone thinks of LUSH, they just think of a retail company. However, it's so much more than that. For example, LUSH has a large investment in regenerative farming and donates millions to charitable organizations in over 42 countries worldwide. Trained CPAs have a solid foundation in critical thinking and analysis, which we can apply to and build upon at work, regardless of the area we're working in (like agriculture) isn't necessarily our expertise."
As the business world is constantly changing, Ching explains how her CPA designation has taught her to stay current and realize the importance of ongoing professional development (which is a requirement for maintaining the designation). "The [CPA] education created a solid foundation for us to be successful — but the world is constantly changing and you need to change with it."
If you're looking for a qualification that acts like a key to a wide range of jobs, Ching says a CPA is the best place to start.
"It proves to the employer that you have the technical foundation, soft skills, and business acumen to be a finance leader. I believe that everyone can choose a role that's suitable for them at different stages in their life. A CPA [designation] puts you in the driver's seat with the key to achieve your dreams."
Although Ching admits that accounting might not sound like an exciting career, it really depends on what you do with it. "People often have the misconception that every day is the same and you are just doing bookkeeping. But technology has taken on a number of tasks and humans are needed to understand what's behind the numbers and to analyze them."
Thinking about your own #careergoals? To learn more about how you could travel the world and work as a CPA like Ching, visit the
CPABC website
.
---
Originally published by
Daily Hive
.