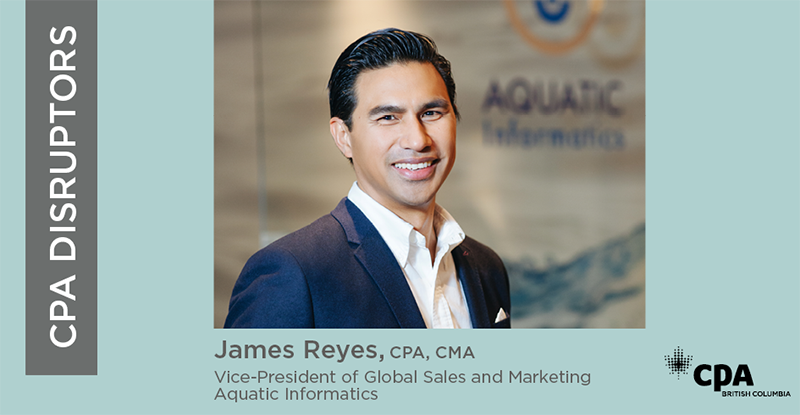 Photo credit: Bobo Zhao Photography
CPA James Reyes is protecting public health with strong data
Having been born and raised in British Columbia, it's no surprise that James Reyes has a love for the great outdoors. Among the wealth of activities one has the benefit of enjoying in this Province, James set his sights on fly fishing; a decade-long passion of his that led him to a new career.
"One of the tools of a fly fisherman is understanding the river level and flow," he says. "I'd go onto the Water Survey Canada website to look up a specific river -- a specific measuring point in that river."
The Water Survey of Canada uses AQUARIUS, software developed by Aquatic Informatics, to tell the story of water in Canada. As a fisherman, Reyes used the tool for 10 years before having the opportunity to trade his career in municipal software for a role leading the world's largest water data management company.
That Reyes became Aquatic Informatics' Vice President of Global Sales and Marketing isn't surprising. But finance and accounting teams are often surprised that he's a Chartered Professional Accountant (CPA).
"When you're working on the business development side, the CPA designation provides you with more credibility," says Reyes.
Early in his career, working as a business analyst, Reyes' employer offered to pay for employees to pursue their accounting designation. With aspirations of ending up in the executive suite, Reyes says accepting the offer to expand his skillset with a CPA was an easy choice.
"Being comfortable in financial aptitude was an investment I knew I wanted to make," he says. "I knew it would pay off."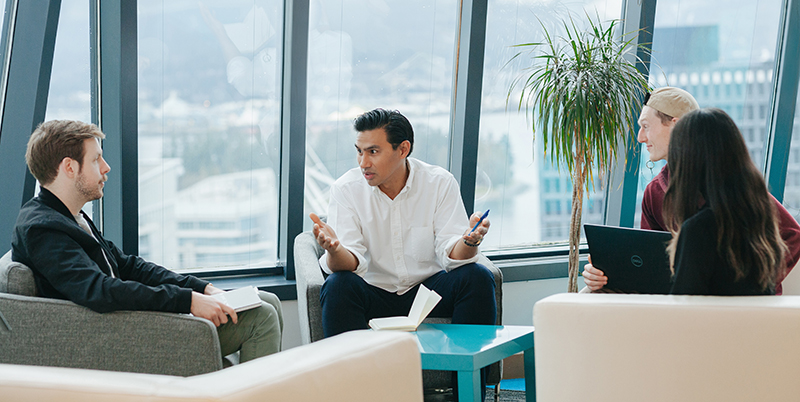 James Reyes (centre), CPA, CMA, director of marketing and sales, Acquatic Informatics; Photo credit: Bobo Zhao Photography
Mission-driven solutions
Although in North America it can seem like access to clean water is a given, there are 32 million cases of waterborne diseases annually in the U.S. alone. The high-profile water crisis in Flint, Michigan is just one example of tainted water's devastating impacts. But Canada has its share of water issues too. A big part of the problem is capital.
"There's not enough money in the system to fix deteriorating infrastructure," says Reyes. "Municipalities are challenged with this question of 'if we don't have enough money to fix or replace everything, how do we spend the money in the right places?' -- to answer that, you need strong data."
That's where Aquatic Informatics comes in. The company's core mission is to organize the world's water information for faster, better decisions that ultimately protect life and the environments around us.
Although globally, companies and governments are collecting more data than ever before, less than 0.5 per cent of that data is actually being used.
Municipal governments and water suppliers often don't have the means to analyze data that could mean the difference between water that complies with regulations and water that poses risks to public health.
"We have water data management solutions that address issues throughout the entire water cycle," says Reyes. "We have a platform that manages that. How much water is there? What's the water quality? How is it flowing, and should we be worried about flooding?"
A strong foundation in interpreting data
Reyes leads the Sales and Marketing teams with a focus on growing the company. Currently, Aquatic Informatics serves over 10,000 users in countries around the world, including most of the U.S.'s largest cities.
Reyes has worked with the public sector throughout his career. Despite his reliance on natural resource technology as a consumer, tackling the industry from a professional perspective was an entirely new experience for him.
Although he needed to learn the ins and outs of an industry that was unfamiliar to him, Reyes was able to dive in right away; aided by the skill set he acquired as a CPA.
Related articles
"Being able to communicate with finance to understand where the biggest challenges were and how to improve was important," he says. "I was learning about the industry, but I had a solid background in what the numbers were telling us by team, by product, by geographic area, and what insights we could glean to figure out where we needed to spend our time."
Beyond the numbers, Reyes says his CPA background instilled an emphasis on community in him.
"It's all about people," he says. "Being able to effectively communicate ideas that are grounded in solid analysis and investment is important."
Aquatic Informatics was a finalist in the Clean Technology category of the BC Export Awards last year. And Reyes says he's proud of the company's B Corporation certification.
As extreme weather events become more common in the current era of climate crisis and aging infrastructure deteriorates, Reyes believes that putting strong data to use is one of the keys to solving critical sustainability challenges.
"For me, that's what's exciting about this space," he says. "There are big challenges, but we believe that managing the data effectively is a critical first step."
---
Business in Vancouver (BIV) hosts a range of events and provides business news and commentary.
Originally published by Business in Vancouver.