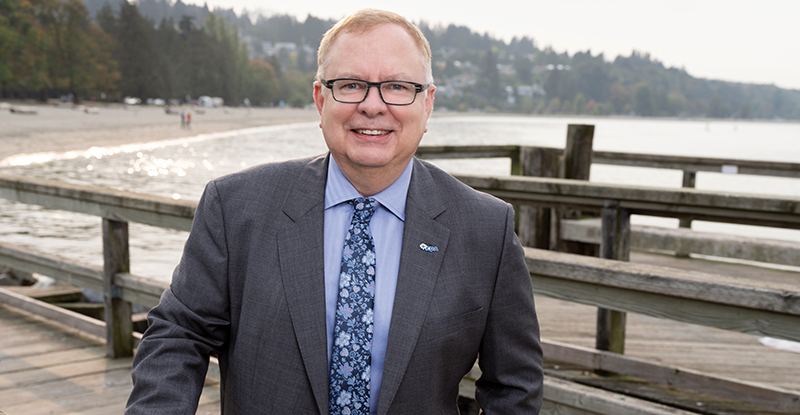 Photo credit: Kent Kallberg Studios
Geoffrey Dodds, CPA, CA, embraces his role as chair of the CPABC board even as COVID-19 continues to disrupt norms
"There is no greater honour than leading in a time of crisis," says Geoff Dodds, when asked what it's like to become chair of the CPABC Board of Directors during a pandemic.
Obviously, however, these are not the circumstances he envisioned for his tenure. And while he's not wasting time lamenting what could have been, Geoff admits that the physical restrictions necessitated by COVID-19 required a shift in expectations.
"I was really looking forward to meeting with people during the Member Engagement Tour and at Convocation this year," he says. "I was also looking forward to meeting with colleagues in BC, across the West, and across the country."
For Geoff, nothing is more satisfying than working with people to help them succeed. It's a passion that has fuelled his involvement in the CPA profession for over 30 years, and it's one he attributes, in part, to his father's example.
"Dad was an investment dealer, and he was very good at the people side of things," he says. "He was also passionate about volunteering, serving on the board of the Koerner Foundation and the board that built the Dr. Sun Yat-Sen Classical Chinese Garden. He was inspirational to me, influencing both my volunteer service and my work in public practice."
As for how he got into the accounting profession, Geoff ascribes it to "plain dumb luck."
"An opportunity opened up as I was graduating from commerce at UBC," he recounts. "I received a number of offers from investment dealers, but they weren't of interest to me, especially when I saw that accounting would give me the chance to get an advanced degree while working. Plus, I had an aptitude for both numbers and people."
Geoff did his articles with Clarkson Gordon (later Ernst & Young) in Vancouver and stayed with the firm for two years after earning his designation, working in the Entrepreneurial Services Group.
"Being in this group meant working with a number of smaller businesses, and I really enjoyed the variety," he says. "I also became deeply interested in finding out what makes successful businesses tick and what causes others to struggle. I wanted to go to clients' offices and figure out how their businesses ran."
Geoff subsequently gained some first-hand experience with entrepreneurialism during a brief foray into self-employment before returning to Ernst & Young's Entrepreneurial Services Group to serve as a senior staff accountant. He was promoted to manager within a year, and became the firm's most senior manager within another five. As such, he was responsible for more than 200 business clients and a small team of professionals.
It made for a heavy workload, but Geoff remembers a transformative lesson that helped shape his attitude toward "busyness."
"I attended a course on marketing taught by the late Bill Humphries [FCPA, FCA], one of the firm's partners," he recounts. "Bill said, 'When you answer the phone, don't complain about being too busy. Say: Business is great, and we're looking for more.' It really made me think differently, and I've never forgotten it."
Another big takeaway from his time at Ernst & Young was how much he enjoyed teaching other staff members and mentoring students.
"What I found most rewarding about the education side of things was helping others achieve their goals," he says. "And it's really gratifying to see where they are now, whenever we get a chance to connect."
Looking for a chance to stretch his wings, Geoff branched out on his own again in 1993, this time as the founder of Geoffrey Dodds, Chartered Accountant.
"I wanted to build something myself," he says.
It was while working as a contract controller to help fund this endeavour that Geoff met his future partner Con Buckley, CPA, CA.
"Con offered me an office and a contract to review files, and I was cheeky enough to say that I'd accept if he'd be willing to talk about partnership within two years," Geoff says with a laugh.
Con not only agreed—he took Geoff up on the idea within two months. The pair formed Buckley Dodds in 1995, and Geoff has served as the firm's managing partner and personnel partner ever since. What solidified their partnership, he says, is a very similar approach to clients and staff.
"Not once have we had an argument or a dispute in 25 years," says Geoff. "We're both pretty laid back, and neither one of us is out purely to make money. We want to help our clients and provide good service. We've always shared the work, and the benefit to clients is that they always have a backup. We've also become great friends over the years."
In addition to overseeing the firm's quality assurance initiatives, Geoff has served a wide variety of clients. This variety, he says, is what has kept him so interested in public practice throughout his career.
"There's the changing work, the different clients—our clients are all across the board, from small proprietorships to large public companies, and in different sectors," he explains. "I get to interact with all kinds of people."
He also continues to mentor students.
"What I've come to learn from being a mentor is that everybody's different," he says, "and people progress at different speeds."
---
"I'm really proud of the accounting profession, and I'm a huge cheerleader for it."
---
While he's not planning to retire yet, Geoff does have succession in his sights. He and Con welcomed Mickey Goldstein, CPA, CA, to the partnership three years ago, and at the time of this writing in late September, they're completing a merger with another Vancouver firm, Akeroyd Leung Amlani. The merger will see the firm double in size and take on a new name: Harbourside CPAs LLP.
"Within three to five years," says Geoff, "Con and I will want to have succession in place."
In the meantime, he's thankful that his work affords him the flexibility to focus on his role as CPABC chair.
"I'm really proud of the accounting profession, and I'm a huge cheerleader for it," says Geoff. "I think it's the greatest career, and I feel blessed to do work that has been so rewarding and paid the bills."
It's this love for the profession, combined with some encouraging words from an early mentor, that first inspired Geoff to volunteer as a committee member for the Institute of Chartered Accountants of British Columbia (ICABC) in 1989.
"Heather Shannon [FCPA, FCA], a longtime partner at EY, was the one who encouraged me to volunteer in the profession," he says. "Heather was the first woman to serve as president of the ICABC council, and I asked her during her presidency if she thought I should volunteer on a committee. She gave me an enthusiastic 'Absolutely!'"
Geoff has been active in the profession ever since and has served at the board governance level since 2013.
Asked what it was like to be at the table during the formation of CPABC, he says: "I feel humbled, honoured, and privileged to have been involved at the board level through the unification of the accounting profession. I had the chance to get to know so many leaders in BC and across the country, and I feel like I got more out of it than they got out of me. It was a wonderful learning experience."
Experiential learning is very clearly another of Geoff's passions.
"I tend to put myself out there and get swept up in things," he says. "I advise others to do the same—you'll be better for it."
Combined with his passion for people, this philosophy helps explain the wide variety of community organizations with which Geoff has volunteered over the years. They include Karen Jamieson Dance, the Craft Council of BC, the South Bowen Community Association, the Vancouver Sea Festival, the Vancouver AM Tourism Association, the Heather Heritage Society, the Public Legal Education Society, Cuisine Canada, and The Disability Foundation, for which he currently serves as treasurer/director.
"I was approached by the now former chair to get involved with the foundation," he says. "Also, my wife Paulette [Miller] spent 15 years coaching for the Special Olympics, so there was a connection there as well."
Geoff has also volunteered with Theatre Under the Stars (TUTS) and Dunbar Musical Theatre. And he didn't just serve on their boards, he also walked them—performing in nine musicals.
"When I was at UBC, I was in a fraternity that took part in Songfest, an annual musical competition," he recounts. "After winning several times, some of us were asked to play background roles in a show for TUTS."
One performance led to another, as Geoff showed increasing promise.
"On the closing night of my last show (I had a sub-leading role in A Funny Thing Happened on the Way to the Forum), the director introduced me to an agent who offered to represent me," he recounts. "I'd just received my accounting designation, and it took all of 30 seconds for me to weigh the idea of being a starving actor versus a professional accountant."
While he no longer performs (not even singing in the shower), Geoff describes his theatre experience as transformative.
"Being onstage, like being in a fraternity, helped me overcome my shyness," he says. "It gave me greater comfort speaking in public."
This training will no doubt serve Geoff well in his tenure as CPABC's chair, even if he has to communicate by virtual means.
"Diversity, equity, and inclusion are key areas of focus for me," he says, looking forward. "I also want to help ensure that we continue to manage the profession in a fiscally prudent manner and protect the public. We've been able to do that effectively while working remotely, and I think it's a testament to the commitment and adaptability of everyone involved. Looking further ahead, we'll have to see how the COVID vaccines progress—hopefully we'll be able to get out and interact directly with the membership next summer."
Lead on, Geoff!
---

Michelle McRae is the managing editor of CPABC in Focus magazine. This article originally appeared in the November/December 2020 issue of CPABC in Focus.
Visit our Governance section to meet the rest of CPABC's 2020-2021 Board of Directors.