CPABC Benevolent Fund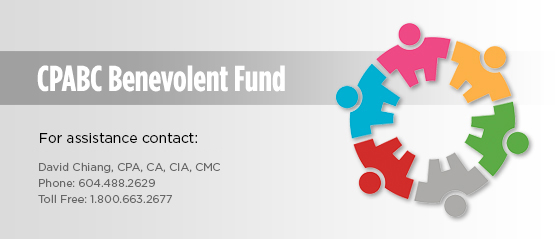 A friend in need is a friend indeed. The Benevolent Fund of the Chartered Professional Accountants of BC has taken that old adage to heart. Established in 1935, the Fund provides short-term assistance to CPA members suffering from unusual financial hardship. As the Benevolent Fund is established through the CPA Act, this benefit is available to all members.
The Fund's trustees administer the Fund and are appointed by the CPABC Board. The Fund itself operates as a tax-exempt body under the Income Tax Act.
Donations can be made through Online Services or sent to the CPABC office to the attention of David Chiang, CPA, CA, secretary for the Benevolent Fund. Or, to make a planned gift, read this article from Industry Update, "Plan in Advance – Leave a Lasting Legacy".
For more information about the fund, click here.

All information is kept in the strictest confidence.
To apply for assistance, contact:
David Chiang, CPA, CA, CIA, CMC
Benevolent Fund Secretary
Phone: 604.488.2629
Toll Free: 1.800.663.2677
Email: dchiang@bccpa.ca